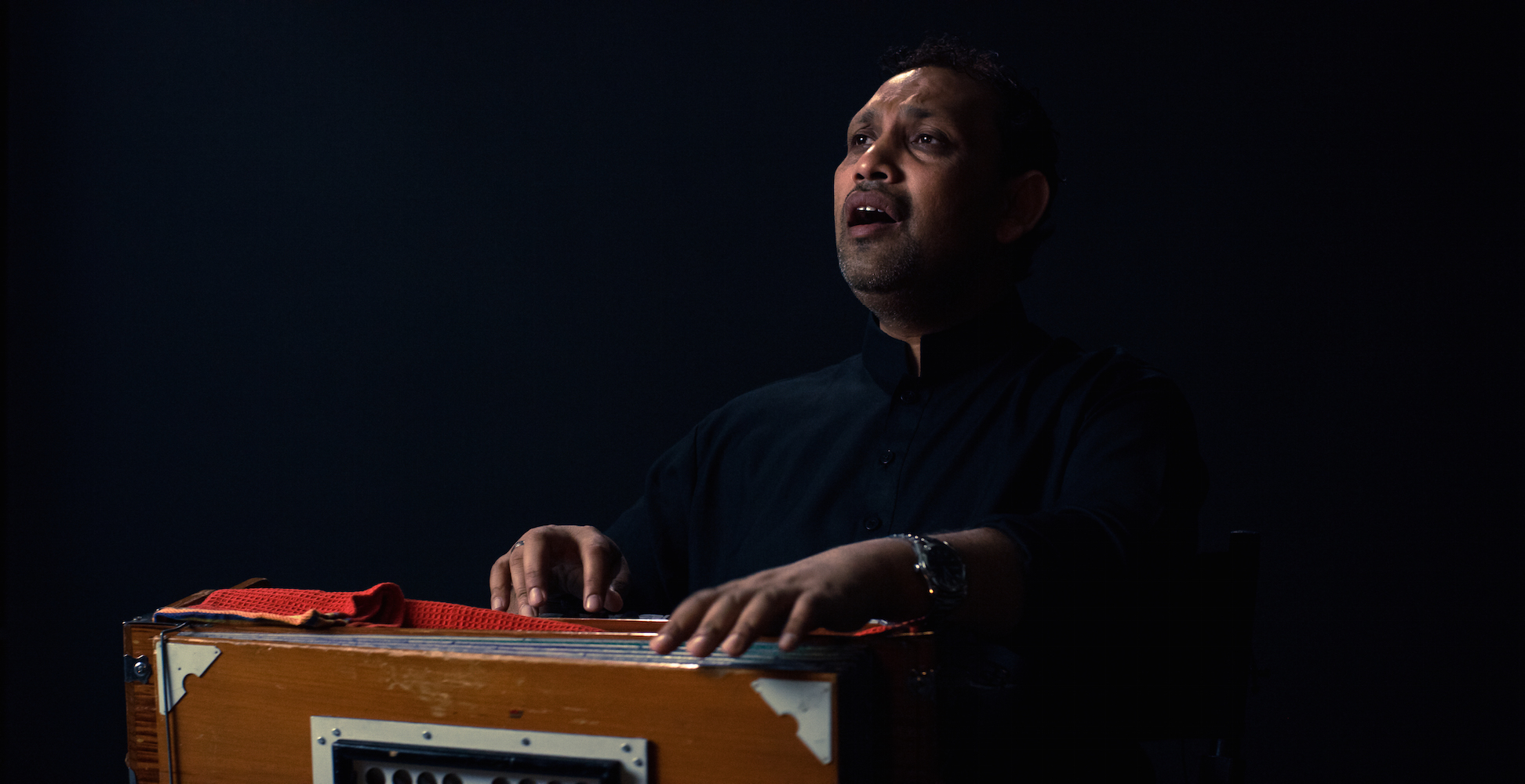 During a week of fasting and midnight services at his church in Karachi, Pakistan, musician Eric Sarwar was gripped by a recurring dream. Walking through the city wearing traditional garb, he carried a bag filled with Psalms and hymnbooks. As he went, a crowd of people pressed in on him, pointing and asking, "Did he become a sadhu—a holy man? What happened to him?" Every night, the crowd startled him awake, their words deepening into a single idea: "God was asking me if I would commit my musical gifts to Christian ministry," Eric says. "I knew I was having a vision, and I prayed, 'Lord, use me for some new thing in this generation and this country!'"
A classically trained musician, Eric—now a PhD student at Fuller—grew up immersed in the traditional rhythms and sounds of Pakistan. He lovingly plays the harmonium, a lap- sized keyboard instrument yielding melodies both haunting and soul-piercing. For many years in Pakistan, playing the harmonium at weddings, parties, and other gatherings provided a way to connect with artists of all faiths. Whether he joined a Hindu tabla player or a Muslim vocalist, the music they created softened the boundaries among them. "When we played together, we were a circle of friends," he recalls. "'Muslim' or 'Christian' didn't enter our minds!"
Whenever the music stopped, however, the strict religious and political boundaries returned—often at the expense of the Christian community. "With the gradual Islamization of Pakistan, I didn't realize until I went into ministry and planted a church how hostile a place the country had become for people of different faiths," Eric says. "We were seen as second-class citizens, even those of us who were born here."
During worship services at Eric's church on the edges of Karachi, rocks would pelt the sanctuary windows. Church members were followed from the sanctuary to their homes and harassed. Once when Eric was away—on Good Friday—his wife, father, and one-year-old son were attacked and threatened at gunpoint right in front of their church. Another time, individuals with guns came and pointed them not just at Eric, but also at his song as he slept in the car. "Twice," Eric says, "I have felt the cold barrel of a gun on my forehead." Increasingly, whatever harmony he felt in music was not dissolving this boundary between Christians and the Muslims around them.
The Pakistani church, ironically, often depended on Muslims professional singers for their recorded worship music. From cassette players in the home to loudspeakers on the church steeples, the majority of Christian psalms and hymns were recorded by Muslim singers who had more training and access to sound equipment. "We didn't ask why Muslims were singing our hymns and worship songs," Eric remembers; "it was a common acceptance. Can you believe that?"
Over time, Eric discovered in the Psalms a language to express his community's longing for justice and a grammar for prayer connecting them to the larger global church. "The book of Psalms is the primary hymnbook for Pakistani Christians," he says, "whether you are Roman Catholic or Baptist or Anglican or Presbyterian or Pentecostal." As Eric's love for the Psalms took over his personal devotions—"morning and evening," he says, "with my Bible open on my harmonium, I would pray and sing Psalms"—his recurring dream began to take over his sleeping hours. He knew God was nudging him to merge his music, love for the Psalms, and ministry.
Eric began turning down commercial gigs to lead worship, and dove into a recording project to help young Christians rediscover their voices through the Psalms. He gathered a team to record scriptural songs and Psalms in ragas, a traditional Indian melodic structure, and between takes Muslim producers and musicians would visit, curious about their friend's project. "Everyone knew we were working on a Christian album, and they wanted to know more," he remembers. "We drank chai tea together in the studio, and they would ask me questions. They could see that we were doing work at the same quality but for another purpose—not for money, but for ministry."
Wanting to go beyond just one recording project, Eric launched an annual Psalms festival—a place where Christian musicians throughout the city could come together, offer their music, and "revive the Psalms in our generation," he says. "Our first festival had more than 30 choirs and 50 solo singers from across the city. It went until 4 am! God was developing something larger than me."
An unlikely source of inspiration came to Eric when, while pursuing an MDiv at Pakistan's Gujranwala Theological Seminary, he read an interview in Mission Frontiers with Roberta King, associate professor of communication and ethnomusicology at Fuller, on music as a space for interfaith dialogue. "God spoke to me through that article. Ethnomusicology? The curtain was lifted for me, and I said to myself, 'This is the work that you are going to do.' I kept that magazine. It's still in my home in Pakistan!" Affirmed in his intuitions about music and ministry, Eric established Pakistan's first school of church music and worship—and, looking for opportunities to engage Muslims through the Psalms, enlisted them to help with sound production at the festival he had launched. With roles reversed, the Muslims in attendance heard zaburs—Psalms—that sounded both foreign and familiar. "When some of the Muslim musicians asked if they could sing the zaburs," Eric says, "we invited them to be background singers." As he began to see a missional purpose in the Psalms, Eric realized that the vision revealed in his dream was growing larger than he'd ever imagined.
"Only the Psalms could fill that connection, something we could present to the Sufi spiritual and musical tradition."
That vision widened even further when a group of Sufi Muslims asked Eric and his band to sing Psalms for them at their 300-year-old shrine. Some of his band members refused to go. Going to the shrine—a few hours outside the city—was risky, and they would be the first Christian group to visit it over those three centuries. "The Pakistani government disciplines evangelism harshly," Eric says. "If we were going to meet with Sufis from a 300-year-old tradition of music, what would be our connecting point? Only the Psalms could fill that connection, something we could present to the Sufi spiritual and musical tradition." With that conviction, Eric said yes to the invitation and filled a white van with guitar players, tabla djembe players, and a few Muslim friends who could act as bridges to the community.
When they arrived at the shrine, they were offered tea, welcomed by the supreme Sufi leader, and ushered into the courtyard—an open plaza bustling with thousands of worshipers, many gathering in the middle to listen to the guests. Wearing traditional clergy garb and carrying a bag of New Testaments and Psalms, Eric walked with his team to the center of the courtyard. It was like the vision from his dream—and "a moment," he says, "of hospitality and friendship beyond what we could have imagined!"
Eric and his team sang settings of Psalms 148 and 145 translated into Sindhi, the common language of the area. "These Psalms express God's authority over all creation and the nations, and that God is compassionate and gracious," Eric explains. "We wanted that to be our connecting point." After they sang, the crowd applauded and thanked Eric—it was the first time Psalms were sung in their own language in the main courtyard of the Sufi shrine. A Sufi member in charge of the local radio station asked them to sing it again to share on the radio, and they were invited back to perform later in the year as the sole Christian act in a music festival to honor the Sufi guru. "I was praying in my heart, O God, what are you doing here?" says Eric. "This was not in our imagination, it was not on our radar screen."
Today, Eric continues to sing the Psalms, produce festivals, and lead worship with his harmonium in Pasadena and across Southern California, as he studies ethnomusicology, the Psalms, and Islam as a doctoral student at Fuller's School of Intercultural Studies. Extending the call he heard in his dream to do a "new thing," Eric wants to help others use the Psalms and music to deepen a life of prayer and soften the boundaries between faiths. "My vision is to invite the Pakistani church to use the Psalms and music gatherings to engage their neighborhood and develop friendships," he says. "I see this as all of God's orchestration. For centuries so many people have been playing in it, and my brief small voice is also added now."
My mouth will proclaim the Lord's praise,
and every living thing will bless God's holy name
forever and always.
---