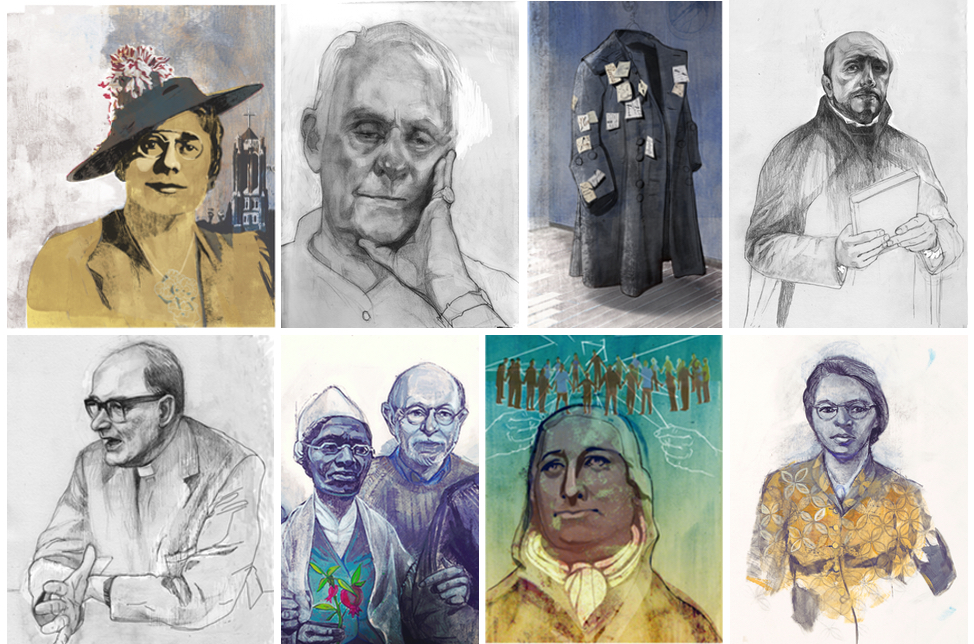 + Above are illustrations by our principal illustrator, Denise Louise Klitsie, drawn from theological articles that can be found on FULLER studio. They represent a great cloud of witnesses who have informed and inspired the deep theological thinking to which Fuller has been committed for over 70 years.
[left to right from top: Henrietta Mears, Frederick Buechner, Jonathan Edwards, Ignatius of Loyola, Bernard Lonergan, Harriet Tubman, Glen Stassen, Nikolaus Ludwig von Zinzendorf, Rosa Parks].
WHAT IS FULLER studio?
We at Fuller Theological Seminary are very excited to launch FULLER studio, a new venture making the best of Fuller's resources available for the Christian church and individuals interested in the formation of a rich spiritual life. By digitizing, producing, and distributing material online, the studio offers individuals, small groups, and large communities access to Fuller's wealth of theological resources. Drawing first and foremost from our outstanding faculty, then as well from a wider circle of Fuller friends and alumni from around the world—past and present—the studio will curate rich content around themes identified by our editorial advisory board and team. Our institutional vision is to create material reflecting seminary priorities informed by that editorial advisory board of faculty and senior leadership. Our deeper theological material, including the theology section in our companion magazine, is guest-edited by a faculty member, often with an editorial calendar planned years in advance. All content that populates the website and magazine is defined by that editorial plan, and is offered with free access thanks to our gracious donors Paul Piper Jr. and Shirley Piper.
The award-winning FULLER magazine, a companion to the website, curates from the studio's online resources to produce a free triannual publication for the extended Fuller community of faculty, students, staff, alumni, and friends. It is available in several forms: filtered on the website by category, downloadable as a stand-alone pdf, or as a hard copy magazine mailed by request. The studio offers, also free of charge, a regular e-newsletter announcing new material alongside rich resources curated from Fuller's long legacy of thought around theology and a myriad of subjects. FULLER studio is a Fuller-owned, independent company.
THEOLOGY EDITORIAL ADVISORY BOARD
Joel B. Green, PhD, Chair, Dean of the School of Theology and Provost
Keon-Sang An, PhD, Associate Professor of Bible and Mission
D. Scott Cormode, PhD, Director of Innovation
Kurt Fredrickson, PhD, Associate Dean for DMin and Continuing Education
Veli-Matti Karkkainen, DrTheol, Professor of Systematic Theology
Mark Labberton, PhD, President
Joy J. Moore, PhD, Assistant Professor of Preaching
Kara Powell, PhD, Executive Director of Fuller Youth Institute and Assistant Professor of Youth and Family Ministry
Brad D. Strawn, PhD, Evelyn and Frank Freed Professor of the Integration of Psychology and Theology
Jude Tiersma-Watson, PhD, Associate Professor of Urban Misson
Miyoung Yoon Hammer, PhD, Associate Professor of Marriage and Family Therapy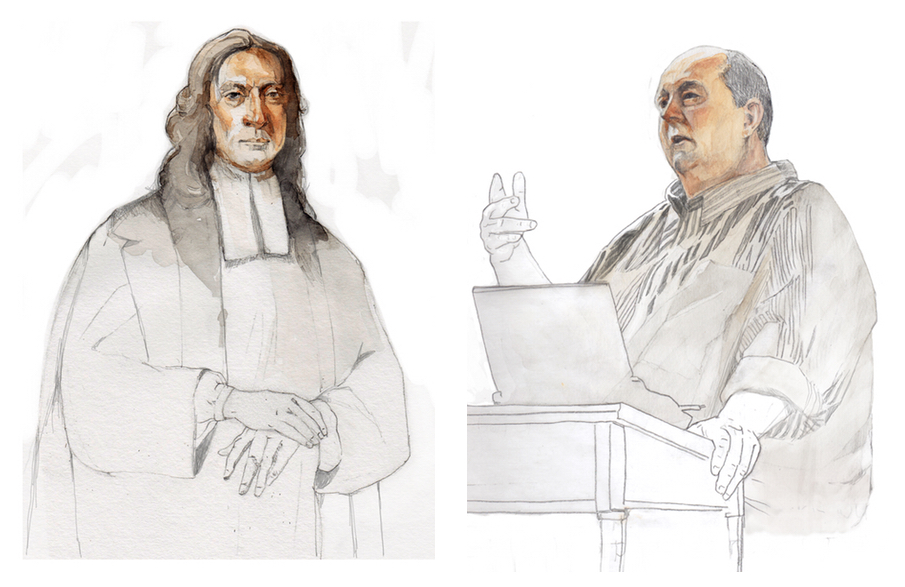 + representing generations of thought: Joel Green (right), dean of the School of Theology and professor of New Testament interpretation, and his theological forebear John Wesley, minister and founder of Methodism.

---
Fuller Theological Seminary is one of the world's most influential evangelical institutions, the largest multidenominational seminary, and a leading voice for faith, civility, and justice in the global church and wider culture. With deep roots in orthodoxy and branches in innovation, we are committed to forming Christian women and men to be faithful, courageous, innovative, collaborative, and fruitful leaders.
Fuller offers 18 degree programs at 8 campuses—with Spanish, Korean, and online options—through our Schools of Theology, Psychology, and Intercultural Studies, as well as 20 centers, institutes, and initiatives. Approximately 4,000 students from 90 countries and 110 denominations enroll in our programs annually, and our 41,000 alumni have been called to serve as ministers, counselors, teachers, artists, nonprofit leaders, businesspersons, and in a multitude of other vocations around the world.
FULLER magazine (ISSN 2377-5432) and FULLER studio website are published for the global community of Fuller Theological Seminary. Our editorial content reflects the opinions of the various authors and should not be interpreted as necessarily representing the views of Fuller Theological Seminary. The website and magazine are free publications of Fuller Theological Seminary.
© 2017 by Fuller Theological Seminary.