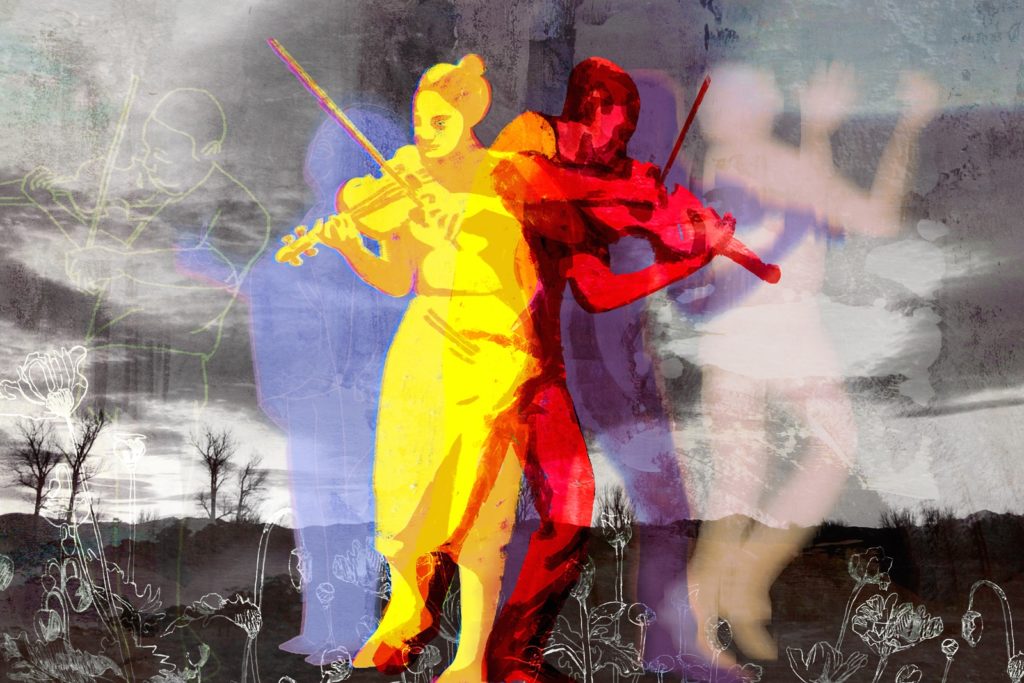 I was driving to an evangelical church with my Israeli-born friend, Summer. It was a typical balmy Southern California evening. But it would not be a typical service in that church that evening. Summer (whose given name is Samir) and I first met in a Middle Eastern music ensemble that brings together people originally from North Africa and the Middle East with others to enjoy the music of their cultural heritage. Like that group, this event would celebrate Middle Eastern music. As we entered the church, I found lighthearted laughter and joy as a diverse group, among them both Muslims and Christians, anticipated the evening's concert.
The concert began with a West African griot1 from Senegal performing on the kora, a 21- string harp-lute. The concert proceeded with more Middle Eastern music, followed by an informative intermission. One of the church leaders explained how a number of local churches had been coming together to help Syrian refugee children get established in their local schools and find a place within the larger Southern California community.
To round off the musical evening, a long-established Jordanian immigrant of Palestinian descent came forward and began playing his oud. As a Christian, he sang, "Salaam, salaam, yarabi salaam" (Peace, peace, oh my Lord, peace)—a song that drew out a wistful longing and nostalgia for everyone in the room. Next, he sang "How Great Thou Art," alternating between Arabic on the verses and English on the chorus, with the intention that everyone in the audience could participate at some point.
But then he launched into a well-known Arabic folk song, totally shifting the dynamics of the concert. The song evoked a nostalgia of better times and of being at home. Slowly and with growing momentum, the Middle Eastern newcomers moved to the front and started to line dance, men clasping hands and holding them high in the air with large smiles on their faces. Then the church members and the local community gingerly came forward, attempting to join in. Young women in their hijabs brought out their smart phones to capture the excitement. It was a spontaneous moment where multiple barriers were breaking down. Joy and delight abounded.
That night, an Arabic folkdance migrated along with the refugees into a local church half a world away from its origins and brought joy and hope to all involved. The church, located not far from where an Islamic terrorist attack had just taken place, not only sponsored a benefit concert that evening, they also fostered a peacebuilding event via music-making. What, then, are the dynamics behind the performing arts and peacebuilding?2
PERFORMING ARTS AND PEACEBUILDING
In today's global era, when sounds of violence and conflict mute sounds of joy and delight in God-given life, "musicking"3 and the performing arts are joining hands in innovative approaches to peacebuilding. This takes place through the building of healthy relationships, central to working toward peace. As John Paul Lederach argues, "Peacebuilding requires a vision of relationship."4 He maintains that there must be a capacity to imagine "the canvas of mutual relationships and situate oneself as part of a historic and ever-evolving web,"5 or peacebuilding efforts will collapse. Enter the performing arts. They function as agents for building relationships. Not only do they foster moments of imagining mutual relationships, but they also have the potential to propel people into experiencing one another as human beings.
Significantly, Lederach observes the following:
The artistic five minutes, I have found rather consistently, when it is given space and acknowledged as something far beyond entertainment, accomplishes what most of politics has been unable to attain: it helps us return to our humanity, a transcendent journey that, like the moral imagination, can build a sense that we are, after all, a human community.6
Building a sense of human community through the arts emerges out of a range of metaphors that allow people to rise above the actualities of their current life situations.
PERFORMING ARTS AND EMBODIED METAPHORS
In peacebuilding, the performing arts serve as embodied metaphors on multiple levels. Not only do they metaphorically speak into our inner lives creating spaces of imagination, but they also move us into experiencing and interacting with one another. The strength of the performing arts is just that: they are meant to be experienced, often moving people into deeper levels of communication. Thus, the arts contain the capacity to impact peoples and societies in ways that transform their relationships. Building a sense of community was one of the major outcomes from the concert that evening. More significantly for the church, the concert engendered an opportunity to practice Jesus' command to love our neighbors as ourselves (Luke 10:27).
How was this accomplished? The performing arts fostered a unique mixture of metaphors and poetics. Each musical piece and associated activities generated metaphor upon metaphor, creating a web of symbols. The performance of song, for example, united the metaphors inherent in the lyrics, melody, harmony, the type of instruments used, and the inclusion of dance, plus appropriate clothing. This confluence of metaphors combined in exponential ways that resulted in an overarching embodied metaphor of human relationships.
The concept of "musicking," which embraces all activities related to a concert, helps us further understand this aggregation of embodied metaphors. At the Fez Festival of World Sacred Music,7 for example, serving Arabic coffee as global attendees enter the Moroccan concert hall functions as a gesture of hospitality. Going further into the auditorium, after finding one's seat among a sea of peoples from around the world, the focus turns to the Al Kindi Ensemble with the Munshidins (whirling dervishes) from the Damascus Mosque standing next to the Tropos Byzantine Choir of Athens on the same stage. Here are two contrasting faiths, historically at odds with one another, sharing the same stage, creating an embodied metaphor of the possibilities of coexisting as neighbors. Such embodied metaphors point toward building healthy relationships among global neighbors. By coming together around a common cause, music and the performing arts open up social spaces where "relationships are built and interaction takes place."8
PERFORMING ARTS AND SOCIAL SPACES
Performing arts require social spaces, which become arenas for relating with one another. We know that "Performance is a rich and complex social affair wherein group meaning is processed and negotiated."9 It is in the social interaction of a performance event that people experience and create new meanings and attitudes toward their global neighbors. These are spaces where peoples from totally different walks of life can come together. They foster safe spaces of relating and processing relation- ships, both good and bad, in public settings. When encounter and engagement with peoples of different groups are sensitively entered into, shifts in attitudes toward one another take place and an openness to attachment toward global neighbors is initiated. I call these social arenas "Musical Spaces of Relating."10
"Musical Spaces of Relating" foster negotiating relationships across a continuum of five different levels and stages.11 Relational attitudes and behaviors range from exclusion and enmity to willingly relating as neighbors. They include (1) enmity and exclusion toward people who are different, (2) encounter with others, (3) engage, (4) embrace, and (5) relating as neighbors. A brief analysis of the Syrian Benefit Concert described earlier demonstrates the dynamics of these five stages.
Stage 1: Enmity and/or Exclusion. Peoples of different nationalities who had not had any previous long-term contact, such as newly arrived Syrian refugees and a local Southern California community, now have the opportunity to come together around a music event.
Stage 2: Encounter. New neighbors are entering into the musical space and finding themselves encountering peoples of differing faiths, nationalities, and languages. The benefit concert provided a space to meet the needs of newcomers while also providing an opportunity to share common interests and, above all, demonstrate a willingness to be together.
Stage 3: Engage. Musical performance became the main reason for coming together. Inviting West African and Middle Eastern performers to share their unique music was a sign of generous hospitality. The host churches recognized a people's "home" music as significantly important. Indeed, a people's cultural music is a key part of their identity. As the evening developed, the long-term locals could begin to sense the distinctive differences between music cultures. They were entering into Middle Eastern ways of life and identity. This became especially evident when the concert moved beyond mere listening into participatory elements of dancing, clapping, and affirming vocal exclamations, common to much non-Western music. While some were fully engaged, others were still proceeding on a listening-only level. Then the pivotal moment occurred and the concert participants moved into a full embrace of one another.
Stage 4: Embrace. The folk song elicited direct participation on multiple levels. The Middle Easterners were propelled to complete the expectations of the music performance. It called forth dancing, a joining of hands, and a delight in being together. A sharing of joy and being themselves provided impetus for the people from the local community to join in the dance. A shared common humanity was recognized. Joy filled the room as people were enjoying being together and relating as neighbors.
Stage 5: Relating as Neighbors. The talking in the room rose to a peak level as the music finally stopped. People were in no hurry to leave. The excitement carried on, and many experienced a desire to continue on, to not let the music stop. The potential for living together as neighbors in peace and the groundwork for deeper dialogues of sharing life and one's faith in God had been established.
In sum, peoples from different walks of life can freely enter into musical spaces relating at different levels of understanding and from different religious perspectives. They find their common humanity through performing arts like music-making, and thus experience the possibilities of living together as neighbors.
MUSIC AND PERFORMING ARTS IN A DIVIDED WORLD
In today's challenging global climate, music and other performing arts offer social arenas for engaging and embracing our neighbors. They promote peacebuilding through performance events—for example, "musicking"— that allow people to experience being in each other's presence through non-aggressive and non-threatening means. People come together, often experiencing profound moments of joy, respect, and dignity. Relationships are initiated and allowed to thrive. The truth of Miroslov Volf's admonition rings true: "We are created not to isolate ourselves from others but to engage them, indeed, to contribute to their flourishing, as we nurture our own identity and attend to our own well-being."12 Learning about our neighbors, in this case through "musicking," created pathways for relating as neighbors, listening to them, and initiating dialogues that foster sustainable communities of peace—and loving them as ourselves.
Adapted from Global Arts and Christian Witness, by Roberta King, copyright © 2019. Used by permission of Baker Academic, a division of Baker Publishing Group.
---
ENDNOTES
1. The term griot refers to a "class of hereditary professional musical and verbal artisans" originating in the Senegambia region of West Africa. More generally, griot can also refer to any "African oral historian, praise-singer or musician, regardless of birthright." The New Grove Dictionary of Music and Musicians, ed. S. Sadie, 2nd ed. (New York: Oxford University Press, 2001), 10:427.
2. Story adapted from R. R. King, "Global Arts in Peacebuilding and Interfaith Dialogue," in Global Arts and Christian Witness: Exegeting Culture, Translating the Message, Communicating Christ (Grand Rapids, MI: Baker Academic, forthcoming 2019).
3. Christopher Small maintains that "music" is an action verb, what he calls "musicking." Thus, "to music is to take part, in any capacity, in a musical performance." See his book Musicking: The Meanings of Performance and Listening (Middletown, CT: Wesleyan University Press, 1998), 8.
4. J. P. Lederach, The Moral Imagination: The Art and Soul of Building Peace (Oxford: Oxford University Press, 2005), 10. 5. Ibid.
6. Ibid., 153.
7. The Fez Festival of World Sacred Music is a nine-day event that takes place annually in Fez, Morocco. It brings together a global audience around music, religion, and dialogue. The examples cited here are from my ethnographic notes made during the 2008 event. For further information and this year's program see https://fesfestival .com/2018/en/.
8. Lederach, Moral Imagination, 183.
9. R. R. King, "Music, Peacebuilding, and Interfaith Dialogue: Transformative Bridges in Muslim-Christian Relationships," International Bulletin of Mission Research 1, no. 15 (2016): 205. 10. Ibid., 207.
11. Ibid., 205–7.
12. M. Volf, "Living with the 'Other,'" in Muslim and Christian Reflections on Peace, Divine and Human Dimensions, ed. J. D. Woodberry, O. Zümrüt, and M. Köylö (Lanham, MD: University Press of America), 12–13.