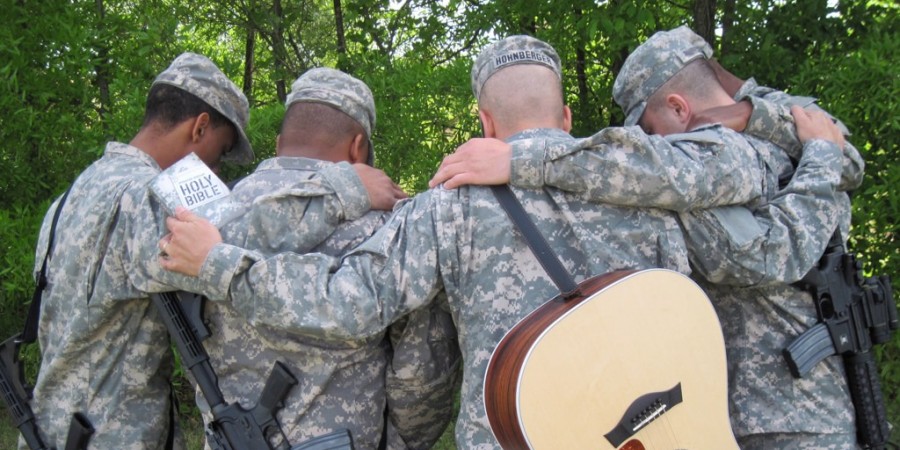 "What we do as chaplains is radical incarnational ministry. All chaplains, whether they're Buddhist or Muslim, understand ministry of presence. As Christians, we are the physical manifestation of Christ's love, and this is what is specific about Christian chaplaincy. Ray Anderson used to talk to me about it like this: it's incarnational ministry and church outside the walls. Your office is in your boots."

+ Rev. Dr. Alan T. "Blues" Baker [MDiv '87] is a retired Rear Admiral in the United States Marine Corps. Image courtesy of Jason Hohnberger [MDiv '09], above, with guitar. Chaplain Hohnberger has served at Arlington National Cemetery as an Army chaplain and as a prison chaplain stationed at Fort Leavenworth, a military prison in Kansas.
"Navy Chaplains work with Sailors, Marines, and Coast Guardsmen. It is an incarnational and relational ministry. For most military, the mission is the priority—for chaplains, the mission is the people. Building relationships is key. One hundred percent confidentiality is the law, so we are a safe harbor for people to share their hearts without fear of repercussion—we will listen and not judge.

A chaplain, unlike a pastor, practices the ministry of presence in a congregation that is not a church environment. I would not be a good Navy chaplain if I hid in the office all day. If a chaplain is on a ship, he or she will spend a good deal of time walking around, stopping briefly in the work spaces, eating with others and spending time chatting with Sailors in the smoking pit (one of the best places for conversation). Because I go where they are, it is not unusual for a Sailor to approach me and say, 'Hey, Chaps, while you're here, can I talk to you about something?' We do not wait for Sailors to come to us; we go to them. In the Navy, we call this 'deck-plate ministry.' Chaplains, especially those on deployment and active duty, live, eat, and sleep alongside the people they care for.  We are embedded with our people."

+  Mareque Ireland (pictured) is affiliate assistant professor of theology at Fuller, faculty adviser for Students Serving Veterans, and a Navy Reserve Chaplain assigned with Commander, Naval Air Forces (CNAF) in San Diego, California. Her thoughts represent her opinion, and are not the official position of the US Navy.


"Chaplains are noncombatants and do not carry a weapon. We not only care for service members and their families, but are a part of the commander's special team. We offer a wide spectrum of support by acting as moral compasses, assist with improving morale, and care for the spiritual needs of all soldiers regardless of their religious background."

+  Anne Jordan [MDiv '15] is a chaplain candidate in the California Army National Guard, active member of the Students Serving Veterans group, and is the first female for the California Guard to graduate with Distinguished Honors from the Army Chaplain Basic Officers Leadership Course (CH-BOLC, 2012).
There are many kind of chaplains:
"Tears and talk are safety valves. Time, just as necessary, works indirectly. We conventionally speak of time as a healer. Yet a wound heals over time only with proper tending. In a similar way, time creates room for the processing of grief, and it is this processing that holds out hope of healing. It takes time for the mind to catch up with the heart."

+  Leslie Allen, senior professor of Old Testament and volunteer chaplain, from his book A Liturgy of Grief: A Pastoral Commentary on Lamentations.
Police
"The scriptures in Philippians 2 where Paul writes of Jesus' considering others before himself came alive to me when I started to serve as a police chaplain. I intended to serve them and yet time after time, officers put themselves in harm's way to protect me, their chaplain. Every day they put their uniforms on with the possibility that they may not go home at the end of their shifts. Police chaplains serve police and community but our priority is the department. We provide emotional and spiritual care, active listening, and clergy confidentiality. A ministry of presence can bring comfort and express care without words, encompassing physical, emotional, and spiritual care. This is sacramental presence. It is a revelation of Jesus' care and compassion through listening, being with, and affirming."
+ Mary Glenn [MDiv '03], Fuller adjunct professor and senior chaplain of the Alhambra Police Department, leads partnerships of police chaplains in the Greater Los Angeles area. This quote is taken from her reflection on the ministry of presence for the Fuller Youth Institute.
Prison
"Chaplaincy is a unique calling—prison chaplaincy seems more unique still. I am in prison most Sundays as a volunteer chaplain at the California Men's Colony. Most of my eight to ten weekly volunteer hours there are spent meeting with the inmates—most of them 'lifers,' men serving life sentences—discussing their spiritual development. Communion is celebrated once a month. I do not preach there; the inmates run their service. I am still really moved every time I worship with them. I am especially moved when they serve me communion. Taking communion from a convict brings me to tears every time, and 'The Body of Christ, broken for you' has special meaning when a man serving 25-to-life says it to you."
+ Bill Bartlett [MATM student] is a volunteer chaplain at the California Men's Colony, a correctional facility in San Luis Obispo.
Business
"I was immediately interested in pursuing chaplaincy in the film studio environment. Most Hollywood ministries are operated off studio lots and are aimed at meeting the needs of entertainment believers. As Dr. Richard Peace shared in his evangelism class, 'Look at the recent movies in theaters: Our culture is engaged in deep conversations about spirituality. The problem is that Christians are often left out of those conversations.' Some studios function much like gated neighborhoods—they have their own police department, post office, and gas station. They need a central place of worship to nurture spirituality, too. In the future, I envision a chaplaincy program at all the major studios where chaplains can minister 'on location' to all industry professionals—not as outsiders, but as insiders."
+ Kevin Anthony Deegan [MDiv student] saw an opportunity to minister "on location" after doing an ethnographic study on Hollywood studios. After graduating, he hopes to synthesize his experience and education to develop a studio chaplaincy program.
+ Rev. Virginia Christman [MDiv '08] is a chaplain at a cancer research hospital in Los Angeles, and she recently partnered with a local art therapist to create an installation of over 1,000 prayer flags. Patients are still making them today. Photo by Thomas Brown.
Hospice
"As a chaplain I recognize the importance of remembering people's names and their stories. I call this my theology of personhood. Knowing a person's story is one way to touch people at their core, to remind them of their humanness, and to bring warmth to their soul. It's not just about remembering a person, it's about connecting to people in the deeper areas of their lives, and helping a person feel valued for who they are. In my ministry as a hospice chaplain I often use storytelling or guided imagery to connect to a patient and help them find a place of peace where they can relax. When a patient feels lost I help remind them of their story, and the ways they are connected to others and to God's story. For my patients in hospice, death is another chapter in their story."
+ Lisa Nelson [MDiv '09] works as a chaplain for Suncrest Hospice in Colorado. She uses storytelling to lessen anxiety and create sacred space for end-of-life care.
Assisted Living
"There's a space between retirement and hospice, and it's an ever-growing group of people. An assisted living community asked me for pastoral support, and they have become one of God's greatest blessings to me and a source of immense joy for our family. We spend a few hours of every Sunday with our elder sisters and brothers in residence, offering a worship service and intergenerational fellowship. It grieves me when I hear elderly adults saying, 'I don't know why I'm here. What does God want for me? Why am I still alive?' I want to tell them that they are here because we can learn so much from their past experiences, but there's no one listening."
+ Jordan Henricks [MDiv '14], assistant to the provost and administrator of academic systems, is an Army Reserve Chaplain and local pastor. On weekends, he serves the elderly community at California Mission Inn in Rosemead, California.
Hospital
"Daily I encounter patients and families of diverse cultures and spiritualties, all of whom react to crisis, suffering, and death in numerous ways. Today I might find myself responding to a code blue where a patient's heart stops unexpectedly, and I minister to the family as they anxiously await the outcome. The next hour I might baptize a critically ill newborn baby; and the hour after that I might provide support for a patient diagnosed with clinical depression, wondering where God is in this deep pain. I also serve on our bioethics committee, and when a patient's dignity or best interests are in question (in other words, are we doing the right thing?), I offer ethical reflection and guidance.  All of this is rich, meaningful work. I pray my patients experience God's love through me, but the one being most transformed is me."
+ Rev. Cassie McCarty [MDiv '03] is the director of mission integration and spiritual care services for Dignity Health Glendale Memorial Hospital and Health Center. She is a board-certified chaplain with the Association of Professional Chaplains.
+  (left) Adam Waldon [MA '14] participated in the new fire chaplaincy internship this past summer at Fire Station 191 in Peoria, Arizona, where Chaplain Kyle Layne [MA student] was his supervisor. Photo by Rev. Layne. (right) This military chapel served 4,500 Marines during Gulf War One. Because the regulation Chapel Pennant could not be flown, the Marines chose a "fish flag" to represent their faith to fly continuously over what they affectionately called "Cammie Cathedral." Picture by Rev. Dr. Alan T. "Blues" Baker.

"One night I arrived at a hospital emergency room to help with a family whose loved one had just died. I usually go to the Emergency Medical Services room first to talk to firefighters, get the lowdown on the call, see if they're ok. This night as I got to the room one of the firefighters—a good guy, despite his rough exterior—said, 'Oh, good, God's here.' He was making a joke, but it really resonated with me. 
It reminded me that I am the presence of Christ in the world. A training captain once invited me to go into a live burn while they were training 
a new recruit class. While we were cooling off he turned to me and said, 'You know Kyle, I don't believe in God, but I do believe in you.' I was truly humbled."

+  Capt. Kyle Layne [MA student] is the Chaplain for the City of Peoria Fire Department and supervisor for a new fire chaplaincy internship at Fuller Arizona. Read his full reflection.

+  Capt. Cameron Fish [DMin '14] is the senior command chaplain at the Naval Submarine School in Groton, Connecticut. Here, he is delivering remarks at the school's Blessing of the Bikes ceremony.
"I call it the dance. When I am about to step into one of these difficult situations, I offer up a prayer for wisdom and strength; I take a deep breath, and then I engage, taking my cues from those who are hearing the news. Every situation is different. There is no script. I don't offer easy answers or empty platitudes. The situation is bad. It is horrible, a tragedy.
So we dance—whatever the grieving people need at that moment, we offer. Through words of sympathy or silence, and simple acts like getting someone a glass of water or making a difficult phone call, we sit and we seek to care. We who deliver this bad news want to do it well—with compassion and sensitivity. We are humbled to be present in the midst of these raw emotions."
+ Kurt Fredrickson [PhDICS '09], associate dean for the Doctor of Ministry and Continuing Education and assistant professor of pastoral ministry, from his blog reflecting on the delivering of death notifications. He is the supervising chaplain with the Simi Valley Police Department.
Resources
CLASS: Fundamentals of Chaplaincy with Alan T. "Blues" Baker
Doctor of Ministry Path for Air Force Chaplains

Doctor of Ministry Path for Army Chaplains

Doctor of Ministry Path for Navy Chaplains

Students Serving Veterans Student Group