"Stillness is not just about being quiet—there's something deeper to stillness than silence. We tend to minimize rest, but it's okay to experience God by slowing down and enjoying creation. We made the Stillness Tent because I think we needed a visual interruption. Our lives are so busy and we need those interruptions that call us to stillness. I wanted something to stumble upon—something that was hard to ignore. Even on the weekends, I've seen people lying around inside it just resting—we don't do that naturally, and it's accomplished what we wanted. This tent has brought up a lot of good conversations. Someone asked me if it was okay that a group of moms with their kids were having a picnic inside the tent. The kids were playing, and this person thought it was misusing the space. But even that kind of play is a part of our lives here—their children were using the tent in the way a child would use it. It's been an interesting experiment for our community. It's fascinating what a space like this can cause people to do."
+ Jenn Graffius, previous director of All-Seminary Chapel, on the Stillness Tent—a project by FULLER studio and the Chapel team creating space for prayer and reflection during Lent in the center of the Pasadena campus. Blocking the view down Fuller's quad created a chance to stop and observe. When the tent was removed during Holy Week, seeing the familiar, uninterrupted tunnel of green was like exhaling a long-held breath.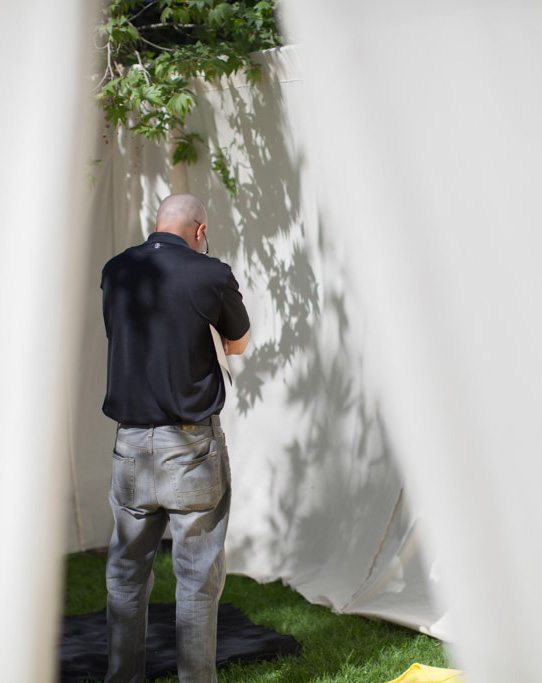 "Hearing God requires that we listen to God. Finding the time and place in which to do this listening is proving harder and harder. Most of us live in an over-rich sensory environment, filled to the brim with sights, sounds and experiences. We dash from event to event; always wired so we can keep up with what is happening in the world and with our friends. Too much stimulus.
It is hard to hear God's voice in the midst of such a cacophony. If, as I have come to believe, God's voice is usually quiet and unobtrusive, we are apt to miss it with so much inner chatter. So we have to find the right place and time in which to listen
. . . We need to develop a taste for silence, a comfort in the midst of silence. We also need the tools to reach out to God in that silence as well as the ability to notice God's voice."
+ Richard Peace, professor of evangelism and spiritual formation, in his book Noticing God
"If my life is constantly in a frenzy of noise and chatter or if I'm compelled to be doing something, there's a sense in which 'maybe if I just do a little more of it, my life will achieve some type of equilibrium, balance, or happiness.' I forgot who said this: the human species is the only animal that when they're lost they increase their speed. I think that when we feel lost we don't know what to do, so we just increase speed and noise. I think it's scary to be quiet."
+ Rev. Matt Russell, adjunct professor at Fuller Texas, in an interview with the National Association of Christian Recovery
---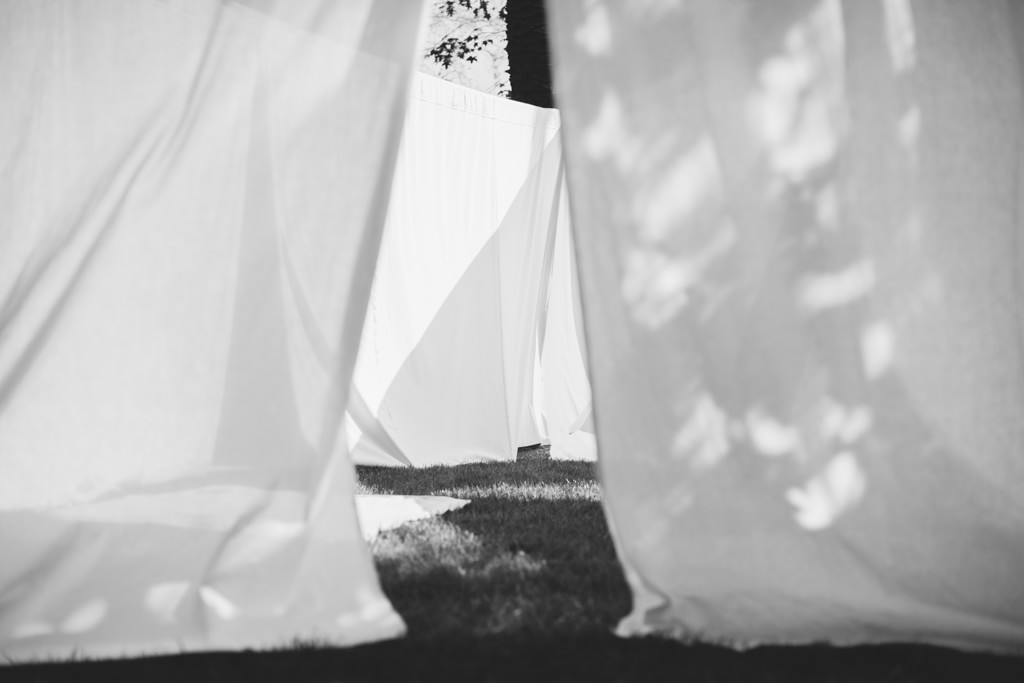 From a Crazy City Girl 
to a Mad Farmer
I know nothing of trees.
Of tending the land
Or of the feel of soil between my fingers.
But if you teach me how to plant,
Maybe I, too, will learn to grow.
I know nothing of stillness.
Of taking unconditional breaths of unconditioned air,
Or the sounds of rivers rushing.
But if you teach me silence
Maybe I can make some sense of the noise.
I know too much of violence.
Am all too familiar with what it means to defend one's own.
But if you teach me what I am fighting for,
Maybe I can put down the sword.
If you remind me of the paths beneath these roads or the land beyond these buildings
Maybe I can re-imagine what abundance really looks like.
So never stop telling the stories of the land
Or inviting others into that beautiful silence
Because if you teach them life
Maybe they, too, can practice resurrection.
+ This poem by Tamisha Tyler was written for "A Wendell Berry Reading," hosted by Fuller's sustainability student group and featuring professor Tommy Givens. Read more poetry from the Fuller community here.

---
"Thank you for this wonderful space that you've created. I brought my two young children here and had a chance to enjoy it. It was just what I needed—a time to 'be still and know that he is God.' The blankets and journals you provided made the time here even more special. I wondered what I could contribute and noticed there were no pens left, so I added some. I hope this can carry on the purpose of blessing those who enter in."
+ from a community member in a note entitled "To the Creators of the 'Tent of Stillness.'" This note was hidden in a basket, along with a drawing from one of her children. The Stillness Tent was installed in the public thoroughfare on Pasadena's campus. Blank notebooks, pens, and blankets were provided, and counselors and chaplains were often available. Special thanks to Eric Tai [MAICS student], Jenn Graffius, and TJ Lee.