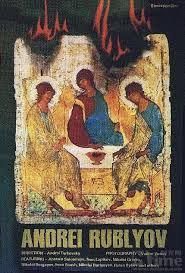 We all have cinematic blindspots, films we haven't seen that are famous and that have influenced so much of the cinema we love. Reel Spirituality Podcast regulars, Matthew Aughtry, A.C. Neel, Jonathan Stoner and host Elijah Davidson decided to correct at least one of those blindspots together.
On this, the preceding, and the following Reel Spiritualty Podcasts, we're focusing on the films of Andrei Tarkovsky. On this second episode, we watch and then immediately discuss Tarkovsky's Andrei Rublev, a measured, episodic, and puzzling look at the life of a 14th century iconographer, and a complicated exploration of the life of an artist and the meaning of art in a person's life, in society, in history, and in worship.
The first episode in this series focuses on Stalker, and the final episode will focus on Mirror. We encourage you to watch the films beforehand, preferably with others, and then discuss them together afterwards. The discussion often proves as enlightening and formative as the films themselves.
The theme music for our podcast is provided by Matt Lumpkin, whose music can be found here. If you are interested in subscribing to the Reel Spirituality podcast, follow this link.