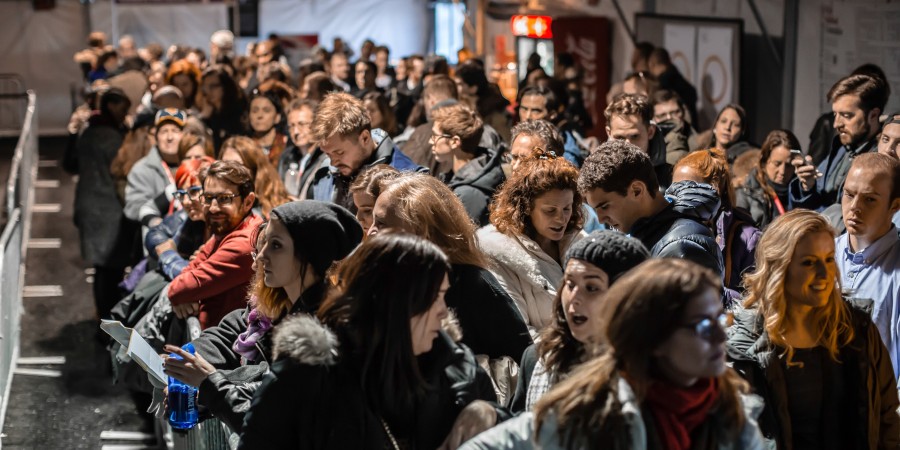 +  This is the third in a series on immersion courses examining why the learning experience they offer is unique. Read about our immersion courses in Orvieto, Italy and the Holy Land.
Every Sundance Film Festival movie title should end with a question mark. It would prepare festival attendees for the kinds of films they will see during the week-and-a-half-long celebration of independent cinema from around the world that is "Sundance." Sundance movies ask questions. Sundance films poke at audiences to provoke a response—sometimes the way a younger sibling does and sometimes more seriously, as an Old Testament prophet might. That's why every Sundance screening is followed with a question and answer period between the filmmakers and the audience. Sundance films demand conversations.
During the 11-day festival, known around the world for drawing filmmaking's wisest sages and brightest newcomers, those conversations spill out of theaters and into the coffee shops and restaurants of Park City, Utah. A partnership between Windrider Forum and Fuller Seminary gives students, alumni, and friends exposure to this unparalleled event, and conversations spill into the classroom as well. For five mornings during our stay at the festival, we gather to talk together about the films we are seeing and what those films make us think and feel. Those gatherings aren't just insulated discussions: the festival is an opportunity to think and talk about theological matters also with people who aren't seminary students but who are often just as interested in theological and spiritual things. Frequently, the filmmakers themselves visit the class for longer, more intimate conversations than even the post-screening Q&A sessions provide.
The filmmakers are often eager to stop by because the class exists to discuss what the movies mean and why they matter—not just what kind of camera the cinematographer used or what it was like to work with actress Parker Posey. Filmmakers are storytellers. The best ones put the story first and tell it as best they can, articulately using the language of cinema—acting, camera angles, edits, and sound. They trust the meaning of the story to emerge as the film is shown and audiences respond. Audience response is the final step in the filmmaking process. Without an audience, a film is incomplete.
One of the filmmakers who joined us in 2015 was Rodrigo Garcia, writer and director of Sundance premier Last Days in the Desert. His film follows Jesus (performed by actor Ewan McGregor in a dual role as both Jesus and the devil) as he is exiting the Judean wilderness following 40 days of fasting and prayer. Christ meets a family living there and gets involved in their lives for a few days. As Jesus struggles to hear from his Father in heaven about Jesus' earthly mission, the boy and his father are struggling to come to terms with the boy's future. Last Days in the Desert is a film about fathers and sons and the troubles they sometimes have communicating, but Garcia didn't set out to make a film about that. He just wanted to explore what might happen if Jesus had this interaction as he prepared to begin his ministry.
"I thought that was enough to explore, but I had no idea really what I was talking about," Garcia said. "It was about him. It wasn't me trying to say, 'I want to do a story about fathers and sons—why don't I do it with Jesus?' No. It was the other way around. The story came first."
Garcia was raised in a predominantly Catholic community in Colombia, but he isn't a Christian. He is interested in Jesus, however, and wants to talk about him. Garcia did talk about Jesus, and about his film that features Jesus, for 45 minutes with our class during the festival. Conversations about theologically and spiritually significant films and ideas are common at Sundance—conversations that we have been happy to join over the last decade or so.
The class was also visited by Chloé Zhao, writer/director of Songs My Brother Taught Me—a film about a group of young people from the Lakota Sioux nation considering whether to leave their reservation homes. The questions that drove Zhou concerned heritage and communal bonds. Professor of Theology and Culture Robert K. Johnston asked Zhou, a Chinese woman who immigrated to the United States when she was 19, why she chose to make a film about people so different from her.
"I'm more curious about the heartland of America. Why didn't people there just leave and move to New York or L.A.?" Zhou answered. "Even when I made a short film in China, I went to the most rural place possible, because I was curious why people decide to stay in these villages—what's keeping them there? Those are roots I feel like I don't have, coming from a big city."
Festival founder Robert Redford hosted a long conversation with film critic Leonard Maltin and filmmaker George Lucas for this year's fortunate filmgoers, and he said that he started Sundance to give a stage to independent voices of exactly this nature—filmmakers telling different stories about different people from the more predictable studio films being made in New York and Los Angeles. I doubt that back in 1981 Redford imagined he'd also be making room for thousands of festival attendees from all over the world to share stories with those filmmakers as well. Fuller's experience is precisely what the festival was created to encourage.
Conversations with filmmakers are among the more exciting elements of the Windrider Sundance experience, but what lingers even longer are conversations that class participants have about the films they are seeing together at the festival. In many ways, waiting in line for those movies is the richest part of the week together: it's while waiting in line that we get to talk about Listen to Me Marlon and the limits of memory, about (T)error and the tragic morass of human justice, about the grace inherent in honest confession as witnessed in Pervert Park, or about Don Verdean and the perils of being "double-minded" women and men.
The conversations in line before the films begin are about the films, but they are also about everything the films are about. They are about people and places independent from one other and yet connected by a common love of movies and the common concerns we all share. We're all looking for love. We all need forgiveness. We all are concerned with justice.
And hey, have you seen Dope yet? I hear it's great.
+  These photos are of the group that attended the Windrider experience at Sundance in 2015, including interviews with festival filmmakers. You can read reviews of many Sundance films or listen to the full conversations with Rodrigo Garcia and Chloé Zhao on the Reel Spirituality website curated by Elijah Davidson. Windrider was founded by Will Stoller-Lee, Fuller Colorado director, 2012 Distinguished Alumnus John Priddy [MACL '05], and Ed Priddy.