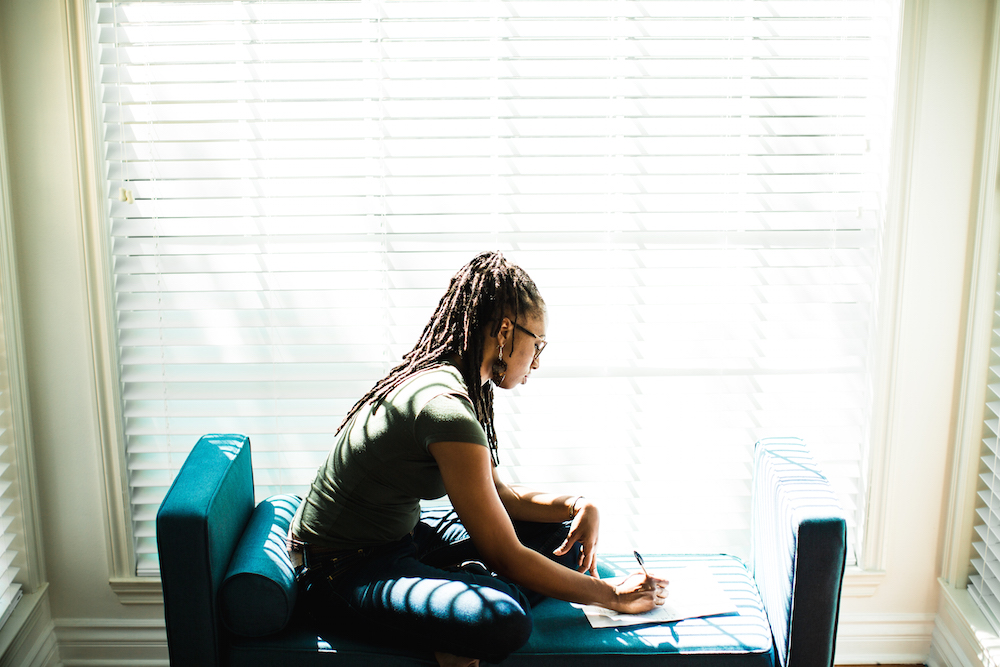 I wake up and he's not beside me. I look in the living room, but the sofa is empty except for the blanket. Maybe he's outside or gone somewhere, but I didn't hear him leave. I check the recliner in Eva's room. I check his office and he's sitting up in the chair by the window. Awake.
I can offer him nothing. I ask, but there is nothing I can do to help.
It's been a while since he hasn't slept, so I wonder if something's wrong. Did he want to talk to me and I wasn't available to listen?
Please, Lord. I can't give him anything that will take this away.
What does he do all night? He's up and alone in the stillness, darkness without anyone to talk to, or anyone to help.
His body is supposed to sleep and it doesn't. It just doesn't do what it's supposed to do.
I just close my eyes and sleep. No worry or thought about it not happening. Duwayne has to plan for sleep. Meds, lights, windows, fan, air conditioning, two pillows, and a head start so he doesn't hear my breathing, or other sounds of the night.
I want him to know the ease of sleep like I do, Lord.
Eva knows that ease, but only after about 45 minutes of singing, flailing her hands and legs, shouting at the ceiling, and playing with Nellie the Koala and Cookie Monster. By the time I go to check on her, her head is at the bottom of the bed, one leg resting on the floor and she's wrapped in the comforter like a pig in a blanket. Her thumb is plugged into her mouth, causing deep, heavy breaths that are soothing to my ears, but not her father's.
Lord, there's so much pressure behind my eye sockets, filling my nasal cavity, muffling my ears, squeezing my head to crush it. Breathing and crying don't help, Lord. I'm awake and alone in the bed. I'm weak and already running forward with Your time that won't give me a moment's rest. My feet are heavy. My whole body is wheezing with fatigue just to sit up, to get to the bathroom, to get to my baby screaming with joy at the morning, to get to the hospital where Duwayne is steeped in morphine.
This chemo regimen is like death and resurrection every two weeks, Lord.
I lose my husband to receive him again.
Down, down I go with him until his tongue catches fire with snark and a full plate of curry goat.
He's unable to eat a morsel of food during chemo. He nibbles on a teaspoon of scrambled eggs or fish or bread. After nibbling, there are leftovers.
We're at the hospital to remove the chemo pump from his chest port. He can't make it to the infusion center on foot. So I park in the valet section at the front, but there's no valet service on a Saturday. The curb is always empty and no one has told us not to park there.
I leave wilted Duwayne and sleeping Eva in the car to get a wheelchair.
Duwayne eases himself into the wheelchair. Then I ease Eva into Duwayne's lap. I push myself and our family to the waiting area.
Familiar faces smile at us.
During worship at church, Duwayne raises his hands straight up above his lifted head.
When I awake, I am still with You.
When I awake, Duwayne still has cancer.
Lord, You are full of compassion. Hear our prayers.
Lord, have mercy. Christ, have mercy.
Lord, have mercy.
---
+ This text is excerpted, with permission, from a continuation of Dannielle's master's thesis project: Where Were You? An Exploration of the Presence of God.