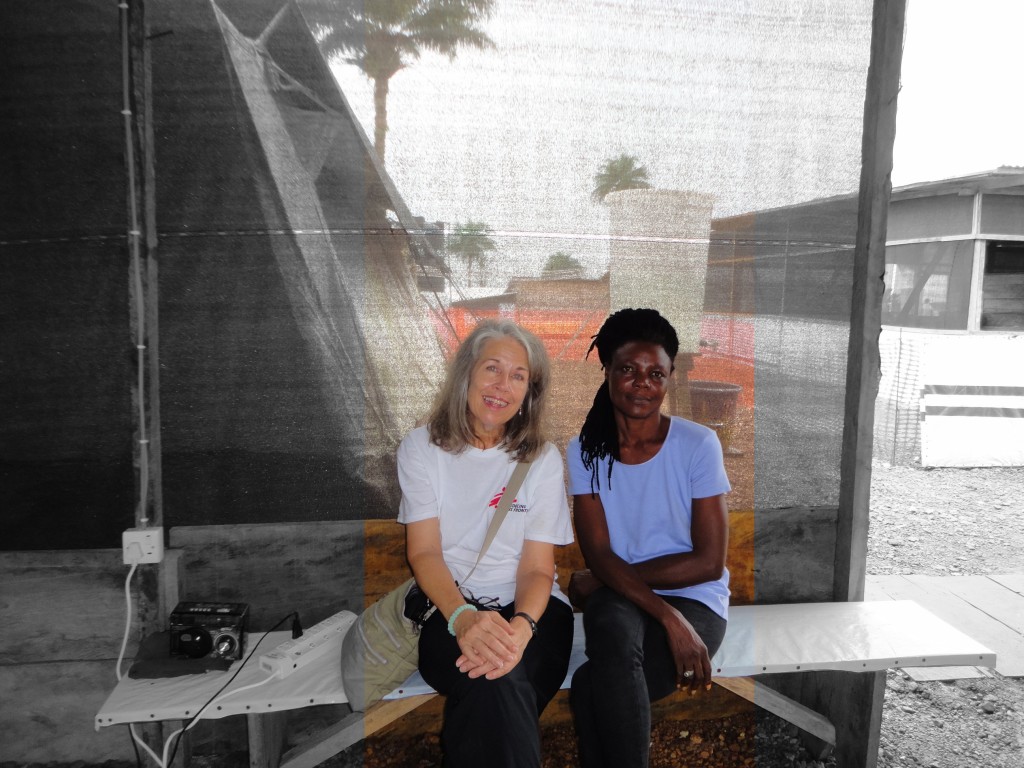 As a clinical community psychologist serving in places all over the globe, Cindy Scott [PsyD '99] finds deep reward and, sometimes, unpredictable intensity in her work—and shares a story to illustrate. At one health center where she was offering training support, a child was brought in after she saw her father violently attack her mother. "She didn't know yet that her mother died after that attack," Cindy remembers. The health worker and family asked for guidance navigating a situation that seemed overwhelming. Cindy felt the shock of it herself: "How do you tell a girl that her father has murdered her mother?"
"Even though this was one of the most horrible things imaginable," says Cindy, "it was a privilege for me to say to one of the health workers, you can handle this: to sit down with her, coach her through the process with the child and her family, and see her leave that evening knowing she'd done a good job." That staff member learned how to be helpful to the stunned and grieving family, says Cindy, and knew she could be just as helpful to other families in the future.
Over the years Cindy has been drawn to people and places seared by trauma, with work that has taken her to such far-flung locations as Papua New Guinea, Uzbekistan, Ethiopia, Sierra Leone, and now the Solomon Islands. As she equips local counselors, nurses, and other providers to offer psychological help to those affected by trauma, the impact of her work is both powerful and enduring.
"I don't do the work of psychosocial support directly; I train and sit with those who are doing the work," she explains. "Because psychology is quite new in these contexts, my joy is when I see the lights going on—when my trainees say, Oh! Now I get it!" But the learning goes both ways, she stresses: "I can do the counseling training, but I have to learn the culture from them."
FACING DISCOMFORT HEAD ON

The spark that launched Cindy on her vocational trajectory came early. "When I became a Christian as a child, I loved stories about missionaries," she recalls. "People working cross-culturally, translating the Bible into local languages—it drew me in." She thought she might become a missionary herself: "I wanted to help people."
That yearning to help led her, as a teenager, to start volunteering in a local child-abuse receiving facility. "Why they allowed me as a teen to volunteer I don't know, but they did," she says. Her role was to draw pictures with the abused kids, and the more she sat with them, the more fascinated she became with their recovery process. She watched how the staff helped the children start talking about the trauma they had experienced, and the impact of that on young Cindy was great. She chose to continue working at the home as a staff member and even began taking classes in psychology to further inform her work, leading eventually to a bachelor's degree in criminal justice and psychology.
Not long after graduating, Cindy took a job with an inner-city job training program in the "Little Havana" district of Miami, Florida, offering support services and lay counseling for youth who were African American, Cuban, Caribbean, and South American. It was a pivotal time, she says, in her cross-cultural understanding and approach.
"I was pretty much the only white person around, and that could be very challenging," she recounts. "The miscommunication—sensing that others are uncomfortable but not knowing why—it wasn't an easy thing. And I realized that if I was able to tolerate it, I could actually learn from those uncomfortable moments and find ways to begin building trust. It came down to this: Do I run when people don't like me, or do I ask, how am I interacting that reinforces stereotypes? Can I embrace the situation, let there be awkwardness, and talk about it? In fact, yes, I could, and people wanted me to."
After several years in this work Cindy felt the need for more training and, in 1989, enrolled in Fuller's School of Psychology. "I had been feeling that my psychology and my Christian faith were moving farther apart, and I needed to struggle with becoming more congruent. What would it mean to integrate my faith and psychology?"
At Fuller she found a place that allowed her to grapple with her questions, with support and insight from such faculty members as longtime School of Psychology professors Judy and Jack Balswick and Professor of Theology and Ministry Ray Anderson. She also found something she didn't expect: culture shock. After being immersed in Miami's inner city for seven years, the move into a scholarly community that was largely white knocked her off kilter. "I looked like I fit in, but I didn't feel like I fit in," she says. She found the diversity she sought in what was then the School of World Mission, and made international friendships that became pivotal to her calling—including Francis Kamau [PhD '97], a pastor from Kenya, whose faith inspired her to continue her training beyond the master's level and get a PsyD.
A MUTUAL LEARNING PROCESS

Cindy has since worked in postings around the world, most often with humanitarian organization Doctors Without Borders—or, as it's known in French, Médecins Sans Frontières (MSF). She has typically served as part of a medical team in places experiencing medical emergencies, training local counselors and healthcare workers to provide psychosocial support and psychological first aid. The most intense of those assignments came in 2014, in the midst of the Ebola outbreak in Kailahun, Sierra Leone, where she was shocked, Cindy says, to see "the entire collapse of the country's medical infrastructure." She found herself supporting "a heroic group" of local counselors who assisted Ebola patients and their families, as well as other health care workers who faced death daily.
"It was a life changer, working with Ebola," says Cindy of a time that was both wrenching and redemptive. But as impactful as that experience was, her deepest calling is to longer, ongoing missions, ones that allow her to build capacity, she says, "by training local people to offer psychological support for the long haul." That is what she is doing now, in the Solomon Islands. Initially part of an MSF team responding to a devastating flood there in April 2014, Cindy learned about a serious need for longer-term psychological help among the area's people.
"There are high levels of sexual and family violence in the Solomons," she says, citing the findings of a 2009 study by the Secretariat of the Pacific Community: 64 percent of the country's women reported being victims of intimate partner violence, and 37 percent had been sexually abused by the age of 15. Yet there are no trained psychologists in the country. "Seventy percent of study respondents had never told anyone about their abuse," she says, "and most do not know that essential medicine and psychosocial support can be life-saving."
Now serving as a consultant through the World Health Organization, Cindy's mission is to build the capacity of those who work with survivors of sexual and family violence, from the initial medical response to supporting the process of recovery. Discovering early on something quite common in resource-poor settings—a limited capacity in the area of child protection—she began engaging the government on the ways trauma impacts children, and that more might be needed than just removing a child from immediate danger. "I told staff, the next time you have a case, let me sit with you, walk you through it. They said, 'you'd really do that?'"
In the last year the government has expanded its network of services to victims of sexual and family violence, and Cindy now spends time wherever she's needed: assisting clinic staff to do psychological first aid when a rape survivor comes in; coaching volunteers who man a new 24-hour hotline for abuse victims; training mental health nurses to provide counseling care.
"It's about building trust; it's a mutual learning process. They have a lot to teach me about the culture," Cindy says, and offers an example. Shortly after the 2014 flood that left 10,000 homeless, she worked closely with a nurse to offer psychological first aid in the evacuation camps as part of the emergency medical response. They began to notice that children were coming to the groups, but few adults. "We also discovered that the medical team was getting a lot of patients with ambiguous body pain that was not responding to medical interventions," Cindy says. "So the nurse and I decided to do what we called a body pain group."
That group did attract adults to its first meeting, "but the nurse told me, 'Cindy, they're going to expect you to give them medicine.' So on the first day, we drew a picture of the body and I asked them to mark the places where they felt fear and sadness in their bodies. Then I said, 'I have bad news for you: there's no medicine for fears and worries, but there are things you can do to help your body feel better.' We introduced simple relaxation techniques and information about traumatic stress reactions. People were so engaged with the process! They said, 'Yes, my body really does feel better!' It was humbling. Traditional mental health practices sometimes don't work! Instead, together, the nurse and I adapted our intervention in a way that was culturally appropriate."
UNPREDICTABLE BUT FULFILLING

"If God had told me in my earlier years that this is what I'd be doing, I think I would have run!" Cindy says with a laugh. "This work is  unpredictable—I never know what my next assignment will be—and it's hard. Honestly, it's outside my comfort zone." But it's the work God has for her.
A study Fuller offered last year on calling, Cindy remembers, made the point that God is continually calling us to a life we never imagined—and that resonated with her. "Life has been so full of surprises and challenges in my faith and walk, and yet it's been so fulfilling," she affirms. "I don't know what's next. But God has been faithful to provide all I need to serve him, and I know he'll continue to teach me how to represent his love in the world."
---

+ Snapshots provided by Cindy Scott from her decades of offering psychological training support in places all over the world such as Papua New Guinea, Uzbekistan, Ethiopia, Sierra Leone, and the Solomon Islands.

Read more about Cindy's work with the Rohingya refugees in Bangladesh here.