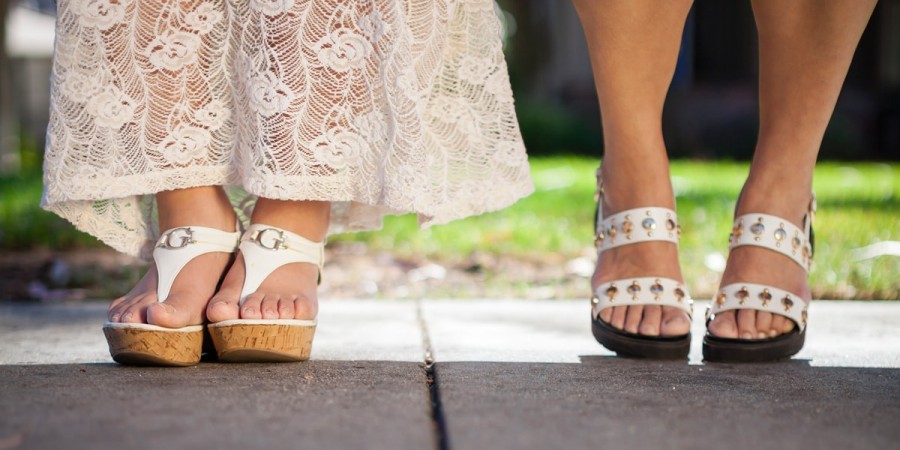 Jaday's story about growing up at Fuller Seminary inspired a Fuller student to complete her Children at Risk degree with a practicum at Mercy Center—Jaday's non-profit for at-risk children living in Nogales, Sonora. The following video gives insight into how that ministry was inspired in Jaday:
Walking with Jaday LaMadrid [MAGL student] through the Pasadena campus mall provides the rarest of tours—Fuller Seminary through the eyes of a child who grew up here.
"See there?" The woman who has returned to her childhood haunt as a student motions to the prayer garden at the far end of the mall. She pulls up a photo on her phone: the image is a little blurry, but the prayer garden is still recognizable. Three curly-haired kids stand shoulder to shoulder in front of the building as it was 12 years ago. "That's me," she says, pointing to the far one on the left. The one in denim overalls.
The timestamp reads "2003"—three years after her parents started dropping her and her siblings off on campus as a safe place to entertain themselves whenever work schedules conflicted. She was 14 when it started, a bored teenager without a smartphone, struggling to entertain a 6-year-old brother and 8-year-old sister for hours at a time. "We were immigrant kids," she explains. "It's not like there was really any family here to watch us."
Both parents served at the same church, yet studied at different programs—her dad getting his Master of Divinity at Fuller's Hispanic Center (Centro Latino) and her mom studying marriage and family therapy at a local university. They migrated from Mexico to the United States when Jaday was six. "Education was always the reason for being here," says Jaday, and the reason "we always had to be at Fuller just hanging out." On Thursdays and Saturdays, when ministry commitments of one parent overlapped with the class lectures of another, her mom left them, with a goodbye kiss, outside the David Allan Hubbard Library—at that time, the McAlister Library—not too far from their dad's classroom. Though she wasn't gone long, she gave them three commandments:
"Don't climb the trees."
"Stay in this area."
And, mostly for Jaday, "Don't talk to strangers."
So the LaMadrids treated the rules as any kids would: they broke them.
Jaday acted as lookout while her sister and brother swung from the lowest tree branches outside Payton Hall. They hid among the library's special collections and chased each other through the prayer garden, startling reflective students with eruptive giggles and the slaps of sneakers hitting concrete. And they sat on the benches waving at passersby—mostly international students—students who took an interest in the children and started to look after them.
Some days Jaday's mom would return to find them wrestling over a fork and a plate of bulgogi and kimchi. "There were always random people bringing us Korean food," laughs Jaday. "I don't know what Fuller students thought of us, but maybe they felt compassion because they always saw us there."
These rich moments of a youth spent at Fuller spurred in Jaday a curiosity for other cultures. She grew to be amazed by the different countries, languages, and accents of friends she met on the mall. She developed a hunger to learn more—inspired by the fierce commitment of her mother, who she would find morning after morning asleep at the kitchen table, a pile of translation books for a pillow. "She always had a better GPA than I did—and she didn't even speak English," says Jaday. "She's been our example of what it means to study hard. She's my hero."
Such gleaming images, and an intimate knowledge of Fuller's campus, planted in Jaday the idea of pursuing intercultural studies in college. "I'd go into Fuller's library and study while waiting for my parents once I got older," said Jaday, who was working on her own college assignments alongside doctoral candidates wrapping up their dissertations. "There were other people in the library who had their kids there—mostly Latinos. Often they would watch out for my siblings while I studied."
"Being at Fuller all that time, and listening to my parents have theological conversations with their friends about the world's needs—all of that led me to where I am now," says Jaday. "Fuller has shaped me and, because of the great community I have as a Fuller student, it's still shaping me."
Now halfway through her Master of Arts in Global Leadership program, for which she can study online from her home in Mexico, Jaday runs a nonprofit for at-risk children living in Nogales, Sonora—the heartbeat of Mexico's violent drug war. Her organization, Centro Khes'ed (Mercy Center), provides a safe space for children who have no place to go while their mothers work in factories. Most don't have fathers. Some have witnessed their deaths caused by involvement in drug dealing or drug abuse. The children cling to Jaday and her volunteers for hope, connection, and a kind of attention that Jaday understands intimately.
"When I got here, kids would say they wanted to be drug dealers when they grew up or someone who shoots people," says Jaday, who is transforming that narrow mindset through tutoring and education models she's developed thanks to her professors—many of whom were those Fuller students in the library when Jaday was younger. "Now the students say they want to be engineers or teachers."
Rosita is one such teenager who's grown up through the program. She wanted to go to college—just as Jaday did—to introduce classes at Centro Khes'ed for preschool-aged children. She's already started working with toddlers, and Jaday proudly claims that Rosita's program is "way better than the one I founded."
The nonprofit only continues to improve through the addition of Jaday's newest staff member, Genoveva LaMadrid—her own mother, who felt called to study at Fuller to pastor the church that's now forming alongside Jaday's outreach. She graduated from Centro Latino with her MA in Theology and Ministry in June of 2015. Jaday's dad, David LaMadrid [MDiv '05], will also join his wife and daughter in ministry while pastoring a church in Tucson, Arizona.
Her parents' involvement means everything, a gift she sees awakening in her own ministry. "I never realized how important a parent is for the life of a kid," says Jaday. "The kids now have that at Centro Khes'ed. They call each other brother and sister; they look out for each other. And whenever we pray, we hold hands and pray like family."
Caminando con Jaday LaMadrid [estudiante MAGL] a través del campus de Pasadena ofrece la más rara de las visitas al Seminario Fuller a través de los ojos de una niña que creció aquí.
"¿Mira allí?" La mujer que ha regresado como estudiante a su lugar favorito de la niñez señala al jardín de oración en el otro extremo de la plaza. Ella saca una foto en su teléfono: la imagen es un poco borrosa, pero el jardín de oración sigue siendo reconocible. Tres niños de pelo rizado, de pie y hombro con hombro en la parte delantera del edificio tal como fue hace 12 años. "Esa soy yo", dice, señalando el extremo de la izquierda. La que tiene overoles de mezclilla.
La marca de tiempo se lee "2003"—tres años después que sus padres comenzaron a dejarla a ella y a sus hermanos en el campus como un lugar seguro para entretenerse a sí mismos cada vez que los horarios de trabajo de sus padres estaban en conflicto. Ella tenía 14 años cuando empezó, una adolescente aburrida y sin un teléfono inteligente, luchando para entretener a su hermano de 6 años de edad y su hermana de 8 años de edad durante horas. "Nosotros éramos niños inmigrantes," explica. "Realmente no teníamos ninguna familia que nos pudiera vigilar aquí." Ambos padres servían en la misma iglesia, pero estudiaban en diferentes programas. El padre estaba obteniendo su Maestría en Divinidad en el Centro Hispano de Fuller (Centro Latino) y su mamá estudiaba Terapia Matrimonial y Familiar en una universidad local.
Ellos emigraron de México a los EE.UU. cuando Jaday tenía seis años. "La educación siempre fue la razón de estar aquí," dice Jaday, y la razón "que siempre tenía que estar en Fuller simplemente pasando el rato."
"Los jueves y sábados, cuando los compromisos del ministerio de uno de los padres estaba en conflicto con las conferencias de clase, su mamá los dejaba, con un beso de despedida, fuera del David Allan Hubbard Library—entonces, la Biblioteca McAlister—no muy lejos de la clase de su padre. Aunque ella no se ausentaba por mucho tiempo, les daba tres mandatos:
"No se suban a los árboles."
"Permanezcan en esta área."
Y, sobre todo para Jaday, "No hables con extraños."
Así que los mandatos de la familia LaMadrids eran observados como cualquier niño o niña haría: los quebrantaban. Jaday actuaba como vigilante mientras que su hermana y su hermano se balanceaban en el árbol más bajo fuera del pasillo de Payton.
Se escondían entre las colecciones especiales de la biblioteca y se perseguían unos a otros a través del Jardín de oración, sorprendiendo a estudiantes reflexivos con risitas eruptivas y los sonidos de las zapatillas de deporte que golpeaban el concreto. Se sentaban en los bancos saludando especialmente a los estudiantes internacionales y transeúntes. Varios estudiantes tomaron interés en los niños y empezaron a cuidar de ellos.
Algunos días la mamá de Jaday regresaría para encontrarlos luchando sobre un tenedor y una plato de bulgogi y kimchi. "Siempre había gente al azar trayéndonos comida coreana," ríe Jaday. "No sé lo que los estudiantes de Fuller pensaban de nosotros, pero tal vez sentían compasión porque siempre nos veían allí a los tres."
Esos momentos maravillosos pasados en Fuller estimularon en la joven Jaday una curiosidad por otras culturas. Ella creció con admiración por los distintos países, idiomas, y acentos de amigos que se reunían en la plaza del campus de Fuller. Ella desarrolló un gran deseo de aprender inspirado especialmente por el fuerte compromiso de su madre, ella la encontraba mañana tras mañana dormida en la mesa de la cocina, sobe un montón de libros de traducción como una almohada. "Ella siempre tuvo un mejor promedio académico (GPA) que yo, y ella ni siquiera hablaba Inglés," dice Jaday. "Ella ha sido nuestro ejemplo de lo que significa estudiar mucho. Ella es mi héroe."
Tales imágenes brillantes y un conocimiento íntimo del campus de Fuller, sembraron en Jaday la idea de llevar a cabo estudios interculturales en la universidad. "Yo iba a la biblioteca de Fuller a estudiar ahí mientras esperaba por mis padres cuando yo era mas grande," dijo Jaday, quien estaba trabajando en sus propias asignaciones de la universidad junto a otros candidatos doctorales terminando sus tesis. "Habían otras personas en la biblioteca que tenían sus hijos allí, en su mayoría latinos. A menudo ellos cuidaban a mis hermanos mientras yo estudiaba."
"Estar en Fuller todo ese tiempo, y escuchar a mis padres tener conversaciones teológicas con sus amigos sobre el mundo y sus necesidades, todas estas experiencias me llevaron donde estoy ahora," dice Jaday. "Fuller me ha formado y debido a la gran comunidad que tengo como estudiante, Fuller todavía me sigue transformando."
Ahora, en la mitad de su Maestría en Artes en el programa de Liderazgo Global, para lo cual ella puede estudiar en línea desde su casa en México, Jaday dirige una organización no lucrativa para los niños en riesgo que viven en Nogales, Sonora, el corazón de la guerra de violencia y drogas de México. Su organización, Centro Khes'ed (Centro de la Misericordia), proporciona un espacio seguro para niños que no tienen a dónde ir mientras sus madres trabajan en fábricas. La mayoría no tienen padres. Algunos han sido testigos de las muertes de sus padres causadas por la participación en drogas o abuso de drogas. Los niños se aferran a Jaday y sus voluntarios por una esperanza, conexión y un tipo de atención que Jaday entiende íntimamente.
"Cuando llegué aquí, los niños decían que querían ser traficantes de droga cuando crecieran o alguien que dispara a la gente," dice Jaday, quien está transformando esa mentalidad estrecha a través de modelos educativos y de tutoría que ha desarrollado gracias a sus profesores, muchos de los cuales eran esos estudiantes que estudiaban en la biblioteca de Fuller cuando Jaday era más joven. "Ahora los estudiantes dicen que quieren ser ingenieros o maestros."
Rosita es una de esas adolescente que ha crecido a través del programa. Quería ir a la universidad, así como lo hizo Jaday para introducir clases en el Centro de Khes'ed para niños de edad preescolar. Ella comenzó a trabajar con los niños pequeños y Jaday con orgullo afirma que el programa de Rosita es "mucho mejor que el que yo fundé."
La organización no lucrativa únicamente sigue mejorando a través de la nueva adición de Jaday al miembro del personal, Genoveva LaMadrid, su propia madre, quien se sintió llamada a estudiar en Fuller para pastorear la iglesia que está ahora siendo formada junto al ministerio de Jaday. Ella se graduó del Centro Latino con su Maestría en Teología y Ministerio en junio del 2015. El padre de Jaday, David Lamadrid [MDiv '05], también se unirá a su esposa y a su hija en el ministerio mientras pastorea una iglesia en Tucson, Arizona.
La participación de sus padres lo es todo, un precioso don que ella ve despertar en su ministerio propio. "Nunca me di cuenta de lo importante que es un padre en de la vida de un niño o niña," dice Jaday. "Los niños tienen esto ahora en el Centro Khes'ed. Unos a otros se llaman hermano y hermana y se cuidan unos a otros. Y cada vez que oramos, nos agarramos de las manos y oramos como una familia."