"Before we as faith communities can move forward or outward to do this work, we have to look inward to the places where we ourselves have stumbled on the most major claims of the gospel. We must look inward to the places where we discredit the belonging, credibility, and personhood of Black folk."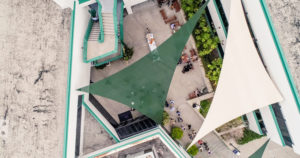 + Lisa Thompson, assistant professor of homiletics at Union Theological Seminary, from her lecture below. In the video above, Dr. Lisa Thompson, Dr. Candace Shields, Dr. Leslie Callahan, and Dr. Valerie Cooper, moderated by Tamisha Tyler, respond to questions concerning the theological tradition of womanism and the legacy of womanist scholar Dr. Katie Cannon. The panelists discuss embracing one's particularity and whole self, promoting survival and quality of life, confronting misogyny, and the use of traditional and secular sources in theology.
The Black Public Theology Symposium was held at Fuller in October 2018. The symposium sought to bring the Black academy and the Black church into dialogue and explore ways to distill Black theology and make it accessible to the Black church and community. Watch reflections from this rich lecture series below (Pictured: Travis Auditorium).
---
+ Dr. Candace Shields, bishop and pastor at Twice Called Christian Center, discusses the divide between Black theology and the Black church, arguing that a greater collaboration between the two would foster transformation within African American communities.
+ Dr. Eric Williams, curator of religion at the National Museum of African American History and Culture, examines the relationship between James Baldwin's early experience in the Black church and his literary career, focusing on the ways Baldwin implements and secularizes the tradition of African American preaching.
+ Dr. Vincent Lloyd, associate professor of theology and religious studies at Villanova University, addresses the role of negative theology in Dr. Martin Luther King Jr.'s thinking, recommending that Black public theology reengage the practice of naming what is not good in order to move people toward God and the good.
+ Dr. Lisa Thompson, assistant professor of homiletics at Union Theological Seminary, demonstrates the role of proclamation in calling individual and communal fragmentation into wholeness, recalling proclamations from the book of Ezekiel and Toni Morrison's Beloved, while also reflecting on the present proclamations of #BlackLivesMatter, #SayHerName, and #MeToo.
+ Beginning with spoken word performed by Phil Allen, a panel that includes Candace Shields, Eric Williams, Vincent Lloyd, and Lisa Thompson, moderated by Dwight Radcliff, responds to questions from lectures during the Black Public Theology Symposium. The panelists discuss issues such as how Black theology interacts with experiences beyond the North American Black church, the essential work of knowing oneself, understanding Jesus' blackness, the role of passion, and the inclusion of LGBTQIA in Black religious space.
+ Dr. Valerie Cooper, associate professor of religion and society and Black church studies at Duke Divinity School, unveils the forces that maintain segregation in the American evangelical church, arguing that many initiatives that declare themselves to be defenses of "theological orthodoxy," biblicism, or conservative values are really means of preventing racial integration.
+ Reverend Michael McBride, lead pastor of The Way Christian Center and national director of Urban Strategies and LIVE FREE, discusses the resources of the Black church for developing a Black theopraxis in order to resist the structures of white supremacy, human hierarchy, and whiteness. Listen to his interview with President Mark Labberton on discipleship.
+ Dr. Leslie Callahan, senior pastor of St. Paul's Baptist Church in Philadelphia, observes and denounces the tendency of Christians to organize around charismatic "strong men," which predisposes those individuals to prefer authoritarian styles of leadership. Dr. Callahan weaves together the strands of racism and patriarchy that contribute to American politics, such as the election of Donald Trump, as well as the organization of churches.
+ Dr. Vincent Bacote, associate professor of ethics at Wheaton College, describes the opportunity for a Black public theology to engage with the world between Sundays, contributing to conversations involving topics such as white supremacy, politics, education, public health, and healthy forms of social justice activism. Listen to his interview with President Mark Labberton on the virtues of political leadership.
+ Vincent Bacote, Leslie Callahan, Valerie Cooper, and Michael McBride respond to questions during the second day of the Black Public Theology Symposium in a panel conversation moderated by Trey Clark. The panelists discuss moving a pietistic congregation toward public engagement, the role of scholarly vocation, the challenge of reconciliation, facing histories of injustice, and self-care practices for those engaged in the work of social justice.