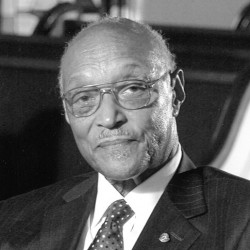 Theology Author
Over his lifetime of ministry, James Earl Massey has served numerous roles, including pastor, theological educator, scholar, and musician. Massey is dean emeritus of Anderson School of Theology in Anderson, Indiana. From 1954 to 1976 he served as senior pastor of the Metropolitan Church of God in Detroit and then as speaker on the Christian Brotherhood Hour radio broadcast (1977–1982). He was dean of the Tuskegee University Chapel from 1984 to 1989 and dean of Anderson School of Theology from 1989 to 1995.
Dr. Massey has served churches and educational institutions for more than 50 years, walking alongside such seminal leaders as Martin Luther King Jr. and Howard Thurman. He is the author of 18 books, including three textbooks on preaching. His recent book, Aspects of My Pilgrimage, pays tribute to the great religious leaders who influenced Massey's life's journey.
Massey has preached and lectured at more than a hundred colleges, universities, and seminaries in the United States and on four continents.
+ Watch Dr. Massey's Martin Luther King Jr. Lecture above, and click here to learn more about this annual lecture series.