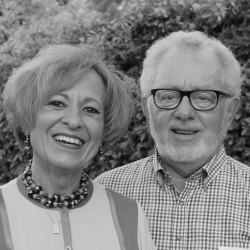 Trustee
Trustee Cliff and his wife, Joyce, met at what is now Grace University in Omaha, Nebraska in 1959. After a year, Joyce went on to nurses' training (RN) in St. Paul, Minnesota. Two years later, Cliff joined her in St Paul to receive his BA from Bethel College. The Penners were married in 1963 and moved to Seattle, Washington, the following year where Joyce earned her B.Sc. in Nursing from the University of Washington.
From Seattle, they moved to Pasadena, California, for Cliff to get an MA in theology and his PhD in clinical psychology in 1971 at Fuller Theological Seminary. Meanwhile, Joyce earned her MN from UCLA and began teaching nursing students at Cal State University in Los Angeles.
In 1975, Cliff was in private practice and Joyce was in charge of the curriculum development for the nursing program at Azusa Pacific University when Cliff was asked to teach 60 women about sexual adjustment. Cliff prevailed upon Joyce to teach the class with him. It was that course which professionally launched the Penners into the world of human sexuality and sexual therapy. After training with Masters & Johnson and others, they joined their professional lives working as Sexual Therapists as well as leading sexual enhancement seminars called "Birds and Bees," weekends for preteens and parents, and professional training workshops. Their teaching has taken them not only throughout the US and Canada, but also to Mexico, Switzerland, Germany, France, Austria, Singapore, Indonesia, Bali, Jamaica, Philippines, Australia, and Kenya.
Their first book, The Gift of Sex (revised 2003), has become one of the classic sexual manuals in the Christian world. The protocol they developed for sexual therapy/sexual retraining is published in Counseling for Sexual Disorders (2005, currently being updated) for therapists and in Restoring the Pleasure (March 2016) for couples. Their book, The Way to Love Your Wife: Creating Greater Love and Passion in the Bedroom, was published by Focus on the Family Books in 2007, and their book for women embracing their sexuality is being published by Focus on the Family and Tyndale.
Having appeared on TV talk shows from the 700 Club to Sally Jesse Raphael and hundreds of radio shows; the Penners are often referred to as "the Christian Masters & Johnson." Their group of therapists work together in Pasadena, California. Learn more about them and their associates through their website: www.passionatecommitment.com.
Learn more about Dr. Penner on his Trustee Profile.
+ Fuller Trustee Cliff Penner recently discussed healthy sexuality, shame, technology, and more with Fuller Trustee Senior Pastor John Ortberg at Menlo.Church in Northern California. Watch their dialogue above.

"God created all of us as sexual beings. While our sexual identity transcends every life stage, adolescence is a time of particularly high sexual energy. As our children move away from their parents toward their peers, they will make choices, choices with consequences. We hope that they will fulfill their God-given potential. We pray that they will make choices that align with God's teachings and will lead to healthy friendships, good mate selection, and a lasting marriage."
+ from "What Parents Need to Know—And Do—About Teenage Sexuality," the Penner's recent article in FULLER magazine, available online soon.