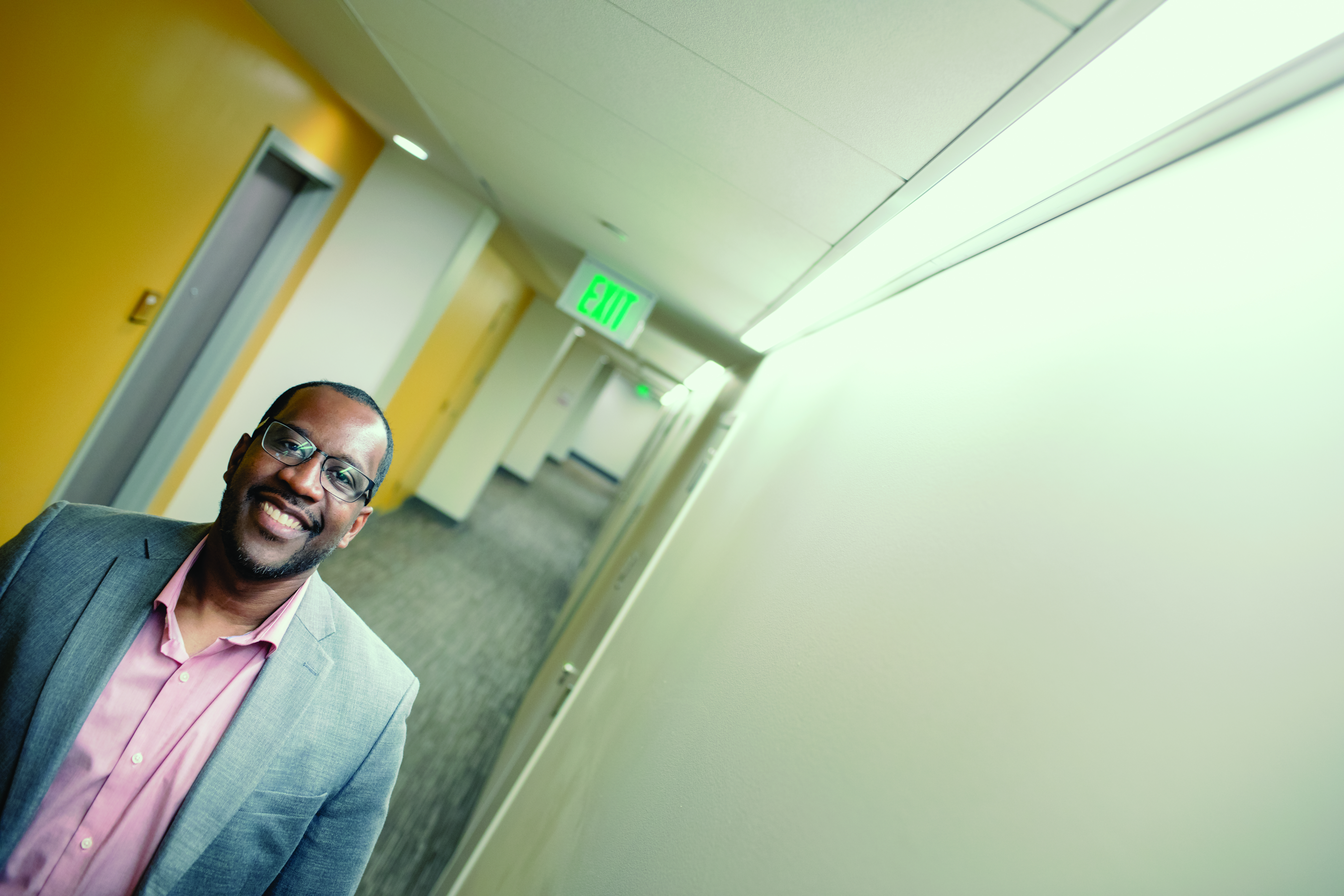 As a second grader in Memphis, Tennessee, Broderick Leaks (PhD '09) and his cousin attended a party with friends where they were the only Black children. He noticed his friend's grandfather was generally nice to the other children, but unusually cold toward him and his cousin. While all his friends enjoyed themselves, picking up toys and presents to play with, Broderick was reprimanded by the grandfather when he tried to play with the same toys. "Put that down! That's not your toy!" He ran home to his grandmother, who said, "I love you, God loves you, and God don't like ugly." Today, Broderick says that one statement forever changed the way he approaches race relations. "Even as a little second grader, that spoke to me."
As a child, with the guidance and support of his family, Broderick began learning the art of navigating the pervasive boundaries of race. Today, as a therapist and professor at the University of Southern California, Broderick not only continues to exercise that skill, but helps others learn how to navigate the complex spaces—the challenges of racial identity, the distinctions between religion and mental health, the struggles that attend major transitions—in their own lives.
Hanging on the wall of Broderick's office are a series of photos. In each frame is a group of young people—students of his course called Foundations of Self. "The class is open to all students, but the actual content is focused on men of color," he says. The course covers topics like identity development, leadership skills, and cultural analysis, and provides mentoring opportunities. "Some people are from different neighborhoods, then they come here and it's like they're on another planet. They're interacting with different people on a level they never did before," he says. "I love having those conversations—why this person is comfortable and this person is not—and then helping them work through that."
Foundations of Self allows Broderick to bring together all he has learned from both his experience and his scholarship to help students navigate a complex world. An opportunity to consider one's community and culture with thoughtful guidance can be an essential part of thriving in a new context, especially for minority students. Broderick's work revolves around those conversations; he situates himself in borderlands and then teaches others to find their way in contested spaces.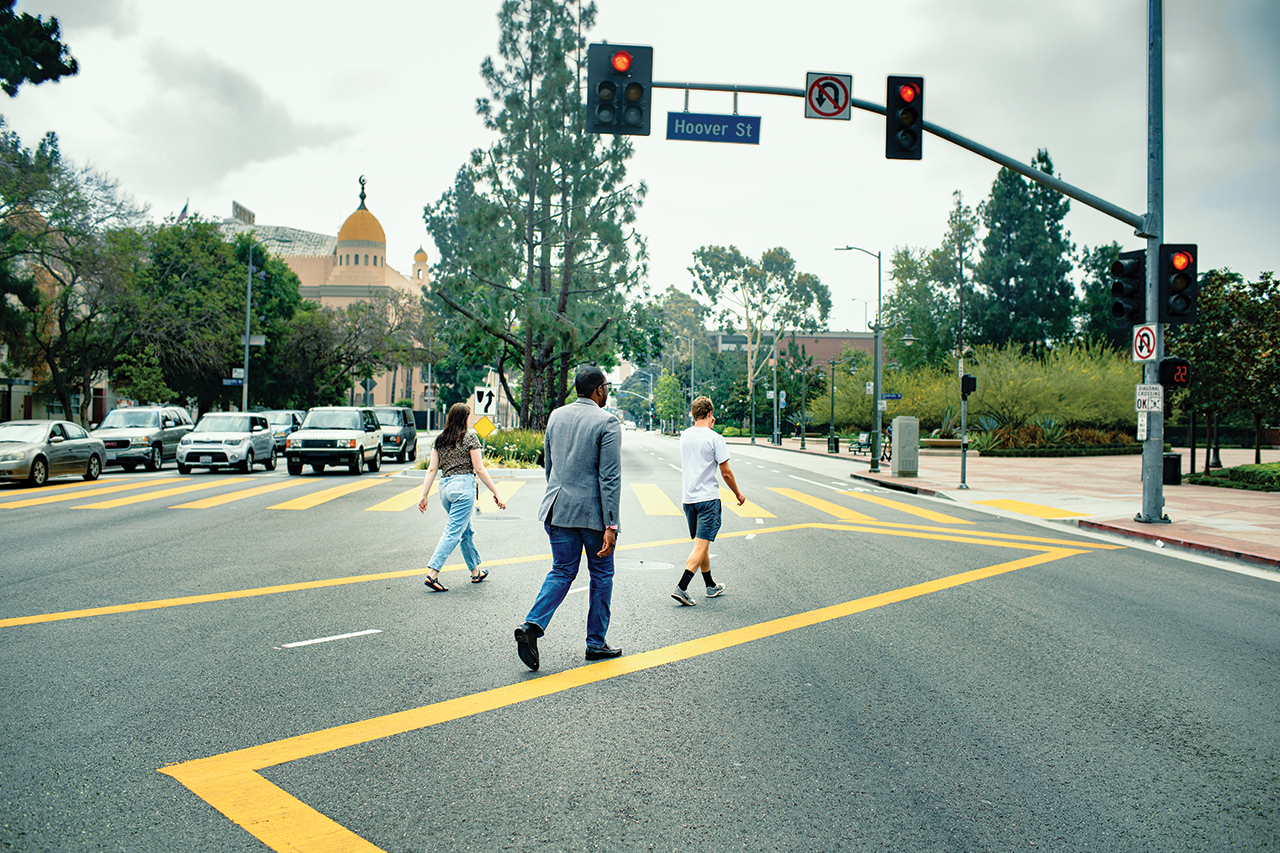 While working on his PhD in clinical psychology at Fuller, Broderick began to interact with the often fraught boundary between therapeutic work and spirituality. This has meant bringing the field of psychology and mental health into the church, even when churches are resistant. "There is a belief that if you have any kind of issue you should be able to pray and God will heal it," he says. "I attend a predominantly Black church, and many of us trace our heritage to enslaved people, so we believe we are resilient and don't deal with anxiety or depression. But we do struggle with it like everyone else."
During Mental Health Awareness Month, Broderick spoke to the church in Pasadena where he and his family attend, encouraging them to see therapy as a means of God's healing work. "I and other mental health professionals are co-laborers with God," Broderick preached, stating that "when we cut off certain avenues of support, it limits our ability to access all that God has provided for us to achieve healing." Broderick encouraged the congregation to consider how God might bring healing and wholeness from the people they don't expect, to consider how God might use mental health professionals. "The cool thing was that a lot of people came up to me after the service, many of them in tears, saying they appreciated that mental health was addressed. They felt they could pursue treatment and be under God's guidance."
Just as Broderick seeks to bring the world of psychology into the church, he also creates space for faith in mental health. During a seminar on faith and psychology, he showed a recording of his sermon to his colleagues at USC and spoke about the connections and tensions between Christian identity, African American identity, and psychology. "Some of my colleagues had never been in a Christian church before; they never saw a service," he says. "If we're going to be working with students, it's best to see what their worship spaces are like and know what they are experiencing. That means visiting Buddhist temples, mosques, and Jewish synagogues as well as churches."
Much of what Broderick brings to his context is the willingness to always engage his full personhood, never leaving out his history, family, profession, or faith. "After I gave a presentation on faith and psychology, I was struck when a trainee came up to me and cried," he recalls. The trainee expressed how important it was to see faith brought up in a professional context. "They didn't even think it was okay to talk about their faith in this field, to really bring all of who they are into their professional roles."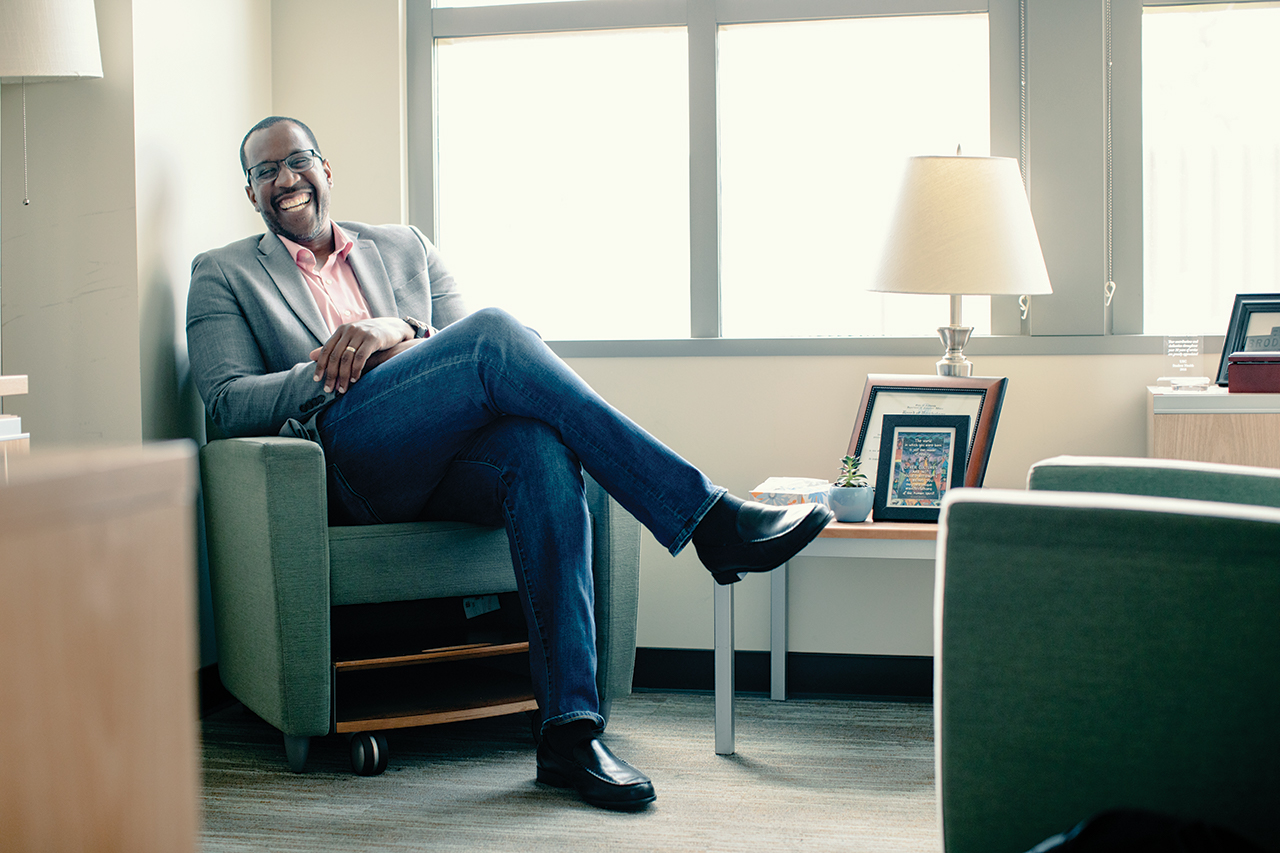 Broderick's focus on the whole person helps his clients by providing space for them to bring their own faith experience. As a Christian in a large secular institution, Broderick has been able to help orient Christian students to their new environment. "I've noticed that students who come from very conservative Christian backgrounds have a real hard time when they get into non-conservative settings," he says. Having learned himself how to function in such spaces and still embrace his faith, Broderick is able to guide students in their own processes and ask helpful questions. "How do you engage the broader world while still holding on to your values? How do you engage people without outrightly dismissing them because they don't have the same belief system? How do you actually live life in an  environment that is not overtly Christian or even pro-Christian and still be a meaningful contributor to the community without isolating yourself? How do you love on people?"
A good example, says Broderick, "would be some students come in and don't even associate with LGBT-identified individuals, don't talk to them. But then those students are like, well, my professor was actually pretty awesome and my roommate is LGBT and they're a good person." Broderick tries to help them think through that. For such a student and their particular values, what does it mean to be in relationship with this person? "Different students will land differently—some will reject their previous teachings, others will hold on to their teaching but have a more nuanced approach," he says. Because he is willing to embrace all of his identities, including his faith, students trust Broderick to guide them in their own process of understanding their faith in a new context.
Broderick's willingness to discuss faith has not only created opportunities for Christian students to explore their religious identity, but it has also created those opportunities for students with other religious identities. A Muslim student* struggling with depression once came to Broderick's office. "I thought he hated me, but that was more a function of his symptoms," he recalls. "He did not trust authority, and came in looking at me kinda side-eyed like, 'I don't know you.'" After a year of steady growth, he asked if Broderick was a Christian. That conversation opened the door for him to begin considering his own faith background in his treatment. "He had several smaller turning points over the years we worked together, but the biggest turning point was when he brought up how he was disconnected from his faith," says Broderick. "So I really encouraged him to get back into his religious practices, because I know how powerful it is from a personal perspective, but also from a research standpoint. It really points to how effective genuine religious coping can be for people." As Broderick authentically engaged his own Christian faith, his client found the freedom to engage his Muslim faith. While he is cautious to never proselytize or preach in his professional role, Broderick invites his clients and colleagues to engage their whole self, bringing every tradition that shapes their identities into conversation.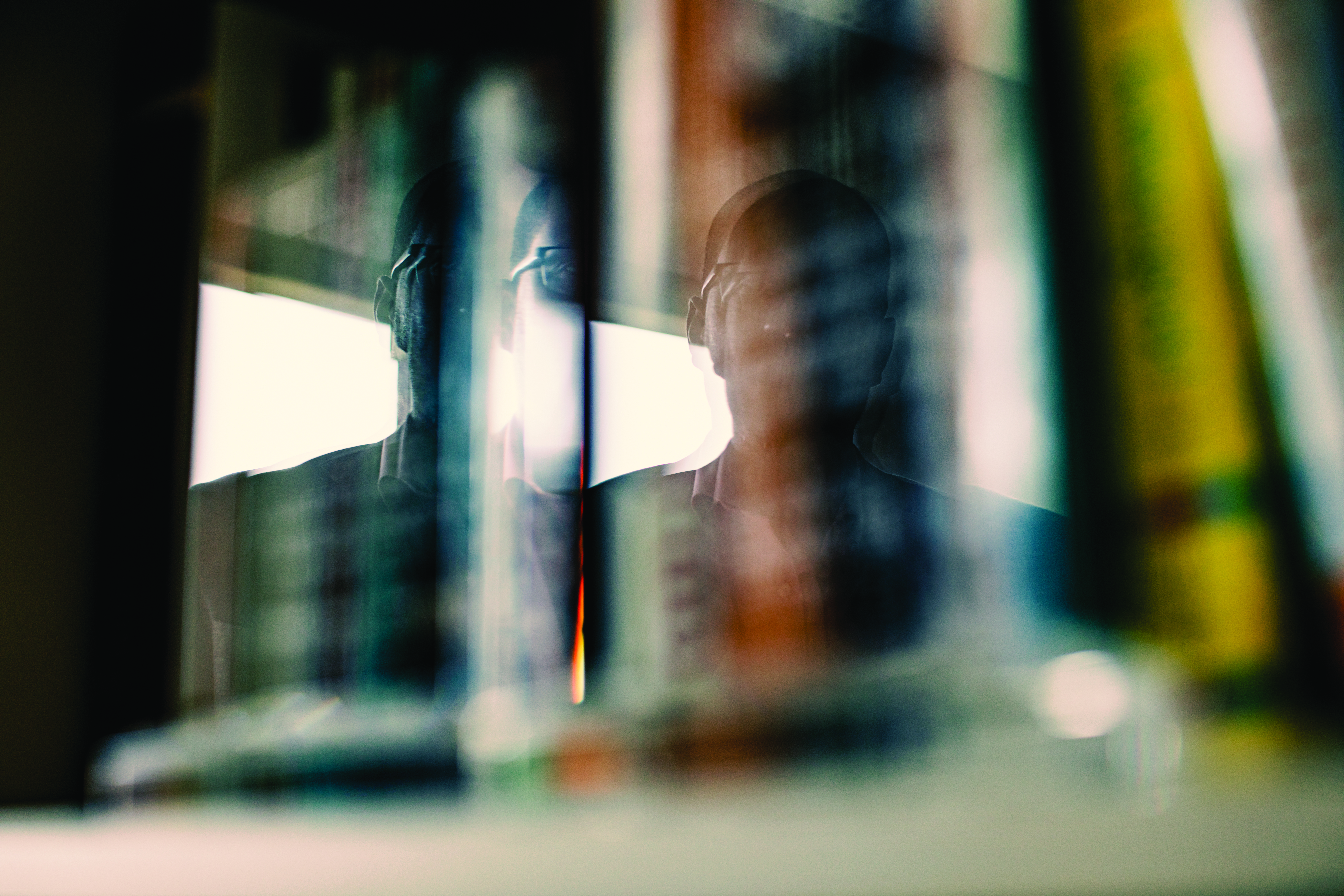 The impulse to create such spaces for people led Broderick, his wife, Cynthia, and son, Maxwell, to move onto USC's campus so he could serve as faculty in residence in a residential college on campus. Their apartment, and the life they share as a family, is in the center of campus and the rhythms of student life. "What drew me to that was the ability to connect with students on a deeper level, live life with them," he says. Once a month, the family hosts "Wacky Wednesdays," where students visit "and we load them up with funnel cakes and cotton candy." Students are able to enter the Leaks apartment and find a place of stability amid the torrents of change that accompany the college experience. "One student visited our apartment—she was adjusting to her life as a college student—and told me about how much she appreciated my family living here," Broderick says. "She told me, 'It's so nice to live next to a family. It feels like home.'"
It's not so much that Broderick builds bridges, but that he has made a home in the intersection. It's not so much that Broderick is a psychologist at one moment and a Christian the next, but that these worlds and their stories mingle and intertwine in his person. These identities, and the collective experiences they represent, become the very home into which Broderick invites others to find rest. "One of the comments I get a lot is how measured I am when it comes to difficult conversations, or how I create safe spaces," he notes. "I get affected by stuff just like everyone else, but I'm approaching it from a lens of, 'we're all human.' I might think you're really misguided, but I'm starting from a place of love versus attack. Of course, I have a lot of work to do internally. But I know who I am, I know how valued I am in the kingdom, how much God loves me. So I'm not going to let someone make me question my identity and my value."
Having learned to embrace his own identities and move between worlds, Broderick has found a calling to help others learn that same art of navigation. Sometimes that looks like guiding a student through the therapeutic process. At other times, it is teaching a class on identity to students of color, asking them questions, helping them find mentors so that they can succeed in a new environment. "I love having those conversations with students and helping them figure that out. A lot of them have major crises when all these worlds are conflicting and I create a safe space for them to explore." In every context he provides a space of refuge, a home, so that people have a place to find their orientation, heal, and become whole. Then they can walk, as God created them, back into the world.
*Identifying information has been changed to protect this student's anonymity.