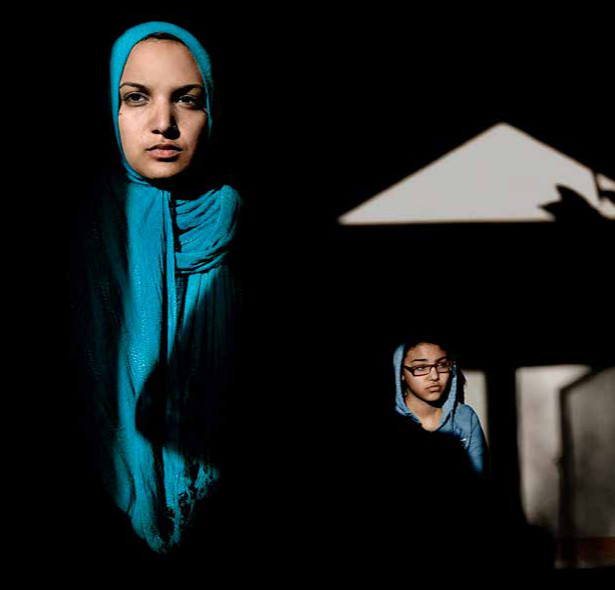 On the front cover, Amina Demir, performs the 1700% poem at the School of Art Institute of Chicago's Sullivan Galleries, Chicago, Illinois. The 1700% Project, founded by Anida Yoeu Ali, is conceived as a collaborative project utilizing art as intervention. Specifically, the 1700% Project strategically intervenes against the racial profiling and rise of violence and hate directed at Muslims in a post 9/11 era. The project challenges monolithic stereotypes of a "Muslim" identity while acknowledging the significance of historical persecution. The number 1700% refers to the exponential percentage increase of hate crimes against Arabs, Muslims and those perceived to be Arab or Muslim since the events of September 11, 2001.
The poem Demir performs is a cento (100 lines of found writings) based on filed reports of hate and bias crimes against Arabs and Muslims since 9/11.
On the back cover, Choudhary captures a picture from Amina Demir's life. She and her younger sister were in their car in Bridgeview, Illinois, when a middle-aged Caucasian male in a car next to them shouted, "sand n*****", and drove away. Amina followed his car, got his license plate number, and reported him to the police. A local court later sentenced the man to 150 hours of community service.
For more on the 1700% Project, see https://1700percentproject.wordpress.com/about/.
About Artist
Bharat Choudhary is an Indian-British photographer based in Geneva, Switzerland. For five years he worked on several rural development projects with CARE International in India. He later took up photography and was mentored by Raghu Rai (Magnum Photos) in New Delhi. He received the Ford Foundation International Fellowship to study at the University of Missouri, USA, where he graduated with a MA in Photojournalism in 2010. He has received many awards including the Alexia Foundation Professional Grant and the Getty Images Grant for Editorial Photography. He was a jury member for the 9th China International Press Photo Competition. His work has been published in TIME, NY Times, International Herald Tribune, The National, Neue Zürcher Zeitung, La Repubblica, Philosophie, Sunday Times Magazine, and The Sunday Guardian including others.