Imagine a storyteller by morning, a regional campus director by day, and an affiliate professor of intercultural studies by night. Suppose this man, let's call him Mike, finds all three areas of his life filled with truth, grit, and a little mystery—and that nearly everything he does is an occasion to wrestle with deep questions of faith.
Author C. S. Lewis used a tactic he called "the supposal" in his writing to ask a series of "what if" questions. When he posed the question, "Suppose that God's reconciling work happened not in our world but in a fanciful world?" The Chronicles of Narnia were born. Orange County regional campus director, faculty member, and novelist Mike McNichols uses the same tactic whenever he is working on a new book. His immersion in the world of theology sparks all kinds of "supposals" for his novels. "Suppose you have someone whose life and vocation is in the world of faith as a pastor or religious studies professor. And let's say he loses it all on a desperately self-destructive path to alcohol poisoning. Would God still be with him? Suppose there were supernatural creatures involved, or a murder?"
While Mike has always been interested in writing stories, he never really put pen to paper until he started working on his dissertation at George Fox University. That's when he learned to love the adventure of storytelling. "You have characters, you have a general idea of how things are going to go, and then the characters seem to drive it—they come alive. You start to love them or hate them, and you feel compelled to get to the end of the story or you'll leave these people in limbo." His doctoral project became his first published novel, The Bartender: A Fable about a Journey.
Resisting the sanitized storylines of many Christian authors, Mike found the gritty stories of Ray Bradbury, Stephen King, and similar writers compellingly authentic. Growing up immersed in classic stories of monsters, vampires, and werewolves allowed Mike to unlock a secret strength in these archetypes. "There is a wonderful thing you can do with mysteries and even tales of horror that allow good and evil to interplay." The legend of the vampire embodies evil in Mike's stories by inverting the meaning of the Eucharist. "In the vampire story, the blood of many is taken for the benefit of the one," he says, "whereas in the Eucharist the blood of the one is given for the sake of the many."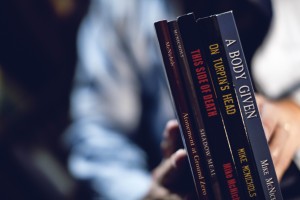 Like C. S. Lewis, who imagined the interior lives of children enduring the deprivations of war, Mike's grandchildren inspired the "supposals" for many of his stories. After learning more about his grandchildren's interest in the Twilight saga, Mike determined to set the record straight about the "true" character of vampires. One short story written for his family led to an entire trilogy of vampire- inspired tales whose characters encounter the deeper realities of evil, suffering, forgiveness, and atonement: This Side of Death, A Body Given, and On Turpin's Head.
Mike's pastoral experience also generated all kinds of "supposals" for his stories. A conversation with a church member in recovery became the skeletal structure for The Haunts of Violence, a story about a man and his alcohol-induced hallucinations of Jesus. In writing his most recent, not-yet-published novel, Mike found healing for the grief he experienced closing the church he pastored for many years. That tale—a murder mystery about a man who moves into a house haunted by a crime committed 100 years earlier—helped Mike sort through his feelings of loss.
Mike enjoys the rhythm of starting his day writing stories. While he may wear many hats as a tri-vocational professional, there is a wonderful unity in all that he does. "What I love about Fuller is that it's a place where someone like me, who likes to write serious stuff, can also write crazy weird horror stuff and nobody wants to kick me out!"
Ultimately, Mike hopes that his stories allow readers to wrestle with hard questions without the undertones of a moral agenda. "I would like people who are struggling with loss and wondering, 'Where is God in the midst of this pain?' to read my first vampire book," Mike says. Which leads to the final "supposal": Suppose that vampire story leaves such a reader marveling, "Well, those characters are struggling with pain too, and they are finding meaning in the midst of this agony. They are finding reconciled relationships in this desperate drama that is being played out." Suppose that a story about a vampire, a hallucinating alcoholic, or even a mysterious murder reveals the truth of God's relationship to humankind in the most unexpected way.