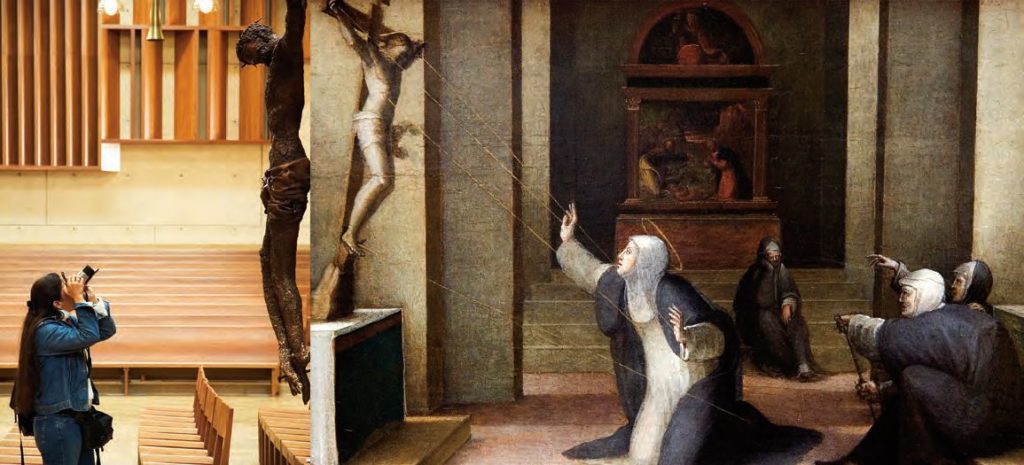 This image belongs to a body of work in which photographs of paintings with religious themes are juxtaposed in a diptych format with photographs taken of everyday life. The diptych format holds both images in a place of tension—the split, the fissure between the two images—is the location of a complex relationship. Some implied lines seem to cross, creating a visual unity, while other elements come to an abrupt end and force a wall between the two scenes. It is simultaneously a joint and a fracture, a site of "both/and" friction that intrigues our vision but frustrates our conceptions of what we perceive to be happening. At first, one may think that the "sacred" side of the diptych is meant to re-enchant the scenes of everyday life, but the mundane scene remains ridiculously banal against the weight of the sacred. Yet it's not that easy—both seem to work in an exchange that infuses and informs the other. Jarring relationships spill over from one scene into the next, exposing and revealing bits of the sacred in the mundane and vice versa.
In Untitled (Stigmata), the exchange seems to be hinting at issues of devotion and consumption. Is the Christ figure being lovingly venerated or simply used? Which woman in the scene (St. Catherine, or the tourist) is performing the act of adoration or consumption? Who is giving to whom and who is taking from whom in this image? The juxtaposition and opposition invites us into a dynamic of meditation on Christ, one that can lead to self-reflection about the complexity and mystery of our relationship to him. To see other images in this body of work, and for information about the artist, visit www.kurtsimonson.com.
Untitled (Stigmata) by Kurt Simonson contains an appropriation of Saint Catherine of Siena Receiving the Stigmata by Domenico Beccafumi, 1513-1515, Italy, oil and gold on wood, from the collection of the J. Paul Getty Museum, Los Angeles, California.