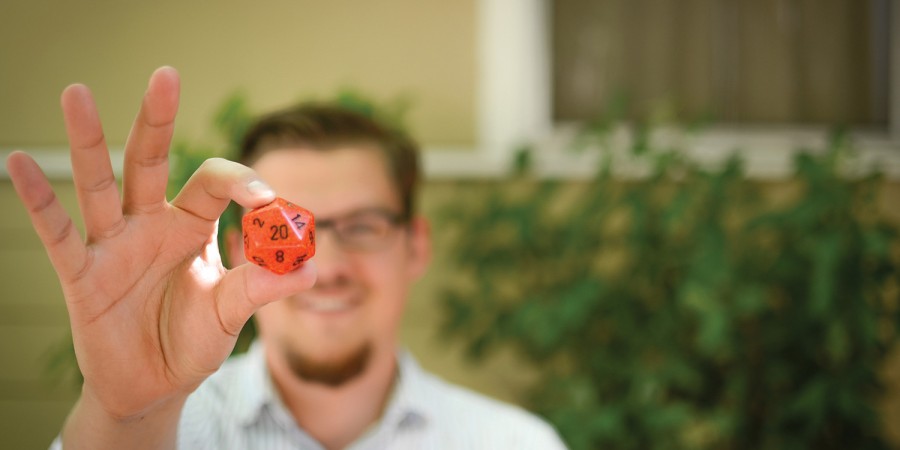 When Joe Stroup [MDiv '13] was first invited to a late-night Dungeons and Dragons game in college, he was wary. He decided to go, and found an entire underground culture of men and women who didn't connect easily in other social settings, but did connect strongly with each other through "the game"—a role-playing experience in which players become the characters in an imagined, interactive story.
The discovery had a lasting impact on Joe, who went on to become a youth pastor as well as a gaming enthusiast. Noticing that some of the guys in his youth group were uncomfortable at the typical lock-ins and pizza parties, Joe started a gaming ministry—and a small group that ended up meeting at his home weekly for aa year and a half. "We'd take part in a game that would last for a couple of hours," Joe says, "and it gave us a common context to have conversations about real life."
"I see a lot of potential to reach an unreached people group who are right our midst," says Joe, "through the portal of game-playing." Joe will never know the full impact of that group on the lives of those young men, but he does know about the life-and-death impact of another gaming experience on a young woman he has never yet met face to face.
"It's a real miss for the church if we write off the outreach of game playing. If intentionally approached, this could be a strong movement of the gospel to reach people that have been almost totally ignored."
Joe and Nora (not her real name) met each other virtually, in an online version of Dungeons and Dragons. "We were on a team together at one point," Joe says. "As we got to know each other better, we communicated by email and integrated into each others' Twitter feeds."
Joe began to see Nora display clear signs of depression and learned she had Asperger Syndrome, a form of autism that causes difficulty in navigating social situations. The world of role-playing games can be a very hospitable place for those like Nora who struggle to interact with others in the real world. These imagined worlds feature clearly defined rules, controlled identities, and mediated social interactions, so they are easier to navigate. When things go wrong in the imagined world, however, people who feel most at home there can have nowhere left to turn.
One night Joe logged on to Twitter to find Nora tweeting in a moment of crisis. "Nora's depression got really, really dark," Joe recalls. In recent weeks Nora had been very vocal online about problems in her life—in both worlds. "A lot of the relationships that mattered to her within the world of the game were falling apart, along with real-life struggles in her relationship with her mom," Joe says. Because he had come to know Nora well, Joe knew to take these things seriously.
Joe watched in horror on Twitter as Nora attempted to take her own life. "She took a whole bunch of pills, started drinking heavily, and was tweeting about it the whole time," Joe recalls. It was her second suicide attempt; her first had yielded tweets from the hospital featuring the suturing skills of the nurses who had stitched up her arms.
Joe wasn't the only one following along. Others in her online community were also watching, and many were frantically sending messages trying to get her to stop what she was doing. She wasn't listening. Joe knew it was too late to reach out to Nora via phone. "I had to do something," he realized. Something in the real world.
Joe scrambled through her past tweets. "I remembered that she had sent an image from the last time she was in the hospital. She was wearing a hospital bracelet, and I hoped it would show her real name," Joe recalls. It did.
He remembered a passing comment she made about living in Tennessee. With that, Joe was able to call her local police department. Because this was Nora's second suicide attempt, the dispatch officer quickly found her in their records and located her address. When the police officers arrived at her apartment, Joe saw Nora tweet angrily as she was taken to the hospital, where her stomach was pumped. Though she was angry, Joe was relieved for his friend.
Joe and Nora maintain their online friendship. But to this day, Nora doesn't know who was responsible for the police officers' intervention—and for saving her life.