"Our ability as leaders in whatever form—whether that's inside or outside the church or anything else in between—will be affected in part by how we see, and how we see is going to be affected by what shapes our capacity to perceive. Our perceptions are shaped by all kinds of things, and among the things our perception is shaped by is the influence of the arts. Culture Care meshes profoundly with everything else in the life of this seminary, and I don't think Fuller—I don't think the church and the world—can actually fulfill its mission without the elements of what culture care brings to the conversation."

+ Mark Labberton, president of Fuller Seminary, reflecting with Brehm Center Director Mako Fujimura on the role of the arts in Christian ministry and theological education.
"One of the hardest things for a Christian artist is to feel boxed in by language, and because of that they feel like they only have a limited palette that they can experiment with, a limited canvas that they can paint with, or a limited language to speak with. Beauty transcends a lot of the walls that we create with our language."
+ David Gungor, worship leader and founder of The Brilliance, reflecting on the language of Christian worship

"In Indian culture and Nepalese culture, it's an act of respect and honor to give food to your guests, and they were sharing food out of love and respect despite the fact of not having anything. All they had were ramen noodles, and yet we shared a meal together. . . .That's why I was there: to not only take pictures but to experience the love and kindness people have."
+ Abhishek Scariya is the director of First Day Creative and a professional filmmaker and documentary photographer working in and around Bangalore, India, and is a friend of the Brehm Center at Fuller Seminary.
"When God creates his ideal world, he creates this one. We are supposed to be in it: managing it, stewarding it decorating it it protecting it from harm and any undermining of the goodness that God intends. Artists have something to contribute to that because we participate in what it means to  express and carry the imago dei."
+ Musician and Fuller student Andre Henry reflects on music, theology, and how the creation narrative in Genesis can inform artists of faith. Andre was one of the many artists sharing their work at the 2016 Culture Care Conference. For more on the Brehm Center and culture care, including the upcoming summit, click here.
"If indeed God is reconciling all things to himself, he's not only talking about the evangelical mandate in reconciling all humans to himself, but also all of nature and all of the cosmos. For some reason in the church especially, we seem to separate those two things. My role as an artist is to point to what's already pointing. I join St. Augustine who said, 'Everything in creation points to the Creator.'"
+ Berenice Rarig is an international installation and performance artist, founding director of FUZE, and a friend of the Brehm Center at Fuller Seminary.
---

"While pastoral training and learned skills should be encouraged, at times all the learning in the world is not the pastoral need of the moment. Often the need is to love and care for those precious people in the best way you can, knowing that God loved them and gave his life for them. How could I not love them as well—sheep though they may be? It has been such a privilege to not only be a musical leader, but a pastoral leader as well."
+ Edwin Willmington, Fuller's Composer-in-Residence and director of the Fred Bock Institute of Music, from an essay on musical leadership. He is pictured moderating a panel at a 2016 conference on Culture Care—an event he planned in conjunction with Mako Fujimura. Hear a sample of his compositions here.
"Beyond mere survival, beyond job function, bureaucratic specialization, or social roles, is a wide scope of human concern and responsibility. We are all given gifts for which we all must care. Just as we're learning the importance of taking care of our environment to leave the earth healthy for future generations, so we must all care for culture so future generations can thrive."
+ Mako Fujimura, visual artist and director of the Brehm Center for Worship, Theology, and the Arts, from his book Culture Care: Reconnecting with Beauty for our Common Life. We're happy to offer a free download of the first chapter of Mako's book Culture Care here, and you can learn more about culture care and our worship, theology, and the arts curriculum here.

---
+ Fuller Seminary's Composer-In-Residence Edwin Willmington, Professor of Worship, Theology, and the Arts Todd Johnson, David Gungor, and Fuller Seminary's Chief Creative Lauralee Farrer discuss creativity, liturgy, and sacred time.
+ Mako Fujimura, The Brilliance songwriter and leader David Gungor, and Diane White-Clayton discuss creativity, artistic expression, and beauty.

+ The Brehm Center's Artist-in-Residence Linnea Spransy reflects on creativity, the role of chaos and limitations in her artistic process, and prayer.

---
"We need artists to speak truth into the world. We need prophetic, fresh voices. We need provocation and a mirror held up before us to see our true selves. And more than anything, in the darkness and the tragedy that so many are faced with, we need beauty."
+ Nate Risdon, program director for the Brehm Center for Worship, Theology, and the Arts. Read more here.
"What does it mean to do something from and for love? The word 'amateur' comes from the old French, meaning 'lover of.' Schooled or unschooled, paid or unpaid, the 'lover-of' is not driven by money or credential. You will hear artists say that they cannot turn away from their work because they cease to be themselves without it. There is one thing that explains the potency behind such an urge to create—it's because the amateur is fueled by love."
+ Lauralee Farrer, Fuller's chief creative and editor-in-chief of FULLER magazine, reflecting on the role of both love and stable work in the life of the artist. Read more here.
"I borrow from Last Judgment pictures to depict figures attempting to rise, or aid others, or cringe in fear, sometimes all at the same time. The figures in these current installations are in a state of struggle. As they attempt to elevate themselves and focus on things above, they end up pushing others down. The ambiguity of which figure is dominating, or helping, or suppressing the other probes the complexity of what it means to act justly and how best intentions can detrimentally affect others."
+ Brian Fee is a painter and educator who recently moved to California after living in New York City for close to 30 years. He currently resides in Pasadena with his wife, Maria Fee (PhD student).

"Why should artists move toward integrating their art experiences with theology? One reason is to combat the current approach to theology as solely an intellectual exercise. Knowledge also comes by way of embodiment—tacit information is just as valuable as the theoretical. Furthermore, while it is easier to love in theory, it is not the approach Christians should take. Love makes itself known through the material and through our interactions with the world. This is why when art and our daily encounters with the world enter into conversation with theology, far-away God-concepts suddenly draw near."
+ Maria Fee (PhD student), adjunct professor and assistant for Brehm Center's Institute of Art and Architecture, in a reflection for Christians in the Visual Arts (CIVA). Read more and see examples of her work here.
"Alluding to the imposing cultural intersections and expansive thinking of Paul of Tarsus in the first century, Tenacious Convergence is an installation that embodies several significant junctures that have had timeless impact on the spread and survival of Christianity. Martyred for his unwavering beliefs, Paul's intellect and spiritual tenacity birthed Christian theology and converged on the ultimate symbol of reconciliation."
+ As a young seminarian, it was his artistic response to a theology class that inspired Roger Feldman to leave Fuller and pursue ministry as an artist. Over 40 years later, it is an artistic response to a conference on Paul featuring N. T. Wright that brought him back. A site-specific sculpture without right angles or straight lines, Tenacious Convergence is Feldman's way of exploring in architectural form the unstable context of the first-century church to whom Paul wrote. Watch more from the Fuller Forum here.

"This is my Father's world, and to my listening ears
All nature sings, and round me rings the music of the spheres.
This is my Father's world: I rest me in the thought
Of rocks and trees, of skies and seas;
His hand the wonders wrought."
+ The hymn "This is My Father's World" is both a call to care for God's creation and a reminder to cultivate culture with the same prayerful attention. Pictured below: The Brilliance performing at a 2016 conference at Fuller on the subject of culture care.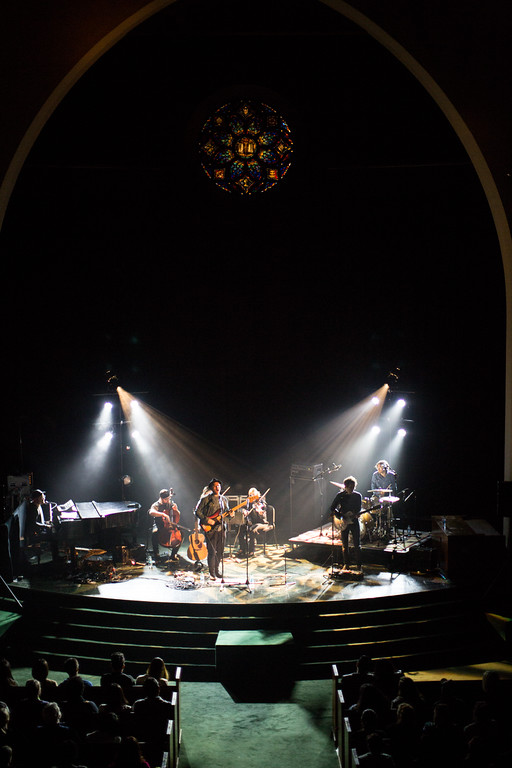 Further Reading

The Earth Is God's: A Theology of American Culture
William Dyrness (Wipf & Stock, 2004)
Visual Faith: Art, Theology, and Worship in Dialogue
William Dyrness (Baker Academic, 2001)

Silence and Beauty: Hidden Faith Born of Suffering
Mako Fujimura (IVP Press, 2016)
Culture Care: Reconnecting with Beauty for our Common Life
Mako Fujimura (International Arts Movement and the Fujimura Institute, 2015)
Refractions: Further Thoughts on Art and Faith
Mako Fujimura (NavPress, 2009)
On Becoming Generative: An Introduction to Culture Care
Mako Fujimura (International Arts Movement and the Fujimura Institute, 2013)
Reel Spirituality: Theology and Film in Dialogue
Robert Johnston (Baker Academic, 2006)
Available Classes
A Theology of Beauty – William Dyrness and David Taylor
Capstone Course – Maria Fee
Dante's Comedy – William Dyrness
Theology and Culture – Barry Taylor
Theology and Film – Rob Johnston, Catherine Barsotti, and Kutter Callaway
Theology and Literature – Rob Johnston
Theology and Popular Music – Barry Taylor
Theology in Song – Roberta King
Theology, Worship, and the Arts – William Dyrness
Touchstone Course – Todd Johnson, Kutter Callaway
World Religions in Art and Symbol – Evelyn Reisacher
Worship and the Arts in Theological, Biblical, Historical, and Contextual Perspective – David Taylor

---