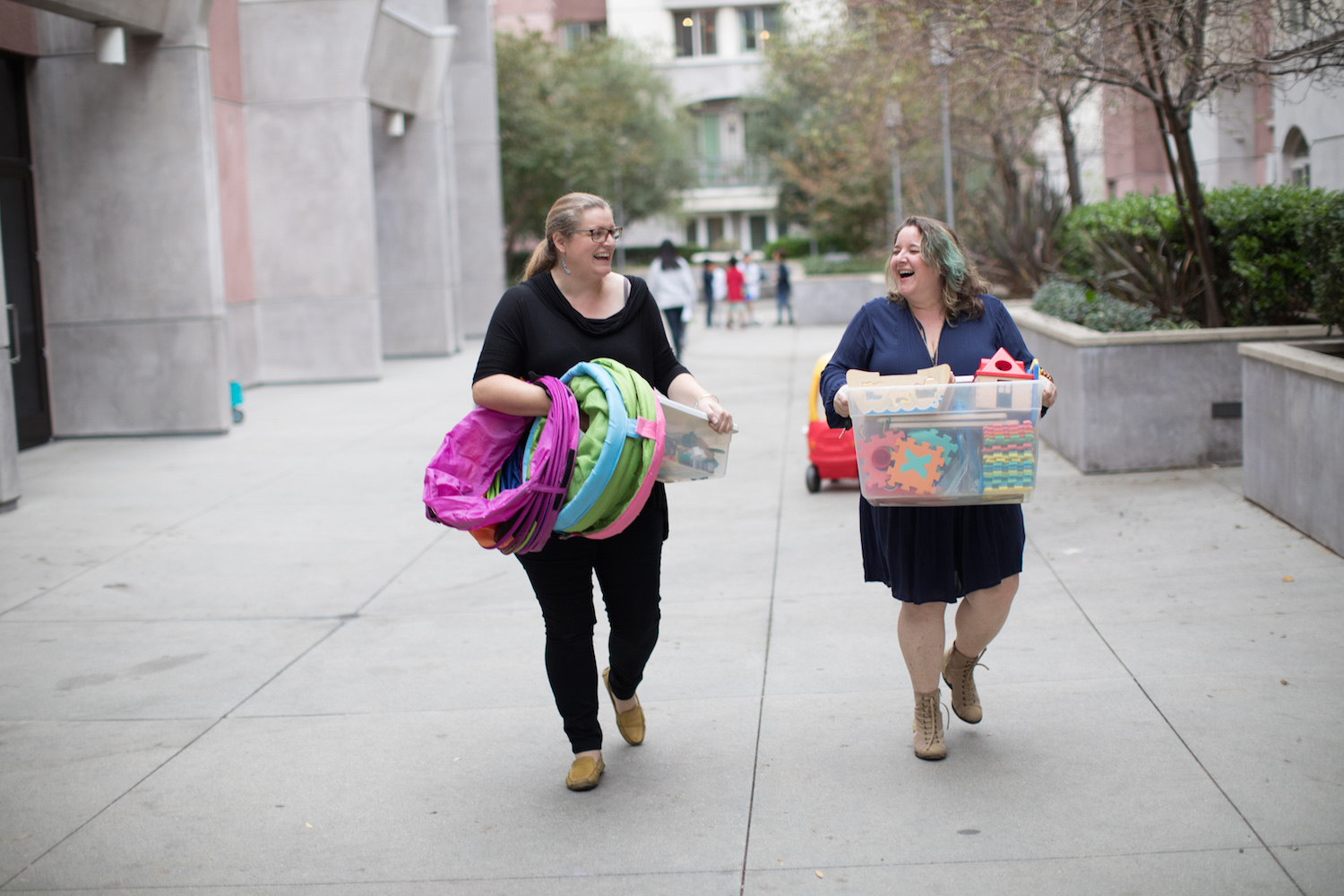 For years Inge-Lise Titheradge, Fuller's director of housing services and residential community, looked forward to the annual Harvest Festival, a campuswide celebration for Fuller families and the local community. "Little people coloring on the sidewalks, playing together—it was priceless," she remembered. In recent years, though, an increasingly online student population and other changes have meant putting the festival—and other forms of in-person support for families with children—on hold, along with all the toys and supplies that were part of those activities. "We had closets full of games, bouncy balls, trampolines, crayons, paint, books, and other toys that weren't being used anymore," said Inge-Lise.
When her friend and former coworker Kelly Kunf (MATM/MAICS '16) visited Inge-Lise last October, they reminisced about those past seasons, swapped stories, and celebrated Kelly's new promotion to chaplain at the Union Rescue Mission in downtown Los Angeles. It was a flexible role that gave her freedom to creatively support the children they served. "Kids come to our facility because they're found in a tent or living in cars," Kelly said. "We are ground zero when it comes to these children." Remembering those annual Harvest Festivals, Kelly wondered out loud about borrowing a few toys for a similar event she was planning downtown.
Inge-Lise responded without a second thought. "They've been gathering dust in our closets—why don't you just take all of it?" Looking back, she saw it as a God-ordained moment. "Fuller donating these supplies would support Union Rescue Mission," she says, "and help an alum as she's setting up a whole children's program."
A few weeks later—at about the same time a Harvest Festival would have taken place in the past—Inge-Lise and Kelly opened one of the closets at the heart of Chang Commons and started pulling out supplies. As students sang a Korean hymn in the practice room next door, they moved toys from the shelves to bins lining the hallway, sharing memories along the way.
Turning over a clear box with a wooden alphabet, Kelly remembered how, years ago, they taught the children of student families to glue the letters into their names. "We were always trying to add an element of creativity and self expression in everything we did," she said. "The kids I work with now feel invisible, and to have a way to express themselves like this—even changing a kid's trajectory one degree will make a massive difference."
Struggling to fit six full boxes into Kelly's car—only a fraction of one of the closets, one load of many more to come—the two women reflected together: "It's this weird feeling of something coming to a close, but I know it's not closing," Kelly said. "These lids are coming off."
"It's bittersweet," Inge-Lise said. "But it's not the end, it's an extension," Kelly responded. "This stuff will bring new life."