In 1968 a young William E. Pannell wrote a book about race relations within the church that was so candid even the publisher who commissioned the book was skittish about it. My Friend, the Enemy was an uncompromising statement on black-white relations that shook up the evangelical world—Bill's included. It came from some place so deep in Bill that longtime white friends said they did not believe he wrote it. One insisted it was written by an outside agitator, because "that's just not the Bill Pannell that I knew." Both had grown up in the same small Michigan town, so Bill's reply was harsh but true: "That's because you didn't know Bill Pannell," he said, "or the world I lived in." It was possible for a white person to call Bill a "close friend" and still know little of a black man's life in a white world. Often white colleagues would say, "We never thought of you as a negro." That, he says, was supposed to have been a compliment.
"There is among us a gross ignorance of each other, a pernicious suspicion and scorn feeding the flames of raw emotion, and all because, in an age of enlightenment, we do not know what race means."  (pp. 117–18)
Shortly after, in 1971, Bill became Fuller's first African American trustee. Ever since, his core life's work has been to rectify the state of invisibility for himself and other American blacks who suffer inequity as daily bread. Two decades later, in 1993, he wrote a book on the heels of the Los Angeles uprising triggered by trials of police brutality toward Rodney King. In The Coming Race Wars: A Cry for Reconciliation, he bemoaned a state of racial affairs that had seen little change. That book made a shallower splash because denial was no longer the only issue—the will to make change was. Among evangelicals, black males were still in short supply even at conventions on race relations; they were inadequately represented in faculty meetings or classroom settings; they were too-much-missing even on a campus located in a city with a large mixed-race population—such as Fuller Theological Seminary.
In 2007 Fuller published a profile of Bill for then Focus magazine under the theme "a legacy of tireless belief." At the time he spoke passionately about his lifelong advocacy of reconciliation between American blacks and whites and his frustration that, it seemed to him, so little ground had been won. His years of unique experience give Bill Pannell a rare voice in the evangelical world. Joy J. Moore, associate dean for the African American Church Studies Program (soon to be named after Pannell), calls him the father of black evangelicalism—a title he claims, sincerely, to find surprising. Nevertheless, "without him," Moore says, "many would have no idea that black evangelicals even exist."
It's a mistake for a legacy like Bill's to be judged by the winning or losing of "ground." Bill's goal is not dominance. His goal, his calling, is reconciliation. That is achieved primarily in his person. Without him, a unique call for change would remain unspoken. With him, present and future generations witness an advocate undaunted by insurmountable odds. In the foreword to The Coming Race Wars, then-president of Taylor University Jay Kesler confessed: "I thank Bill for his insistence on bringing up unsolved agendas, even when I am weary of hearing them again. They must be our agendas together in the name of biblical justice."
Back in 1992, the uprisings in Los Angeles gave Bill occasion to "ponder the relevance of modern-day evangelicalism." He saw that hopes for response from his white evangelical colleagues were not being realized. "I hoped they would come up with a marriage of their theology and their political ideology to lay alongside the heartbreak of the city and then carve some outposts of the kingdom there." Instead, he found little change in the years between the Watts of 1965 and the Los Angeles of 1992, and an evangelical establishment largely indistinguishable from most of white America.
In 2014, over four decades since that first explosive book blew the minds of white American evangelicals, Bill is thinking about his life at a time when "there is more behind me than ahead of me." In the season when the African American Church Studies program is to be renamed after him, we asked him to reflect on nearly a half century at Fuller. In the midst of talk about "legacy" with accolades being lined up like bowling pins, Bill is tying on bowling shoes and picking out the heaviest ball he can throw. He means to make the point that the work of reconciliation is far from done. Bill models tireless courage, love for the unloving other, and a dogged, Christlike presence in our lucky lives. Still stung by the racism he sees imbedded in people and institutions—our own included—he is still pointing out a better way. Even at "five years shy of 90," he does not tire of speaking truth to power.
"But what would my white brother know of this?
He taught me to sing, 'Take the World, But Give Me Jesus.'
I took Jesus. He took the world."
(from the introduction to My Friend, the Enemy)
Following are quotes from Pannell's landmark 1968 book juxtaposed with a series of 2014 interviews.
"But there is a bondage so pervasive as to leave a man stripped of his humanity. It is this bondage, in fact, that dooms a man of color to wander all his lifetime in search of himself." (p. 14)
Did I ever tell you this story? Did I ever tell you how I got started in all this?
I was trying to figure out what to do after getting out of high school, and there was a woman I knew named Mildred Bedford—a domestic worker in one of the wealthiest homes in town. She was convinced I had to go to Bible school. "Why would I want to go to Bible school?" I argued stupidly. "I don't know anything about the Bible!" Mildred comes to me one day and says cryptically, "We've got to strike while the iron is hot," and she hands me $500. That's 1947 dollars. I'm still trying to figure out how she did that; I still get all shook up when I think of it. So, that's how I got to Bible college—Mildred Bedford's savings. That $500 paid for my whole first year with a little left over for the summer. And of course it became much more to me. I had no idea.
"My mother was not black, my father was not black, and that ought to tell you something. But since they were not pure white either—assuming there is such a person—I am somewhere in the middle. Neither black nor white. And to be neither white nor black in America is bad news." (p. 91)
Every year at Fuller when students graduate, I'm taken back to the day I graduated from Fort Wayne Bible College in June of 1951. I'm standing there with this piece of paper that says I graduated, some luggage and stuff, and I'm $300 in debt. I have no idea what I'm going to do. A classmate of mine says, "Hey! You doing anything? I'm going out to Dodge City. How about I'll preach and you lead the singing?" And I said, "Have mercy! Okay." That's how 25 years of uninterrupted evangelism started, one serendipitous invitation after another—just like that. It was quite remarkable. On the way, God would get me where he wanted me to be. Wow, crazy stuff, really. "Have mercy!" And that was it.
I was 21 or 22 at the most, running around the country, doing revival meetings, learning how to preach as I did it, and finding out that most congregations were full of pain and conflict that they just learned to live with. Evangelical, Brethren, Methodist; they were country folk, farmers, who tended to be much more conservatively evangelical than the fancy city evangelicals—country folks were the ones who had the annual revival meetings where I preached, in small town rural America. I was comfortable there personally, but I didn't always understand what was going on in the culture around me. I was a lost ball in high weeds.
Along the way, I realized I have to figure out how to negotiate the unspoken racism of white mid-America—where the Christians know about it and don't tell you, where they know about it and don't do anything. Folks who invited me to preach would shield me. For instance, they would keep me in their homes because they knew no motel or hotel would let me inside. Those were "sundowner towns"—meaning places where black folks better not be in town when the sun goes down. Anybody knew that black folks could travel Route 66 all they wanted, but they better not plan on staying overnight anywhere along that highway.
"Don't preach to me. Especially if you intend I do all the loving." (p. 64)
I was always in the company of white Christians who were well known in these communities, so their endorsement protected me from seeing racism when we were at restaurants and so on. In addition, the churches where I preached or sang were almost exclusively white. It gave me an unusual perspective. I met some wonderful people in those early days, and we stayed in touch for many years (most of them have all died off by now). But as recently as the last 10 years, I went back to one of those Methodist churches and did a "week of meetings," and we sat around and reminisced about those early days. I heard with different ears as they complained that one of the downsides to Civil Rights activism was that black folks and Latinos were getting the lion's share of everything and poor white folks were being left behind. It just kind of leaks out in conversation, when people are upset over the fact that there's too many of "them." These guys didn't have time or energy to give to the Civil Rights movement, marching on DC: "We're concerned about whether it's going to rain in the springtime so we can get these crops," and all that good stuff.
Some were reluctant to take me seriously because I was a black person, but they felt obliged because I sounded just like them, believed as they did, was evangelical as they were—which means that I was kind of kosher. They might say, "Well, you're not one of them." Again, the "thems" would be a follower of Martin Luther King, somebody who would march, or somebody out on the front lines. On the other hand, friends on the opposite end of the spectrum, such as a Mennonite brother in Cleveland, would say, "Pannell, it makes as much sense for you to be an evangelical as it would if you belonged to the Klan."
You have to understand, members of major African American denominations are uncomfortable with the term "evangelical" because they see it as a denotation of white culture. It's more than that, but folks rarely realize that. Fuller is committed to an evangelical witness, but we don't think of it as white. That's why, among those denominations of black Christians, if you asked, "Have you ever heard of Bill Pannell," they would say, "Who?" I had access to and moved freely among white evangelicals but was not well known in more liberal environments. If an African American pastor were to ask, "Pannell, what church are you with?" and I replied, "I'm with the Plymouth Brethren," he would say, "Huh?"
Most black folks were either Baptist or Methodist, so white evangelicals needed someone who was African American who could validate them. That's one of the functions I gave myself to in those early days while I was still naïve about the racism of the South. It was a man named Vern Miller who perceived in me a need to be more aware of what was going on in the Civil Rights movement. I was probably 30, preaching up a storm, doing this, that, and the other thing, and an interesting debate took place over Frances Gary Powers being shot down over Russia. Eisenhower categorically denied that we sent a flyer over Russia, saying, "We just don't do those things here in America." I voted for Eisenhower! I believed him. So Vern and I were standing on the sidewalk talking about it.
"Birmingham did more to snatch me awake than any previous event in my lifetime. Theophilus Eugene Connor's canines snarling viciously at Negro flesh, the obvious courage and strength of white cops pinning a Negro woman to the pavement, the biting sting of water slashing at the bodies of teenagers—well, I felt the spray in Detroit." (p. 55)
I said, "Well you can't trust the Russians. They're liars, they're cheats . . . you know, Russians!" And Vern was quiet, a soft-spoken man. He said basically something like, "Bill, surely you are not naïve enough to think we just don't do that sort of thing because we're Americans?" And shortly thereafter, not only did the Russians produce the pilot, but they produced parts of the plane that got shot down. Oops.
So not only do we do things like that, but we lie about it. Oh boy—that was an eye opener for me. The next thing Vern did was give me a copy of Martin King's Strength to Love. Here I was a Yankee, basically. I didn't know what was going on in the South. I wasn't involved. I wasn't even on the sidelines because I was so busy doing other stuff. That's why, when the Watts riots exploded, and I'm smelling the smoke from the fires in my town of Detroit—I found a new set of ears and a new set of eyes and a different kind of nose. I started smelling different aromas of what we were really like in America. And it blistered my evangelical conscience.
"With horror and unbelief I watched the removal of four little bodies from the 16th Street Baptist Church in Birmingham. . . . you couldn't find two Negroes in the same town in all America who believed that justice would be served in their behalf. Where I was, you couldn't find even two Negroes. It is a small town. Quiet, segregated, bigoted and Northern. . . . Nothing official, you understand; no signs over drinking fountains. Just something in the air, against your cheek as you walk into a restaurant."  (pp. 55–56)
My coming of age started on that street with my friend Vern Miller who challenged me about my political naïveté. In the late 50s, 60s, 70s, when everything's coming apart, particularly racially, black and white was the overriding issue. For a while I partnered with Tom Skinner as an evangelistic team, and people would ask us how we were any different from [Billy] Graham. In some ways we were not different at all—we preached Jesus. But we defined ourselves as agents of reconciliation. Evangelists with a social dimension.
There was a point where I began to realize that I had sung publically every song in the standard gospel repertoire. And I saw that what was missing in those songs was any kind of social dimension. They are all about "me and Jesus. Jesus died for me." Later on, though, "Just as I Am" proved to be not enough.
I'm a bit concerned about younger theology colleagues, very impressive folks, who may not be hip to the way the term "evangelical" preaches in a multiethnic setting. For instance, a year or two before he retired, scholar Colin Brown got hip to the Civil Rights movement, and he built a little library of works by Martin King, Malcolm X, etc. When he would teach systematics he would say, "Pannell, would you come and lecture on how the African American church would teach that?" I would be in his classes maybe three times a year. The black students were tickled to death: "Ah, finally, somebody who's plugged into our wavelength." Those classes were enriched enormously by this wonderful mix of perspectives and voices and experiences that included [Vice Provost] Juan Martínez and his take on being evangelical because the Latino students weren't paying attention to the African Americans. They had their own issues to deal with! And we got a guy like Pannell, as old as he is, saying, "Well, yeah, I was there at all those historical events," to which students responded, "Really?"
"That's one reason I am more grateful to SNCC [Student Nonviolent Coordinating Committee] than to Southern Baptists. Those kids with their bloodied heads opened more motels and restaurants to weary travelers than all the sermons on brotherhood."  (p. 95)
On the other hand, once a white kid raised his voice to say, "I must admit that what you've said here doesn't resonate with me, it doesn't make any sense to me and I'm not so sure it needs to or it ought to." And I said, "Okay, are you a student here?" And he said, "Yes." And I said, "Are you interested in history?" And he said, "Yeah." And I said, "Well, I was just giving you a chunk of evangelical history. You haven't heard it before because wherever you're from, it's not important that you ever needed to hear about us. But that's what I've just given you—a lesson on your own history as an evangelical. You ought to rethink."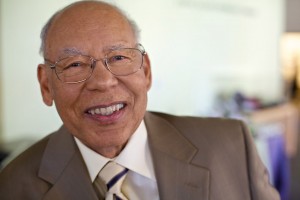 I was indebted to him for his courage to speak up. But you find that all over the place. If you don't have representatives of different cultures in classes, you're not going to get the full range of what it means to be evangelical. It's still too lily-white, too middle American Presbyterian.
I'm reading some memoirs. One of them is by a white author who mentions one black person in the book—and not from personal experience. In passing he mentions Martin Luther King Jr. It's possible for a white guy to write a memoir and not refer to anybody who was black, but it's not possibly for a guy like me to write a memoir without mentioning white folks, white evangelicals, white institutions. It's not possible. That's one of the reasons why worship, theology, and the arts is so important. Because there's no way in the world you can be educated in arts without coming to terms with what it means to be black. It's absolutely not possible. I want to make sure that those responsible for teaching theology here are hip to that reality. I don't care where you're from, but don't come here and think you're going to get away with narrow-mindedness in an institution such as ours. It just cannot be tolerated. We've got to work on that. After all the smoke clears, African Americans are still being left behind in major evangelical institutions. So we just cannot go to sleep here at Fuller. We just can't.
"This book is both a 'personal confession' and an accusation. Others have done both better. So will I, in later years. Right now though, this is where I am. I had hoped to write dispassionately and without bitterness. I found it impossible on both counts, and it would be a disservice to myself and my friends to pretend. I hurt inside, and I can think of but a mere handful of white brothers who would try to relieve me."  (p. 119)
I bet you a nickel against your doughnut that the kind of things I'm talking about now are not part of the larger conversation as they should be. If we're talking about being a church in "exile" as Mark [Labberton] says, a church that's not part of the mainstream, who better to speak into that than black evangelicals? If we need a model for a church in exile, we've got it! The black church has got to be closer to the center of who we are at Fuller, set up in such a way that nobody can come to Fuller that's interested in the church today without feeling its influence.
As I've tried to say over the years, Fuller is the only place to go if someone is interested in ministry in the African American community. This is the only place to be West of the Mississippi. We have enough internal resources to really shape something important, no question about it, but I'm only going to do this Pannell Center, have mercy, if we can be radical enough.
When I look back over all of this, the thing that has impacted me most over the years, has sustained me most over the years, is the realization that God chose me. I could take you to the place, the time, where that first got to me from the Scriptures. A seminal moment in my life. I was a teenager, and hadn't long been a Christian. That fantastic statement by the apostle in Ephesians 1, when he talks about God, who has chosen us in Christ before the foundations of the world, that God had predestined us. Now, I didn't know there was an Ephesians. I was a nominal Christian. But that verse of Scripture jumped out, grabbed me by the throat, wrapped itself around my heart, and I'm telling you, I've never gotten over it. Here was this young, green as grass, African American kid, in a genteel segregated town. And there was the God of eternity marking this kid off for himself, putting a brand on him: "You're mine." You don't get over that!
I may not live long enough to check this out, but my fear is that now that we are in touch with the social dimensions of our responsibilities, we are tempted to think we can solve things without Jesus. Are you kidding me? That's why evangelism is in our DNA at Fuller, for crying out loud! We're now in what is being called "the new normal." Oh boy. We might end up thinking we don't need the same Jesus that we talked about in 1968, that we need a new Jesus for 2014. A new Jesus that comes alongside us in a wonderfully nonjudgmental sort of way, pats us on the butt, and tells us to keep on keeping on.
The real Jesus is really not nice. Packed full of love, and all of that, but whoever said love is neat, and nice? Whew, give me a break! I think Mark [Labberton] uses the phrase about Fuller that we are "rooted in orthodoxy." That is right on the screws. We are not prepared to jettison the word "evangelical," because that's who we are. What we have to do is to pack it full of more radical meaning.
God's fundamental interest in us is relationship. It's for intimacy, a love affair. That's the good news. God says, "I love you, and let's get that settled." But then God says: "Now I'm going to mess with you because there are things that need to get straightened out." Oh boy, are there ever! Have mercy!
Editorial note: In January 2015 Fuller will celebrate the renamed William E. Pannell Center for African American Church Studies.