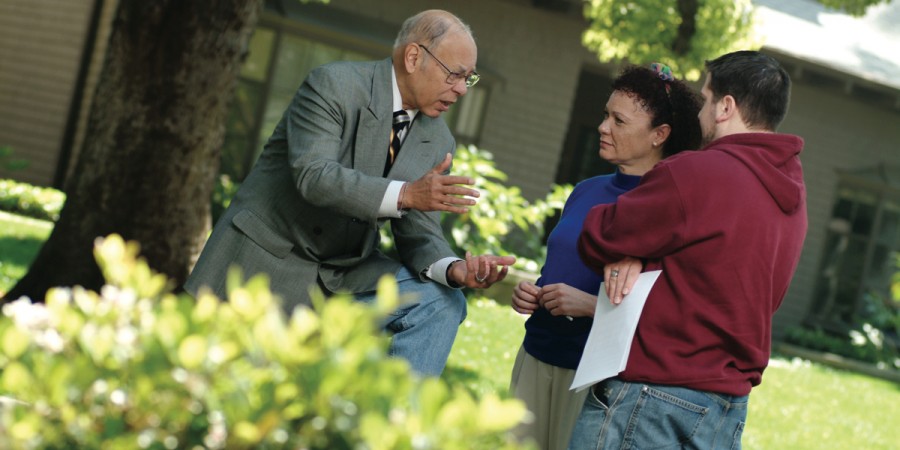 For over half the institutional life of Fuller, Bill Pannell has been lifting his voice on behalf of the poor, the ignored, and the unjustly treated.

Originally published in Fuller Focus magazine, Fall 2007.
When William E. Pannell preaches in chapel, he can wake up even an audience of sleep-deprived Fuller students at mid-morning. The voice of Bill Pannell, senior professor of preaching and special assistant to the president, has challenged over 30 years of students since he joined the Fuller faculty in 1974, so it would be hard to estimate the impact he's had rousing the evangelical mind. Try to praise him for his legacy, however, and he makes it clear—he is interested in only one man being glorified as a result of his work, and it's not him.
"Legacy," he ponders with a bittersweet smile. "That's a humdinger of an idea. Very important," but it's what is left undone that preoccupies Pannell. In 1968, before he came to Fuller, Pannell wrote the startlingly frank My Friend, the Enemy, a book on race relations in America. Four years later, he verbalized what has been a lifelong frustration: an "inability to make white America really perceive the plight of an oppressed minority struggling to affirm the merest human standards."
Pannell has not stopped lifting his voice for the 35 years since he expressed that sentiment in 1972, and he openly wonders what his life's work will amount to in the end. It sometimes feels like he has been preaching the same message to generation after generation without change. "Last summer I went to Dallas to sit in on some conversations about diversity," he says. "When I looked over the list of 100 or so colleges, I'd been invited to at least 40 of those campuses over the years. Most have been working on becoming more congenial to minorities, and important progress has been made. Still, my heart sank as I listened—they were having the same conversations I remembered having with those same colleges over 40 years ago. So little had changed. Here's all this hoopdedoo and everybody's still just talking."
His seminal books, including The Coming Race Wars? A Cry for Reconciliation and Evangelism from the Bottom Up, are as pertinent to today's audience as they were when fresh off the presses. This is a testimony to the visionary nature of his work and—according to him—its exasperating ineffectiveness in the face of poverties that even Jesus warned would always be with us. Sometimes, Pannell admits, the prospect of true change in race relations, issues of justice, and alleviating poverty looks nearly hopeless. Nearly.
Not surprisingly, his hope is often found resounding from the pulpit—as it was at a Fuller chapel last year, when he preached on Psalm 116. The radical part of that message, he says, is that in the midst of excruciating agony, with no hope whatsoever, the Psalmist believed. "The pregnancy of that word is very powerful: I believed." Belief in spite of insurmountable obstacles: "that's how we overcome."
In the decades that Fuller has been privileged to be home to Pannell, his congregation has extended far beyond Travis Auditorium. The world is his church, he explains. Ideas are important, but relationships are more so. To him, every idea is more interesting when discussed, every meal more nourishing when shared, every thought clearer when tumbled about with another thinker. "Right here, you and me," he emphasizes. "This is what it's all about."
Those who have benefited from his lifelong commitment to "what it's all about" are as many as they are diverse. Richard L. Gray (PhD '96), of Asbury Theological Seminary, is but one proof of a lifetime of investment in leaders. "Because he shared his influence with me when I was National Director for Ethnic Leadership Development for both the Lausanne Committee for World Evangelism and World Vision U.S. Ministries," says Gray, "America's ethnic evangelical leadership agreed to participate in Lausanne's Leadership '88 movement. Bill's name and influence founded The Obsidian Society, which exists to support and promote African American evangelical scholars. His passion for scholarship fueled development of the Journal of African American Christian Thought due for publication soon. His influence—on my life and on the church—has been incalculable."
Larry Lloyd (DMin '99) met Pannell in 1981 in what was then called the Black Pastors Program. His relationship with Pannell spans 26 years, from the days when Lloyd was an urban youth worker to his current work as president of Crichton College, in Memphis, Tennessee. "Bill has never wavered from his commitment to justice and mercy, especially among the disadvantaged, the forgotten, the mistreated," says Lloyd. "Once when I accompanied him on a speaking engagement at a fairly white, evangelical affair, I noticed how uncomfortable his words made the crowd feel. After it was over, I asked him why he did that . . . and he said, 'I preach to the guy in the back taking out the trash for the folks who can afford to come to such a banquet . . . because if what I say is not good news to him, it's not good news at all.'"
Kathy Dudley—another whose leadership was shaped by Pannell—began life as the twelfth child of Appalachian sharecroppers from Barren Springs, Virginia. She became the founder of three groundbreaking urban missions—one of which was among President George H. W. Bush Sr.'s One Thousand Points of Light. "A renowned African American scholar didn't have to take an interest in a white woman like me," she says. "There was nothing in it for him. I wasn't even a Fuller student." Yet when Dudley asked Pannell to mentor her through her doctorate, he invested in her so deeply that their relationship has lasted far beyond the earning of a degree. Dudley has been an eyewitness to Pannell's battle for genuine reconciliation across race and gender lines in America. "To fight racism in 2007 America, you have to be really brave. It's because of his obedience to the Lord. He believes this. He really believes it."
In the early 1970s Pannell was working with evangelist Tom Skinner when he started to suspect that an academic setting—probably a seminary—might be the place to effect the greatest change in the evangelical world. He lectured and preached at seminaries, he read widely, and kept current with world events, but he didn't have the credentials to recommend him to a place like Fuller. On the other hand, he had something to offer the graduate school environment that a PhD could not buy.
"It was around '70 or '71, and we had gone through the upset of the '60s," he explains. "The evangelical movement had never really come to terms with the times—they weren't sure Martin King was a Christian, let alone an evangelical. People were merging theologies of black, brown, yellow—most of it liberation theologies," he remembers. People were trying to address the civil rights movement, when a frustrated Pannell argued that Carl F. H. Henry's Uneasy Conscience of Modern Fundamentalism already gave an answer 20 years earlier.
"Henry launched that statement in the late '40s, and he did it from Fuller!" Pannell exclaims. Fuller's commitment to social activism arose from Henry's document, published around the time that the seminary was founded, "and it still throbs with prophetic power and significance," Pannell insists. "Hubbard continued that tradition with 'Mission Beyond the Mission'—one of the most important documents Fuller has ever produced. Fuller's history in social activism is part of a legacy that other seminaries just don't have."
It chafed Pannell that so many institutions with a verbal commitment to diversity were not acting it out. "They had to address what was happening," he says, and though he received many requests for help, "Hubbard was the first and only representative of a major seminary who put the pitch to me in theological terms," Pannell explains. "He said, 'We don't believe we can flesh out the meaning of the Kingdom of God monoculturally.' For Hubbard it was a theological issue. That impressed me. On that basis, I came to Fuller."
Students were asking questions about Vietnam, about the civil rights movement, about issues of justice—and Pannell was one of few who had frontline, personal experience. In those days, the seminary, he says with characteristic frankness, needed him more than he needed it. "It was uncomfortable in the early days. Being a minority was a two-edged sword. Institutions don't quite know what to do with us. I had more experience in evangelism than anyone on the faculty, but I was often typecast. It took me years to crawl up from under that," he says. But he was determined that his tenure was not going to depend on whether or not he was African American. He wanted to be treated like any other faculty. "I came to be the professor of evangelism—I did not want to be an 'exotic intrusion.'"
Pannell's history at Fuller in the decades since is rich and accomplished: he was ultimately appointed the Arthur DeKruyter/Christ Church Oak Brook Professor of Preaching. He served as dean of the chapel from 1992 to 1998, and was the head of the African American Studies Program for a season. A gifted preacher and professor of homiletics, he has nurtured generations of Fuller students in the classroom and far beyond, but it's still from the pulpit that he pitches some of his most persuasive arguments. There, Pannell gets his point across in a characteristic rhythm—by metaphor, by story, by amusing observation, by rabbit trail, and by elegant repetition. Over and over and over again, Pannell says the same thing he's been saying for years. That change is overdue. That it's a theological issue. That it comes through relationship—with God and with each other. That we must not give up. That we must believe.
President Richard J. Mouw has known Pannell for over 30 years. "Contrary to his complaints about slowing down," Mouw says, "he does not weaken when it comes to speaking the hard thing that must be said. When he wanted to retire from full-time faculty, I convinced him to stay on as a special assistant to the president. We needed his voice when he came to Fuller over 30 years ago, we need him just as much now. Bill is a voice crying out in the wilderness of the desperately entrenched evil of racism. Maybe it's a forlorn hope; however, I wouldn't want to be without that voice."
"Because he turned his ear to me, I will call on him as long as I live," Pannell quotes, in the culmination of his chapel sermon. "So much of character comes out of suffering. We are being kicked about—we've had it. But like the Psalmist who said 'I believe,' we also say that we believe. I cried to God. I believed and God heard me. He answered me. And he saved me. Ain't that good news?"