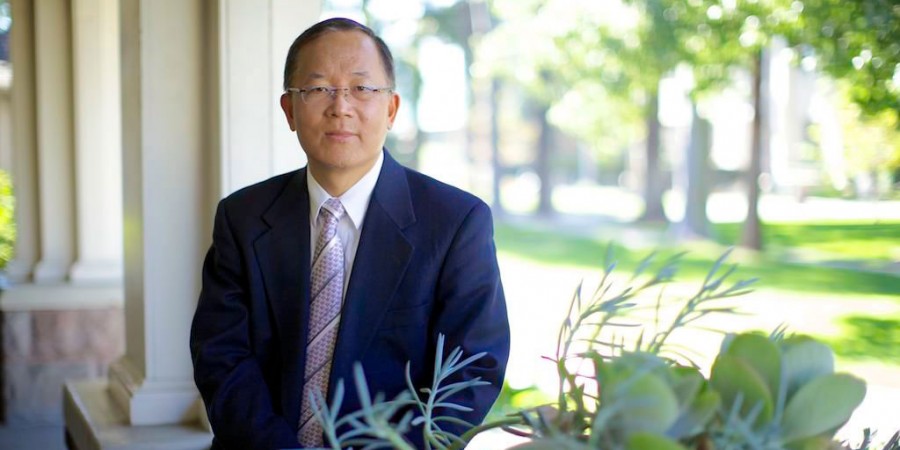 Professor of Theology and Ethics Hak Joon Lee's expertise on the life and work of Martin Luther King Jr. comes from a kinship that transcends race.
"I was looking for a role model," Professor Hak Joon Lee recalls from his office overlooking Fuller's Pasadena campus mall. He is thinking back to 1998, when he joined New Brunswick Theological Seminary as the first Asian faculty member in the institution's 200 years of existence. His life up to then had been a series of explorations that started with an interest in sociology and transitioned into a PhD in Christian ethics.
For Lee, Martin Luther King Jr. was an example of how to "be an authentic Christian and also how to engage the public sphere." Lee's self-tailored study of ethics through the lens of African American, Korean, and Puritan life employs different angles on this one vision of koinonia—community—a vision that started with the influence of Dr. King's teachings on Lee's own days of protest.
"If we are to have peace on earth, our loyalties must become ecumenical rather than sectional. Our loyalties must transcend our race, our tribe, our class, and our nation; and this means we must develop a world perspective."

Martin Luther King Jr.
December 1967, Atlanta, Georgia
They Sang "We Shall Overcome" in Korean
A young Hak Joon Lee drew many parallels between the American civil rights movement led by Dr. King and his own experience living under a military dictatorship in South Korea. In 1963, Chung-Hee Park was elected to the presidency in South Korea, and by 1972 he proclaimed martial law, declared himself eternal president, and restricted the freedom of the small nation's inhabitants. College students in South Korea began to rally and protest against the military dictatorship, translating the protest song "We Shall Overcome" into the Korean "Woori Seungri Hari" and singing as they marched. Lee was one of those students.
By the mid 1970s, President Park struck back, censoring hundreds of American songs, proclaiming all Black music illegal, and specifically banning the song "We Shall Overcome." This set the stage for the infamous GwangJu Massacre that rocked the nation in 1980, when new president Chun Doo-Hwan ordered troops to open fire on a crowd of mostly student protestors. Lee's memory of those years is vivid and searing. He remembers those tumultuous college years as a time of asking more questions than he was getting answers.
"I wrestled with whether good, just, and peaceful communities are possible," he says. "What kind of society will provide the space for people without discrimination and injustice?"
Clearly, Lee's connection to King and his proclamation of non-violence was embedded far deeper than their differing skin color. After arriving in the United States alone, Lee sought answers to those questions and authentic community for himself. His studies finally pointed him to the church as a perfect vision of community for humanity. Up to then Lee had been a self-professing Christian, but discovered the power of the gospel through intellectual pursuit.
Committed to Faith and Justice
By 1998, Lee had graduated from Princeton Seminary with PhD and MDiv degrees, and joined the faculty at New Brunswick. As a doctoral student, he had made a foray into Black American history serving as teaching assistant to Peter J. Paris, the leading African American ethicist teaching on Dr. King. Around that time, Lee also started a church in the Camden area of New Jersey, working toward harmony between Korean and Black populations following tensions in New York neighborhoods and in the wake of the Los Angeles riots. At New Brunswick he "rediscovered" Martin Luther King Jr., drawn to him again because, like many Koreans, King was fervent in his personal faith, but unlike many Koreans, King was also committed to the areas of justice and social engagement.
As an immigrant and ethnic minority, Lee found King's integration of faith and public life crucial to his studies and his personal development. They are lessons he still draws on today when faced with discrimination, whether it be overtly hostile name-calling, institutional racism, or what Bill Cosby famously called the "subtle racism of lowered expectations."
Lee is convinced that his search for koinonia is found in shalom—peace. That commitment led him to be the first and only Korean and Asian to ever write a scholarly work on Martin Luther King Jr. His two books on the non-violent icon—We Will Get to the Promised Land: Martin Luther King, Jr.'s Communal-Political Spirituality and The Great World House: Martin Luther King, Jr. and Global Ethics—are widely accepted by African American scholars and King experts.
Creating the "Beloved Community"
Walk into any lecture, panel discussion, chapel, or classroom on a day when Lee is speaking and you'll get a glimpse of what still makes him tick: community, community, community. If he is teaching on King, it's the "beloved community" he expounds on. If he's teaching on Puritan Covenant ethics and Jürgen Habermas (the subject of his doctoral dissertation), then it's the "community in covenant" that gets emphasized. As one theology student put it, in the classroom Lee doesn't just lecture, "he preaches—sometimes loudly and fervently!"—challenging students to be involved.
That fervor comes because Lee doesn't want to simply memorialize Martin Luther King Jr. He intends to revive and perpetuate King's vision and values and respects the image of God in all people. He wants to envision what God's community would be like or should be like in the shrinking global world of the 21st century, asking himself and his students, "How can we create theology that celebrates diversity and also love and unity?"
"I see certain glimpses of koinonia relationships among the students who took my Martin Luther King Jr. course and other classes," Lee says. "My classroom at Fuller is that laboratory of building God's beloved community—the triune God's beloved community—in a wonderful, covenantal relationship of mutual respect, and no domination. That's my Fuller classroom."
This article was originally published January 2014.
On a recent panel sponsored by the African American Church Studies program, just a glance at the stage communicated one of a thousand reasons I am so proud to work at Fuller Seminary. Our in-house faculty panel boasted two African American women, one Hispanic man, one Caucasian man, and one Korean man. "Look at the stage," a colleague said to me. "That is Fuller."

Among those panelists was my friend and colleague Professor of Christian Ethics Hak Joon Lee—a recognized expert on the theology of Dr. Martin Luther King Jr. That's why we are featuring him on Martin Luther King Jr. Day—because his scholarship is born from a deep affinity with Dr. King's thoughts on the "beloved community," and because Dr. Lee is walking the talk of King's theological legacy toward nonviolent racial reconciliation.

Welcome to Fuller's new world of studying the African American experience and its pertinence to all church and leadership contexts. It's time for us to let "Christian" be the modifier for our studies, and our various ethnicities to inform the robust diversity of our collective Christian life. In the center for which I am associate dean, we mean to provide a context, through the study of the African American experience, for theological, psychological and missiological attentiveness to race, culture, and Christianity. It's our goal to do that by helping all students reflect deeply on the cultural and intellectual impact of the global black church, the continuing challenges for Christians of color, and the powerful legacies of racial identification.

Joy J. Moore, Associate Dean for African American Church Studies