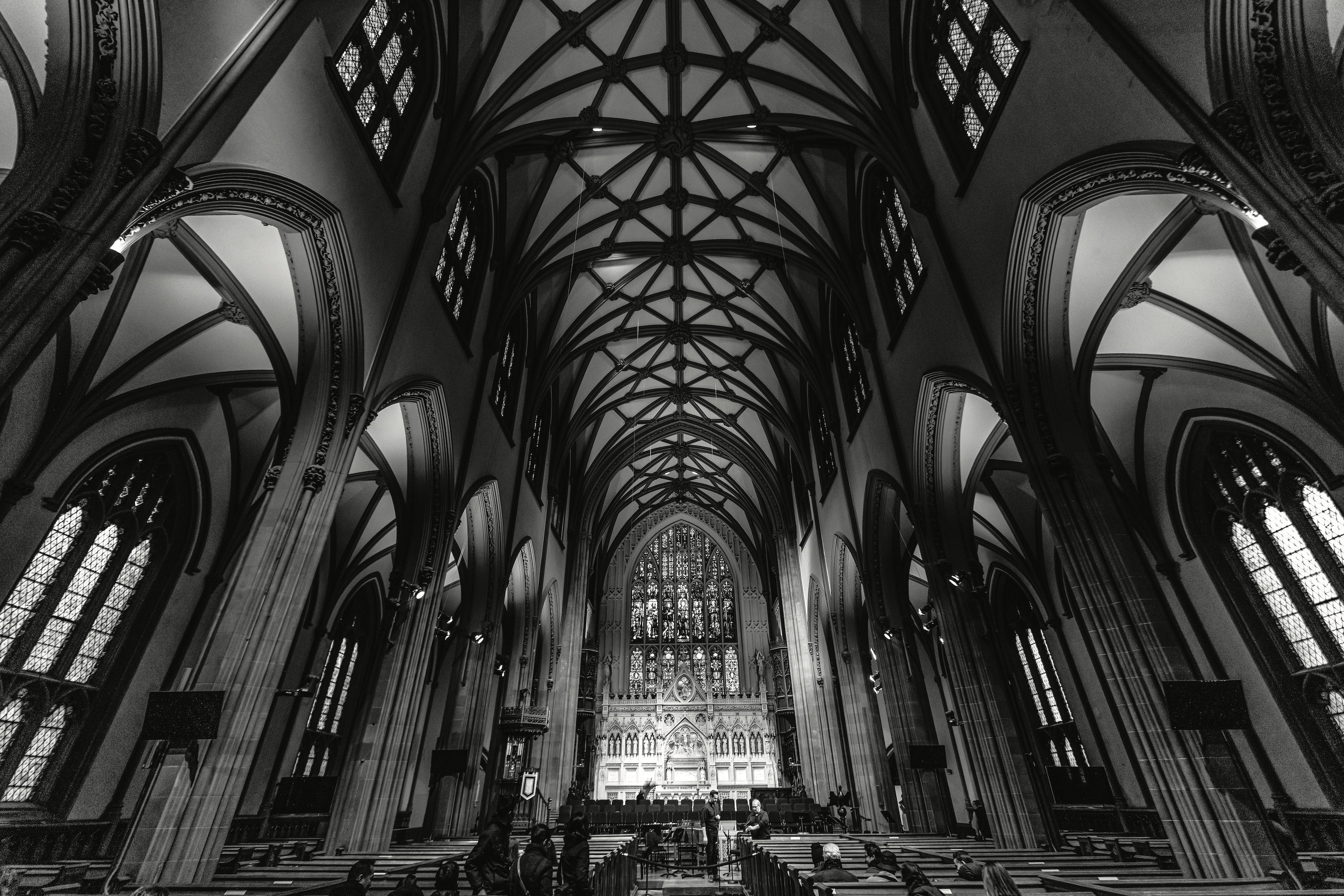 "Vocation is not about 'finding' a particular thing to do, but being formed by God to meet the needs of God's kingdom."
+ In Spring 2019, the Fuller Leadership Platform launched its first digital learning experience, FULLER Formation, providing guided formation for learners who do not seek a traditional seminary degree. A second digital learning experience, FULLER Equip, will be available later this year and will focus on leadership and professional development
"Vocation involves looking at how our membership in the body of Christ infiltrates all that we do, both in the church and outside the church. So, identifying first and foremost as someone who is part of the larger family, but also someone who's uniquely positioned in that family because of demographic characteristics—age, gender, sex, or race. But it could also be giftedness, and thinking, I'm part of this larger body, I have my unique viewpoint, now how am I supposed to live out that unique gifting and viewpoint in every aspect of my life?"
+ Christena Cleveland, associate professor of the practice of organizational studies at Duke Divinity School, on the importance of mutual relationships, in her lecture at the 2015 FULLER Forum
"It's young people that I'm passionate about, it's young people that I pray for, it's young people that I weep over. My passion for the last 20 years has been related to young people, first as a youth pastor, and now working with the team at the Fuller Youth Institute. What we are trying to do here is turn research into resources. As a parent, as a leader, so many times I feel like I'm guessing. I'm just hoping for the best with the young people in my family, or in our church. And at this point, my vocational calling is to take the amazing research that Fuller and others are doing, whether that's theological research or more empirical, social science behavioral research, and turn it into practical tools so that parents, grandparents, leaders—anyone who cares about young people—we don't have to guess so much. We have better answers."
+ Kara Powell, executive director of Fuller Youth Institute, on her passion and call to work with young people, on FULLER studio.
"I think of my vocation in terms of what do I do in my daily living, to both make a living, but also, what's my role in the body of Christ? I think that part of what I do is turn up the heat in situations. I don't like conflict, but I don't shy away from it. And I'll often push into things—I'm created that way. That's part of how I articulate what I'm doing as a professor. In my discipline of ethics, I'm trying to take things that often have become rather dull, and turning up the heat in a person's life to say, how do you think about that in a way that is not just about a rule but is about a God who is actively involved in the world? Part of my growth as a Christian and as a woman of faith and as an academic is knowing how to do that in ways that aren't about me. I'm not really the fire. I'm attending to that. I'm attending to the crucible that is the church or is the world in which God is active. Yes, I'm stoking the fire, but I'm not actually the one who's doing the work."
+ Erin Dufault-Hunter, assistant professor of Christian ethics, on her desire to reinvigorate the ethical imagination of the church, on FULLER studio.
"Saying yes to the angel Gabriel was a risky response. Mary's pending marriage would have been in jeopardy if Joseph decided her tale of the angel's announcement was only a cover-up for infidelity. Her legal status would have been in jeopardy if accused of adultery. Her economic status would have also been in jeopardy, since first-century Jewish women were dependent on the finances of either their parents or their husbands. I imagine that Mary's emotional stress was incredibly high, because apart from the logistical impossibility of pregnancy without consummation, there was also the fact that infant mortality was common in that time. Not to mention that her life would have been at risk, as dying in childbirth was a real possibility. Mary's yes to the angel was a sacrificial yes. It was a yes despite her own needs. It was a yes despite what made sense. It was a yes for the sake of others.
As women, we encounter elements of sacrifice when it comes to our vocational lives. A yes to work can mean a sacrifice of time with our children. A yes to staying at home with children can mean a sacrifice of vocational development. A yes to balancing both vocation and family may be a sacrifice of self-care. Work and life balance can feel like an ongoing choice for many women, but we are not left alone in these decisions. Whatever the task before us, whatever the next season God calls us to, we are affirmed in our identity in Jesus Christ and assured that the Lord is with us. God's invitation to us is accompanied with a reminder that we too are highly favored and that, like Mary, the Lord is also with us."
+ Joyce Del Rosario, SIS PhD student, from her essay on Mary as a risk-taker in She Is…: Biblical Reflections on Vocation produced by Fuller's De Pree Center.

"Listening to the stories of assault survivors is a holy thing. It's gritty work, but this is what Christ did: emptying himself to hold our pain on the Cross for the sake of redeeming us—and this has become the model through which I understand our Christian calling. It's in this sacred work of emptying myself to hold another's pain that I've been able not only to help restore a sense of personhood to others, but to come into more of who God has made me."
+ Ellen Hong (MDiv '03), in FULLER magazine issue #11
"I always wanted to be a soldier, and in a way, I think I'll be one until I'm dead. When I came to Fuller, I wrote down all my sins along with my propensities—things that maybe weren't 'wrong' but that could get in the way of serving God—and one propensity was 'being a soldier.' I wrote them all down on a piece of paper and then burned it up, as a way of giving it all over to God. I'm not sure a lot changed, except one important thing: God gave me more love, even for those I'm sometimes called to fight. I have a love for my enemies in Iraq, Syria, Burma. That didn't happen out of will power. It happened out of surrender to Jesus."
+ David Eubank (MDiv '95), in FULLER magazine issue #11.
"What drew me to seminary was not what drove me in seminary. The precocious child of a pastor, I tried to preach at a young age, copying what was heard in church and fitting into the expectations of the influencers at home, in high school, and later, in the philosophy and religion department of my college. I went to seminary as a preacher's son who was continuing along a path that key witnesses to my childhood and adolescence expected me to walk. Calling was wrapped in my community's expectations of who I should become.
What drove me in seminary was different. I entered seminary without knowing what to do with the budding awareness, begun in college, that things were not right with the world and that I should get involved in changing what was wrong. Attending Martin Luther King's funeral in 1968 pushed me to consider the disparities between rich and poor, blacks and whites, the lot of the marginalized, and the terrible toll of the Vietnam War. How should I fit this wine into the wineskins of ministry I brought from home? A desire to integrate a commitment to the fight for justice with my understanding of ministry and a yearning to understand my own psyche required differentiation from my inherited images of ministry and made for a restless journey through seminary and graduate school.
Clinical psychology gave me a window into my own psyche and developed specific skills I needed to help troubled people. Working for justice and showing God's mercy were the twin streams that fed my inner sense of calling. Understanding of the inner life and transforming pain and conflict into self-acceptance and harmonious relationships felt consistent with my gifts and my sense of what I was called to do.
How then must I label this hybrid, misshapen career? Is there coherence in the disparate activities of shaping the minds and sensibilities of psychology students, relieving the suffering of troubled people, and creating a culture of compassion and critique in a school of psychology while occasionally preaching in a little church in northwest Pasadena? My desire is that my work and that of our graduates show God's unending and unmerited mercy to broken people. It is my hope and prayer that I will have strength to work for justice and share God's mercy through my remaining days."
+ Winston Gooden, dean emeritus and Evelyn and Frank Freed Professor Emeritus of Psychotherapy and Spirituality, in FULLER magazine issue #1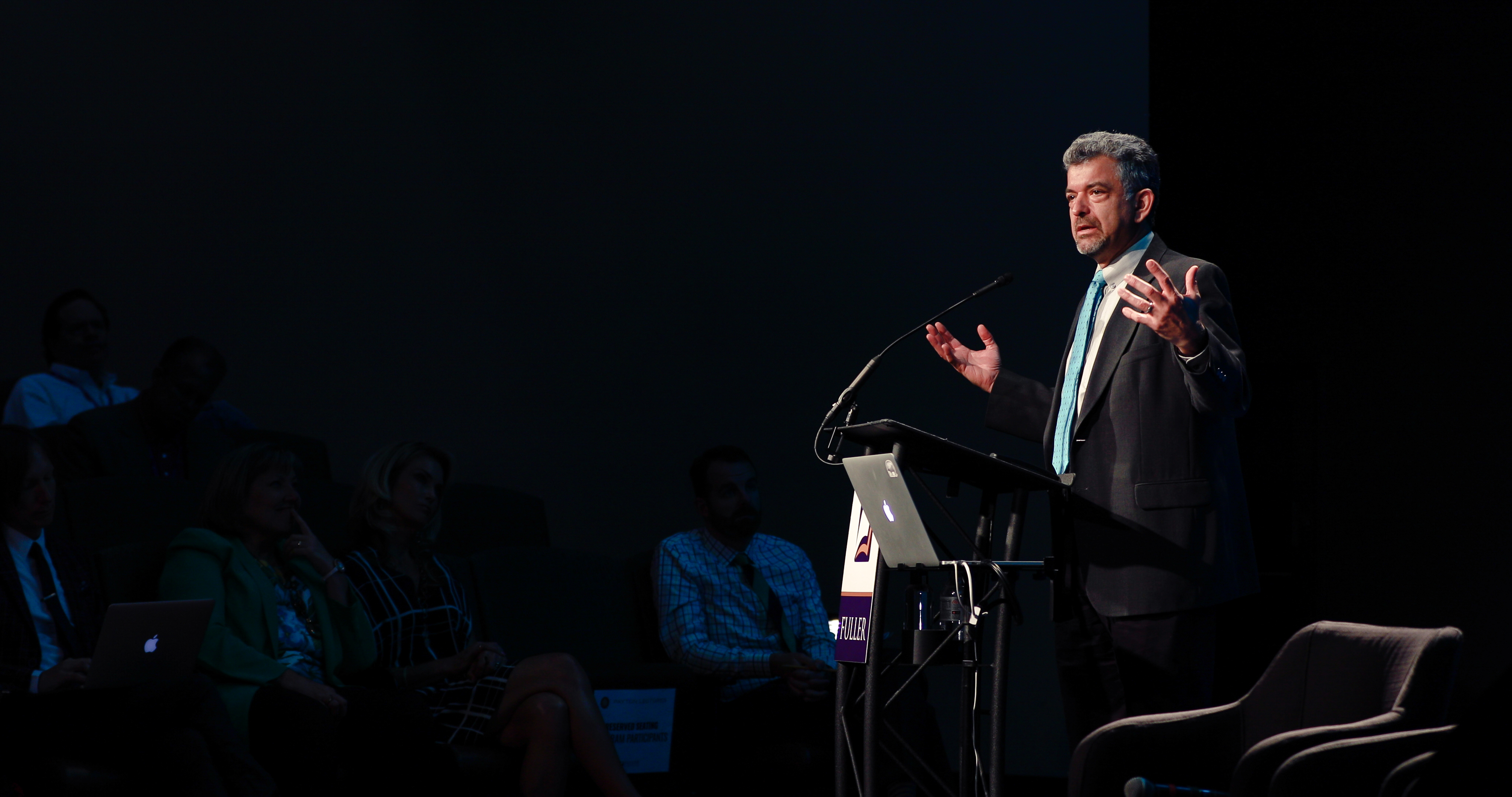 "En este momento de mi caminar cristiano yo entiendo mi llamado a la misión divina como la de ser un puente. Tengo el privilegio de ayudar a gente conectar con su llamado divino a través de la educación teológica y el apoyo pastoral. Como puente también me toca conectar a gente con oportunidades, conectar a personas de diferentes culturas, etnicidades e idiomas los unos con los otros y conectar a personas y organizaciones con visiones comunes para que puedan servir a Dios y a otros en maneras nuevas y creativas."
"At this moment of my Christian journey I understand my call to God's mission as that of being a bridge. I have the privilege of helping people connect with their divine calling through theological education and pastoral support. As a bridge, I also need to connect people with opportunities, connect people of different cultures, ethnicities, and languages with each other and connect people and organizations with common visions so that they can serve God and others in new and creative ways."
+ Juan Martínez, professor of Hispanic studies and pastoral leadership, on FULLER studio.
"If you've grown up in the church, you are probably familiar with one specific definition of vocation. Vocation is often defined as the thing that you are supposed to do with your life. It is often considered one particular path that is meant to be your career, your job, or your primary identifier for your life. It is also something that God has planned out for you. Your goal is to simply search for it and find it. Or, in some cases, you wait for God to tell you what your vocation is or reveal what it is going to be.
We have a different definition of vocation.
Christian vocation is responding to God's call faithfully in the places and communities in which God has placed you. Vocation is not as much about doing a particular thing as it is being in communication with God through the Holy Spirit to meet the world's deep needs through your particular skills and talents. Vocation is not about 'finding' a particular thing to do, but being formed by God to meet the needs of God's kingdom."
+ This quote is taken from the introduction to FULLER Formation's "Reframing Vocation" lesson. FULLER Formation is an online tool to foster faith formation with guided material created and curated by Fuller's faculty and centers for innovation. For more information, go to Fuller.edu/Formation.
"Before you start looking for some new idea, for some other place you should go, tell me about what you're seeing of God in front of you now. Do you understand how to recognize God's revelation of God's self in every sphere of your life? Tell me about when you notice the Spirit moving in a staff meeting, tell me about when you notice glory in a better-written memo.
For design prototypes, from a spiritual point of view, we have language for this already. 'Test the spirits.' You take this counsel you've received, and you put it out there a little bit. In my case, you go have a bunch of cups of coffee with people and say, 'What do you think?' 'Come and see,' Jesus would say. That's a prototype. So let's go out there and get in the boat and give it a try and see what happens, and if God confirms, we can keep going, and if not, then we can step back a little bit. Prototyping is the raw material that you're supposed to bring to the potluck party with the Holy Spirit. You've got to give God something to work with."
+ Dave Evans, adjunct lecturer in the Product Design Program at Stanford University, a management consultant, and cofounder of Electronic Arts, in FULLER Formation's "Reframing Vocation"