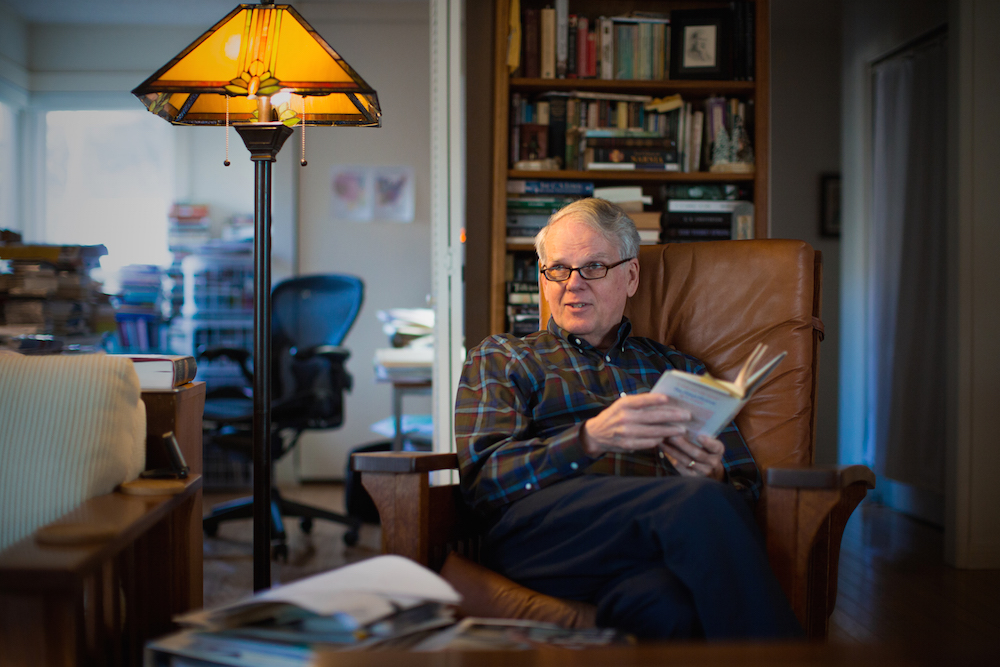 With the blessing of the monks of St. Andrew's Abbey, Brother Peter [PhD '87] enrolled in 1975 as the first Catholic PhD student at a Protestant school in Pasadena—Fuller Theological Seminary. In his first classes, Brother Peter was a foreigner in a new tribe; still wearing his black Benedictine habit, he seemed a visible outsider to the students and teachers around him. It was so obvious that at the end of one quarter, Paul Jewett, the senior professor of systematic theology, invited him to the front of the class to debate the differences between Protestant and Catholic theology—a series they called the "Peter and Paul Debates." He found that the Reformation was alive and well at Fuller, he says: "It made me a better Catholic!"
Brother Peter was also bringing Protestant theology back to the monastery through the writings of C. S. Lewis. Wanting to gather fellow lovers of Lewis's work, Brother Peter soon began to host retreats at the monastery. During the first retreat, he was inspired to poetically "translate" the Apostle's Creed into the language and imagery of Lewis's Narnia—a creed that could "invoke, evoke, and involve the imagination," he remembers. The next day, he led Catholic, Episcopal, Baptist, and Presbyterian retreatants in a declaration of their "belief" in "the Emperor-beyond-the-Sea who has put within time the Deep Magic" and "his Son Aslan who sang into being all the worlds and all that they contain." The creed was decidedly ecumenical and imaginative and, in retrospect was the beginning of an encyclopedic project that would widen his community in ways he never anticipated.
After two years of traveling between monastery and seminary, his dual vocation as monk and student dramatically altered course. Brother Peter listened with dismay as his monastery discerned that his wide interests should be cultivated outside the of the monastery. It was a devastating and confusing decision: when his mentor died suddenly of a heart attack a few months later, he was doubly stunned. Clearing out his mentor's office at St. John's Seminary, grief filled the room. "I felt completely abandoned," he remembers: the support of his community and mentor had vanished. Brother Peter began searching for anything to accompany his suffering and remembered a series of books that "kept deepening with each reading, and came along in my life at important stages." He decided to reread The Chronicles of Narnia. As he opened his favorite book of the series, A Horse and His Boy, he slowly rediscovered the possibility of hope.
In the story, the main character Shasta, alone and debilitated with fear, stops at a graveyard between the city and the desert to sleep. Later that night, the lion Aslan, the embodiment of Christ in the Chronicles, lies at Shasta's back to give him warmth. When Brother Peter reread the story, he found a landscape for his own suffering and a language to express it: "That night, the only prayer I could manage was, 'Aslan, lie at my back. The desert is ahead of me, the tombs behind. Help me rest.'" It was a sincere prayer in a Narnian dialect—and for the first time in months, he slept with peace.
Soon Brother Peter was ready to leave his name at the abbey and travel down the mountains as Paul Ford, a student and professor at Fuller Seminary. Like Shasta crossing a wilderness to an unknown destination, Paul was entering new territory. Still, whatever that world might hold, he knew that Narnia would be a part of it.
As he recommitted to his education, "moments of grace" confirmed this new direction at Fuller: writing an essay for Theology, News, and Notes that became the backbone for his dissertation; designing and coteaching a course on New Testament spirituality with Robert Meye, the dean of the School of Theology at the time; and even helping to develop a spiritual direction program with the encouragement of trustee Max De Pree. "I'm so grateful that an evangelical seminary received a Catholic Benedictine brother," he says. "The way I was loved and cared for and inspired and encouraged and challenged—my goodness! I wouldn't replace it with anything else."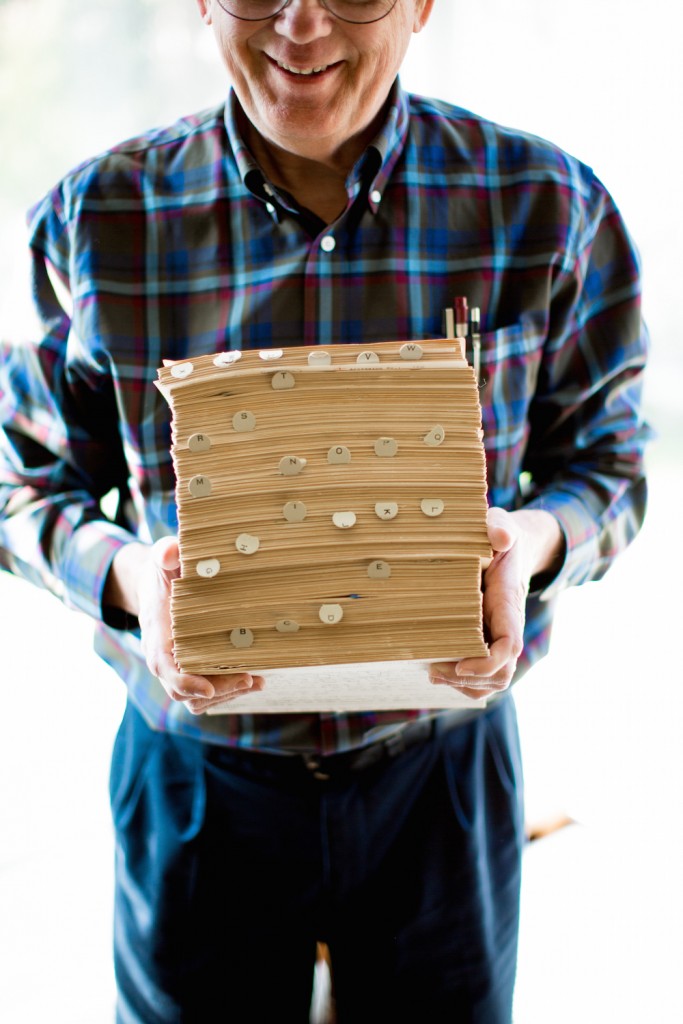 With the support of his new community, Paul decided to systematize Lewis's Narnian stories with the same precision and patience of a monk copying Scripture. As he slowly read and reread the books, he handwrote each entry, accumulating over 1,000 notecards that introduced characters, landscapes, and themes throughout Lewis's mythology. In 1980, with the help of Fuller secretaries Dolores Loeding and Wendy Bernhard, those notecards were gathered, typed, and finally published as The Companion to Narnia, an encyclopedia that would eventually guide over 300,000 readers to follow whatever "thread of curiosity" they could find in the stories.
"Many Christians have contemplated their faith so long that they don't know how to enjoy it anymore," Paul says. "That's why we need stories and metaphors; they help us enjoy what we would have otherwise only contemplated." The Companion was more than an encyclopedia—it was a way for Paul to share the wisdom and joy he found with others. By offering handles on the books' stories and metaphors, Paul brought the books—and the truths they contained—back to life and showed by example how a careful reading of literature could help Christians enjoy their faith in fresh ways.
The Companion was quickly successful and went through multiple editions, creating new opportunities for Paul to consult Hollywood film developers on films about Lewis and to help care for Lewis's Oxford home through the Kiln Association. Still, Paul was careful to keep the stories in perspective: readers are not meant to find hope in Narnia, but through it—the narratives ultimately point beyond Narnia to a faith lived in the real world. "Many C. S. Lewis scholars forget that his work is not an end in itself," he says. "The books are about giving us hope—all of them. But we have to leave even Narnia to find where the real hope is."
After receiving so much spiritual wisdom through Lewis's own words, Paul found that destination beyond Narnia where imagination and faith meet: a life of prayer. "More than anyone, C. S. Lewis teaches me how to pray," he says, and rather than leveraging his success to write more about the Chronicles, Paul decided instead to edit and publish Yours, Jack, a collection of Lewis's letters on spiritual direction that could guide readers through their own struggles of faith.
Editing these books was in many ways an act of service for Paul, and he credits Robert Meye for giving him the theological context. "We ransacked the New Testament for words that helped us understand spirituality," he remembers, and "the whole notion of paraklesis became very important to us." A Greek word that means "exhortation" and "encouragement," it's also a name for the Holy Spirit: Paraclete. Whether it was annotating Lewis's novels or editing his letters, Paul was passing along words through which he found the Spirit speaking—all for the sake of the reader's faith: "I am an encourager," he says. "All I've wanted to do is be a 'small-p' paraclete."
Today, Paul brings that encouragement to students as a lay married professor at St. John's Seminary, a school where he is using that same encyclopedic mind he sharpened at Fuller to edit an edition of the Bible with liturgical annotations. He also enjoys training students to chant the Psalms or using the imagery of harvesting wheat and making wine to lecture on the Eucharist. "We're removed from the labor that makes our bread and wine, but the Word became flesh and dwelt among us. It is through our bodies that we discover and know what God is up to in the universe." It's a grounded wisdom he's earned through years of traveling through his own unexpected landscapes.
"Leaving the monastery was unfathomable," he says. "But I began to discover that the more unfathomable something is, the more likely God is at work. It's a paradox—it was the monks in their ecumenical foresight who sent me to Fuller." It's a realization not unlike Shasta's in The Horse and His Boy, who, chapters later, realizes an Unseen Voice had been guiding him through the wilderness the whole time. "I read that passage again and again, and still to this day I'll read it aloud to groups. It's a revelation many of us experience—that there's an unseen someone watching over us and walking at our sides really all of our lives." For Paul, that voice became an abiding companion through suffering and still calls to him today, further up and further in, toward an expansive life of imagination and prayer.