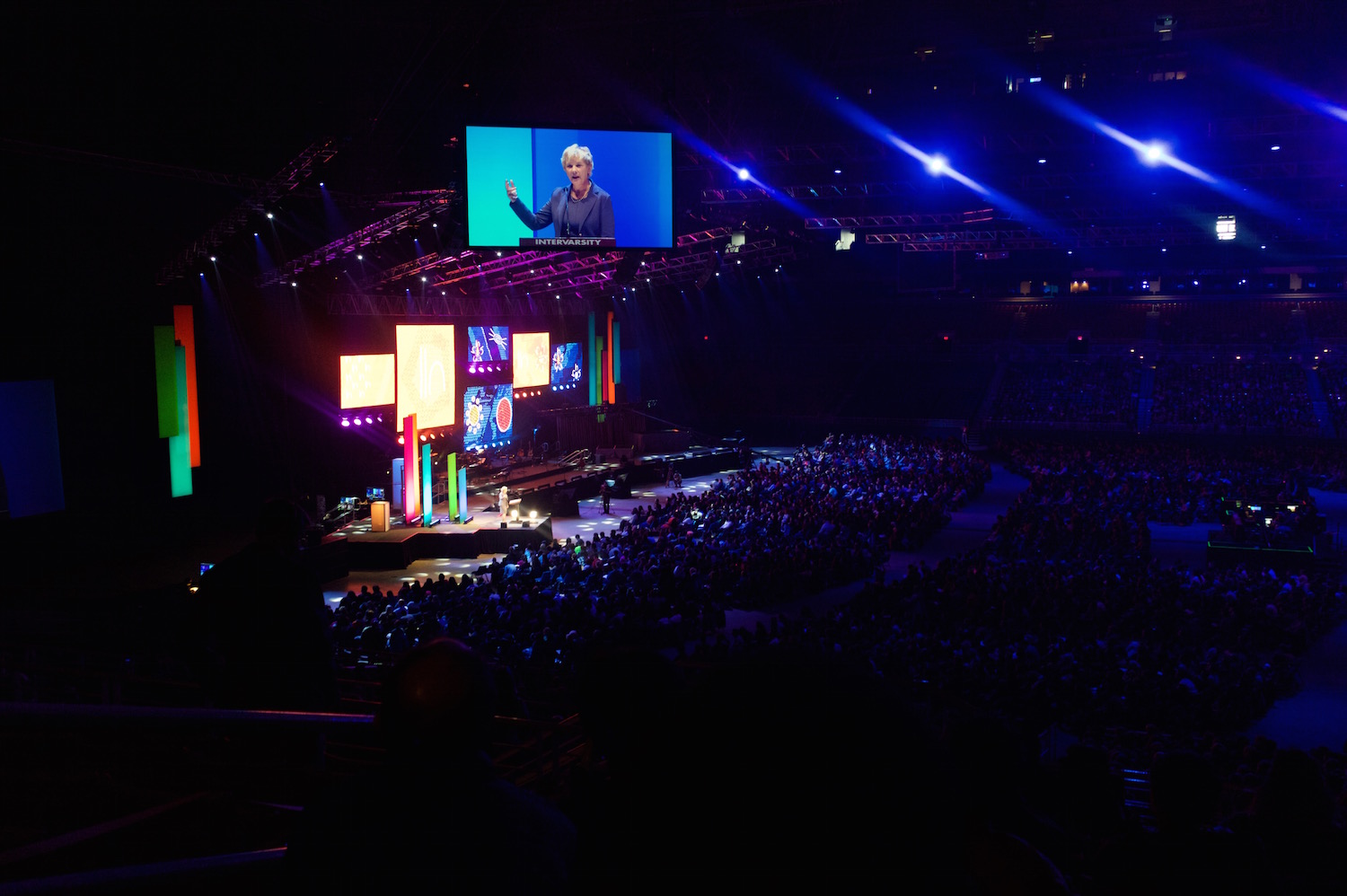 "As demonstrated by the cross, God speaks a Word that takes on a body—the created community born by Christ himself. The Word has become incarnate. It desires to have a body and thus moves inherently toward the church by its own gracious initiative and power. Preachers are called to follow the free and gracious movement of the Word through the scriptural witness and into the life of the church for the sake of the world."
+ Michael Pasquarello III, Lloyd John Ogilvie Professor of Preaching, speaking at his installation on the sacramental nature of preaching. Dr. Pasquarello helps oversee Fuller's PhD in Worship and Preaching; learn more and listen to his installation address online. Pictured: Evelyne Reisacher, associate professor of Islamic studies and intercultural relations, preaches at InterVarsity's 2015 Urbana conference. Hers is one of many voices on Fuller's new podcast FULLER sermons.
"The integral task of preaching, therefore, is to help the church see that God's words and actions in Scripture are consistent with God's active presence today. In doing so, preaching inspires believers to join and participate in God's unfolding theodrama."
+ Ahmi Lee, assistant professor of preaching, from her dissertation "Toward a Theodramatic Homiletic." Listen to her preach on the FULLER sermons podcast.
"A role for preaching is to continue the conversation the congregation is already having with Scripture and God. . . . Preaching that is a part of a congregational conversation must encourage and allow all types of questions. Even weeks later, the conversation may still continue."
+ Matt Prinz (MDiv '04), in "The Questioning Journey of an Amateur Preacher," originally published in Theology, News & Notes.
"Perhaps they expected that it would be just another service—the ritual would be performed, including the reading of the sacred texts, and they would nod their heads in approval as the young preacher read from an ancient passage. What they did not expect was that the Word of God would be fulfilled in their hearing, that God would become present in the Word, that the yesterdays of their cultural prejudices would be recast into the today of the Spirit, and that they would be invited to dance to the Spirit's invitation to celebrate the wideness of God's mercy."
+ William E. Pannell, professor emeritus of preaching, from "Expecting to Know the Mind of God Through Preaching the Bible," originally published in Theology, News & Notes.
---
Speaking the Word
"The task of the preacher is to listen to the Word with a humble reverence, anxious to understand it, and resolved to believe and obey what we come to learn and understand. At the same time, we preachers listen to the world with critical alertness, anxious to understand it just as intimately, and resolved not necessarily to believe and obey it, but to sympathize with it and to seek grace to discover how the gospel relates to the world."
+ Trygve David Johnson, in his book The Preacher as Liturgical Artist: Metaphor, Identity, and the Vicarious Humanity of Christ. The quotes in this section come from the Brehm Center's Lloyd John Ogilvie Institute of Preaching book series, which gathers academic scholarship on the intersections of homiletics with a variety of disciplines.

"This work of making connections in gospel address makes no claim to exhibit exhaustive political, social, cultural, or economic analysis. It only claims to see the lines that run from structures to bodies, from macroprocesses to the tears and cries of individuals or groups of people. . . . Those who speak this gospel word know that public space is holy space, where a God made flesh walks among the crowd."
+ Willie Jennings (MDiv '87), associate professor of systematic theology and Africana studies at Yale Divinity School, in his book Speaking Gospel in the Public Arena. Listen to Jennings (pictured right) on Mark Labberton's Conversing podcast.
"Local congregations need a strategy to reinforce the preacher's message, keep God's Word fresh in people's minds, and provide mechanisms and structures for feedback and accountability. Having heard God's Word, people need help so that they may allow it to continue to impact their hearts and lives."
+ Robert K. Perkins (MDiv '91), senior pastor at Moraga Valley Presbyterian Church, in his book Bringing Home the Message: How Community Can Multiply the Power of the Preached Word.
"There is for me a way of preaching that loosens itself from the heightened rational faculties we are all so good at and enters into a simplicity of focus, freedom, relinquishment, and abandonment in which I as a preacher am not preaching at people, not for people, but we are together in the moment, in the Spirit. And while I may be the one speaking, I have become the voice of us all, and the voice of Jesus Christ who is for and among us all."
+ Chris Neufeld-Erdman, pastor of Davis Community Church, in his book Ordinary Preacher, Extraordinary Gospel: A Daily Guide for Wise, Empowered Preachers.
"It is time for those of us who preach to reimagine our task as one that contributes to a process of repairing, reconciling, and renewing a global community that has been torn and bruised by the ongoing imperial tug of war. It is also time to celebrate what God has done and is doing to bring good out of a troubled human history."
+ Sarah Travis, minister of the chapel at Knox College, in her book Decolonizing Preaching: The Pulpit as Postcolonial Space.
"Our calling is to allow the biblical text or passage to have its full impact on us. As passionate preachers we have the privilege of living in the passage and letting it speak to us before we speak about it to the congregation. We can lead others only so far as we have gone ourselves; we cannot give away what we don't have. Truth and reality, faith and experience, discovery and application, never should be separated."
+ Lloyd John Ogilvie, preacher and longtime friend of the Fuller community, in his classic book A Passionate Calling.
"Set within the context of worship, the sermon has a unique opportunity to offer a transformative tuning note that can help interpret and reorient the congregation's corporate actions and witness as well as guiding individual members in personal discipleship."
+ Joni S. Sancken, assistant professor of homiletics at United Theological Seminary, in her book Stumbling Over the Cross: Preaching the Cross and Resurrection Today.
---
"The real power of preaching does not lie in the personal characteristics of the speaker or the skillful way in which the sermon is crafted and presented, but rather in the work of God's Spirit. Faith rests in divine power rather than human wisdom. Human words do not have the ability to change lives. Human eloquence and human wisdom do not lead to salvation. Human reasoning is not the basis of faith in God."
+ Wilfred Graves (PhD '99), associate minister at the West Angeles Church of God in Christ, preaching in All Seminary Chapel on how God works through the Holy Spirit in the message of the cross despite our weaknesses and limitations.

"When a preacher reads and interprets Scripture in community—especially in diverse community—they are able to engage in new questions and new ideas, leading to a far deeper understanding than preconceived notions of truth. As each individual's understanding is layered on top of the next, the holes begin to fill in, and the whole truth of God's grace begins to emerge."
+ Jennifer Ackerman, director of operations for the Ogilvie Institute and the director of Micah Groups, a program that forms preachers in a diverse community of ministry peers to do justice, love mercy, and walk humbly with God. Learn more about  the Micah Groups.

"Preaching has to flow from a walk—a walk that's authentic, that's real, that's marked by humility and service, and if the preaching isn't overflowing from that space, I'm nervous to see what the preaching is flowing out of."
+ Albert Tate, pastor of Fellowship Monrovia, reflects on pastoral authenticity with President Mark Labberton on the Conversing podcast.

SPARK.
The easiest way to bring science into sermons is to use it to spark the attention of the congregation.
CORROBORATE.
A slightly deeper use of science is to support or corroborate a theological point that is a bit stronger when you bring in the science.
ILLUSTRATE.
Finding a metaphor or illustration from science can sometimes help communicate challenging theological ideas or make them more credible.
EXEGETE.
In the process of exegeting a biblical text, it often helps to know what the original audience of the text would have understood from it. Various sciences can help us get into the minds of those ancient people and draw relevant comparisons to us today.
NOTIFY.
Science is good at notifying us concerning problems that may not be easy to notice and it (sometimes) gives us guidance regarding possible solutions.
CLARIFY.
Often biblical theology presents us with multiple ways to understand Scripture or doctrine. Science can help adjudicate between plausible alternatives and clarify theological truths.
ENHANCE.
The deepest engagement with science is allowing it to enhance theological inquiry and insight.
+ Justin Barrett, professor of psychology and chief project developer for Fuller's Office for Science, Theology, and Religion Initiatives (STAR), sharing pointers for synthesizing sermons with scientific knowledge as part of "plpit," an initiative empowering preachers to engage science as they write and preach. Read more online about these methods to incorporate science into sermons.
---
Resources
Preaching Gospel: Essays in Honor of Richard Lischer
Charles L. Campbell et al. (Cascade Books, 2016)
Stumbling Over the Cross: Preaching the Cross and Resurrection Today
Joni S. Sancken (Cascade Books, 2016)
Youthful Preaching: Strengthening the Relationship Between Youth, Adults and Preaching
Richard Voelz (Cascade Books, 2016)
The Preacher as Liturgical Artist: Metaphor, Identity, and the Vicarious Humanity of Christ
Trygve David Johnson (Cascade Books, 2014)
Blessed and Beautiful: Multiethnic Churches and the Preaching that Sustains Them
Lisa Washington Lamb (Cascade Books, 2014)
The Eloquence of Grace: Joseph Sittler and the Preaching Life
James Childs Jr. and Richard Lischer, eds. (Cascade Books, 2012)
Bringing Home the Message: How Community Can Multiply the Power of the Preached Word
Robert Perkins (Cascade Books, 2014)
Decolonizing Preaching: The Pulpit as Postcolonial Space
Sarah Travis (Cascade Books, 2014)
Ordinary Preacher, Extraordinary Gospel: A Daily Guide for Wise, Empowered Preachers
Chris Neufeld-Erdman (Cascade Books, 2014)
Available Classes
Contemporary Options for Preaching & Teaching Today with A. J. Swoboda History of Worship and Preaching with Michael Pasquarello III
Narrative Communication in a Visual Age with Ken Fong
Preaching Practicum with Michael Pasquarello III and various faculty Preaching and Teaching the Old Testament with John Goldingay
Preaching as an Integrative Focus in Ministry (DMin Cohort)
Preaching for Occasions: Weddings, Funerals, Crises, and Evangelistic Opportunities with Lisa Lamb
Preaching in the Tradition(s) with Paul Boles
Preaching the Bible as Scripture with Michael Pasquarello III
The Formation of the Preacher with Michael Pasquarello III and Will Willimon
Transformational Preaching in Asian American Contexts with Ken Fong