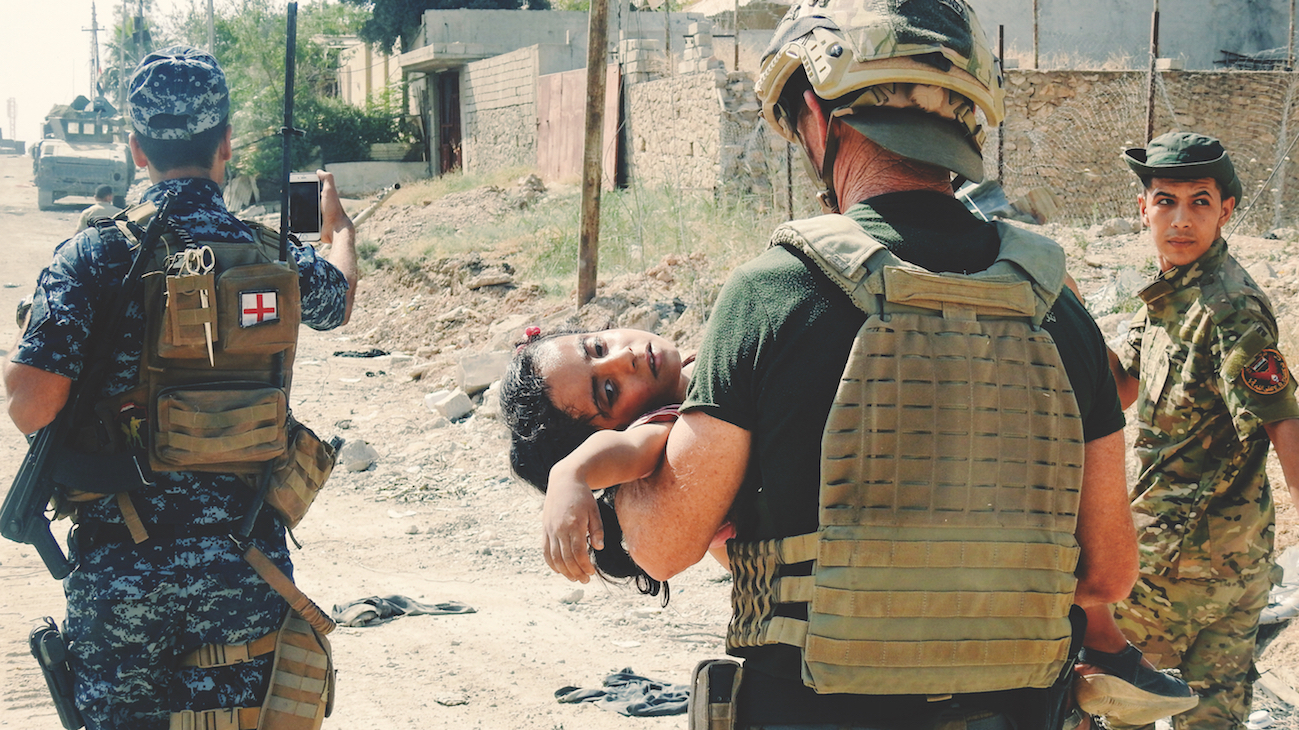 The video dominated social media feeds for a time. A trio of heavily armed men cloaked in desert fatigues stand alert behind a tank in a devastated Middle Eastern city, across the street from a mass of dead bodies—civilians gunned down by ISIS. The men spot a little girl alive in that mass, peeking out from under the hijab of her dead mother. One of the men decides he must pull her out. As the other two fire machine guns to give him cover, the man runs across the sniper-targeted street—risking his life—and dashes back moments later carrying the little girl, her hair in pink-ribboned pigtails, in his arms. He hoists her onto his back, says a quick prayer, and carries her to safety.'
The man is David Eubank (MDiv '95), and the city is Mosul, Iraq. David and his family have been in Iraq, Kurdistan, and Syria since 2015 on the literal front lines of the fight with ISIS, and that video captured just one of many rescues David did that day. "We weren't completely successful," he says. "We saved that little girl, and a man, but we lost the next guy. And one of my guys, Ephraim, got shot in the leg."
This kind of hazardous work isn't new to David, who grapples daily with what it means to serve as both missionary and soldier. He's been doing it for nearly 25 years, primarily in Burma through his organization Free Burma Rangers. Growing up in Thailand as the son of lifelong missionaries, David followed in the footsteps of his father and grandfather to attend college at Texas A&M University and then join the military. Serving in the US Army for a decade, he was well trained as a soldier.
The pendulum swung for him in the missionary direction when he decided to leave the Army and enroll at Fuller. David was ready to learn something new. "Attending Fuller was an adventure. It called for more faith, because there was nothing at Fuller that I knew about," he says. "I thought that maybe I would become a better person if I got out of the military, but found that wasn't necessarily true."
The Burmese people have been fighting a civil war since 1948 and, during David's first year at Fuller, members of a tribe from Burma traveled to neighboring Thailand to find help—where they met David's father, still serving as a missionary there. When they heard through him about David, the Burmese tribe members said to his father: "This guy was in special forces. We're a warrior people. We need Jesus. Send him to us!"
David eventually answered that call and returned to Southeast Asia with his new bride, Karen, to do the kind of combat zone aid work—balancing mission and military—he has been doing ever since. In 1997 he founded Free Burma Rangers, training relief teams to go on months-long expeditions through the Burmese jungles looking for people who needed help in any form. As David and Karen began having children, they deliberated and prayed extensively about the work God would have them do as a growing family. Their two daughters and one son, now 16, 14, and 11, came to take part—in age-appropriate ways and away from areas of direct fighting—in an expanding ministry that grew to include schooling programs and aid delivery.
When friends asked them a few years ago to pray about coming to Iraq, circumstances miraculously aligned to allow them to go: the Eubank family and their entire ministry team of primarily Burmese natives. The fact that David and Karen brought their children with them spoke volumes about their commitment to the Iraqi forces they came to help. "You brought your son, your most precious thing," a Kurdish general said to David. "I give you my most precious thing—my country. You can go wherever you want to go." Ever since, while David works on the front lines, Karen and the kids serve away from the fighting, providing whatever care is needed to local families who have fled their homes.
In Iraq as in Burma, David daily grapples with the complexities of being both a soldier and a believer. "My time in the military prepared me for this work," he says. "We've seen villages burned, people attacked, and we respond not necessarily as soldiers but as ambassadors for Jesus to help people in the worst situations, with whatever kind of aid they need. But the context is war. It's like if you're an experienced fisherman, and you're trying to rescue people at sea, you don't think about it—you just go! My whole adult life has been the military in one form or fashion, and so going into war zones was just natural for me."
"My policy about violence or non-violence," he reflects, "is to ask the Holy Spirit, 'What should I do?' And I believe God is dynamic. He calls us to do things differently all the time. Maybe one time you have to intervene and enter into combat with your enemy, when lives are at stake. Maybe another time you just have to share the gospel and die. I don't know! I try to listen to what he would have me do."
David has suffered much loss in this work over the years; an "In Memoriam" page on the Free Burma Rangers site documents many friends who have lost their lives. But one tragedy, also centered on a little girl, hit David especially hard. "We had just liberated a neighborhood in Iraq," he says, "and I was playing with a little three-year-old girl there. She was so happy, saying 'Americi! Americi!' to me. But ISIS fighters were waiting on the back end, and clap! They shot her dead."
Infuriated, David told a ministry partner he'd had enough. "I can't live with this anymore, man! I can't watch these kids get shot and just say, 'Well, we're Christians. We can't help you there,'" he said in his distress. "So I decided I was going to go after the fighter who killed that little girl, because it's justice." The next morning, planning to hunt down the killer that day, David first had a devotional time. "I opened my Kindle and asked, 'Lord, what should I read?' And boom—he directs me to Roman 12: 'Vengeance is mine, says the Lord.'"
"Jesus has helped me not to hate ISIS, even though I've seen them kill so many good friends and innocent women and children. I've never hated ISIS, and that's God's gift."
The words sucked the breath out of David's lungs. "Oh—what I was calling justice was vengeance. So I said, 'Jesus, forgive me. I reject vengeance. I give it up.' And he took it away from me." Later that day, when David and his team were on the front lines of the battle again, "I didn't feel like I had to make anything right," he asserts. "I just had to obey Jesus. I'm his ambassador. If that means I fight, I fight. It's not my business. It's his business. My role is to obey Jesus, love all I can, and obey him in those interactions."
David did fight ISIS that day, and has at other times, when he's been compelled to protect the lives of others. "It's not our role to engage in combat unless we really have to, and I don't like telling about fighting very much," he says. "But sometimes it happens. And I know this: ISIS soldiers are redeemable, just like I am—and they can change, so I keep praying for them." Always, David is quick to shift the focus back to Jesus. "Jesus has helped me not to hate ISIS, even though I've seen them kill so many good friends and innocent women and children. I've never hated ISIS," he insists, "and that's God's gift."
David thinks and prays seriously about the ways his calling as a missionary and his skill set as a soldier interact with each other. "I always wanted to be a soldier, and in a way, I think I'll be one until I'm dead. When I came to Fuller," David remembers, "I wrote down all my sins along with my propensities—things that maybe weren't 'wrong' but that could get in the way of serving God—and one propensity was 'being a soldier.' I wrote them all down on a piece of paper and then burned it up, as a way of giving it all over to God. I'm not sure a lot changed, except one important thing: God gave me more love, even for those I'm sometimes called to fight. I have a love for my enemies in Iraq, Syria, Burma. That didn't happen out of will power. It happened out of surrender to Jesus."