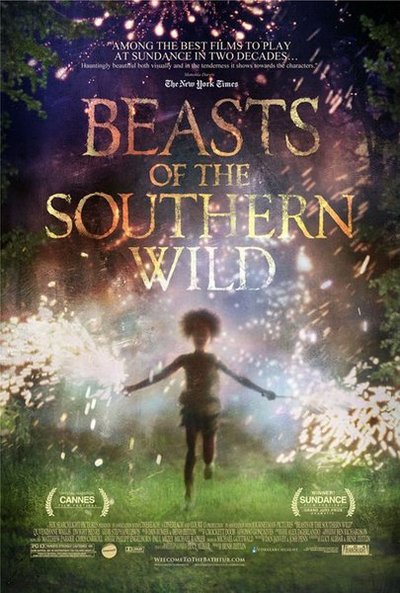 The best joke I heard about the Super Bowl blackout was that it might have been an extended and rather spectacular "For Your Consideration" ad for Beasts of the Southern Wild, the elegant, eloquent, and elevating film set in the Louisiana environs near the New Orleans Superdome.
That movie, to my mind the best of the nine 2013 Best Picture Oscar nominees, a group of films selected to climb the strange competitive ladder in which artists are expected to act like racehorses and producers like the colorfully-jacketed employees of the New York Stock Exchange, is a magnificent work of art. It's magnificent because it makes something hugely universal out of a tiny story, and art because it does this with supreme craft and political meaning.
It's the anti-Argo, an unconsciously self-congratulatory thriller that starts well, with at least a semblance of acknowledgement that the problems faced by modern Iran are partly America's doing, yet descends into a "white savior vs brown savage" cliche that would make Dances with Wolves look like it was written by bell hooks (who, for other reasons, doesn't like Beasts either). It should be obvious that there is so much more to Iran than angry mobs and ruthless cops, but portraying one nervous housekeeper isn't enough to reflect the pressing need for today's Westerners to face our complicity in a system of media and artistic representation and political belligerence that sustains the myth that Tehran's streets are innately more primitive than those found inside the Beltway.
So my recommendation in this Oscar month is that we take note of the nine films nominated by watching the best one, and doing eight other things instead of obsessing about gold statuettes. My modest proposals follow.
1. Give 15 hours of your time to Mark Cousins' astonishing documentary The Story of Film (available now on Netflix Instant), a romantic, quixotic, vastly knowledgeable, overview of what this medium is. Cousins revels in cinema as a global medium – he won't settle for an anglocentric vision of an art form that began in France, creates more examples in India than almost anywhere else, and whose greatest proponents include Swedes, Russians, Koreans, Thais, and Senegalese. His history of cinema is not a simple chronological overview – like Phyllis Tickle's fascinating book Emergence Christianity, it is the story of innovation – of when something new happened. It's the most hopeful history of cinema I've encountered, because it insists on change being the heart of what keeps the medium alive. Nostalgia is ok, but is better in partnership with the process of maturing.
2. If you haven't seen it before, watch Andrei Rublev, not just the greatest, and not my favorite, but the most film I've ever seen. Twelve chapters, one massive story, every genre the cinema has encompassed – romance and action and spirituality and comedy and horror and war and existential drama and hot air balloon escapes from danger; and most of all, a quiet devastation that gives way to hope, when a young man admits his inability to know how to do what's right, and his vulnerability is rewarded with community rather than judgement. Rublev is nearing its 50th anniversary, and it can be returned to like a religious holiday: a balm for the soul that also demands better from its audience.
3. In this cultural moment when the relationship between entertainment and violence is under scrutiny, some of us are looking for people to join a community – online, and in the other real world – that highlights films about violence which don't confuse portrayal with advocacy.
I've often written that we need to learn to tell new stories in which the shape of the narrative arc bends towards challenging the belief that violence can cleanse the world – perhaps it's time to consider withdrawing our support for entertainment that serves only to perpetuate rather than challenge cycles of destruction. If you'd like to participate in a conversation about entertainment and violence, I'd invite you to comment below.
4. See something that you wouldn't ordinarily see – like This is 40, perhaps the most underrated film of the last year – a charming yet close to the bone variation on the themes handled with a lot more cheese in Parenthood; On the Waterfront, released by Criterion on BluRay this month, and still a stunning piece of theological drama, asking difficult questions about the cost of individual truth-telling and family division; or Revanche, a film by Austrian director Gotz Spielman that should be required viewing for anyone wanting to learn to tell the different kind of story about violence.
5. Follow Michael Moore on his daily 30 minute walk (see #iwalkwithmike for more information). You heard that right: the maker of courageous, heartfelt, and influential films about injustice has started a fitness club. I admire Moore, especially when he poses solutions to the crises he is so good at illustrating (watch his TV Nation show for examples of how advocacy groups, churches, and other communities could practice the prophetic enaction of change, not just complaining about what's wrong with the world). His manifesto for a daily half hour walk is a work of art itself – moving, and practical, and might just change the world.
6. See the Oscar-nominated short, animated, or documentary films if they are showing at a theatre near you. You're in a for a treat: five films for the price of one, five emotional journeys, and five opportunities to just wait a few minutes til the next one starts if you're bored. (Editor's note: The shorts will also be available to stream on demand beginning February 19.)
7. If you're like me, at some point you've seen a movie that caused you to decide to change your life/get into politics/lose weight/be a better person/write more/save the earth from an alien invasion. If you're like me, the problem is that you've seen another movie (or another hundred movies) that made you want to change something else about your life. So you didn't change your life, but just kept watching movies. So here's a penultimate, quixotic challenge of my own: Think of a film that caused you to want to change your life. Watch it again. And try it.
8. Finally, whether you watch the Oscars or not, you can join the conversation here, or on my personal blog – I'd welcome the company.
Meanwhile, I'm heading out for a walk.
__________________________________________________________________________
Gareth Higgins is a writer and activist from Northern Ireland. He writes regularly on his own blog, God Is Not Elsewhere, co-hosts the award-winning movie podcast, The Film Talk, and is the Executive Director of The Wild Goose Festival.