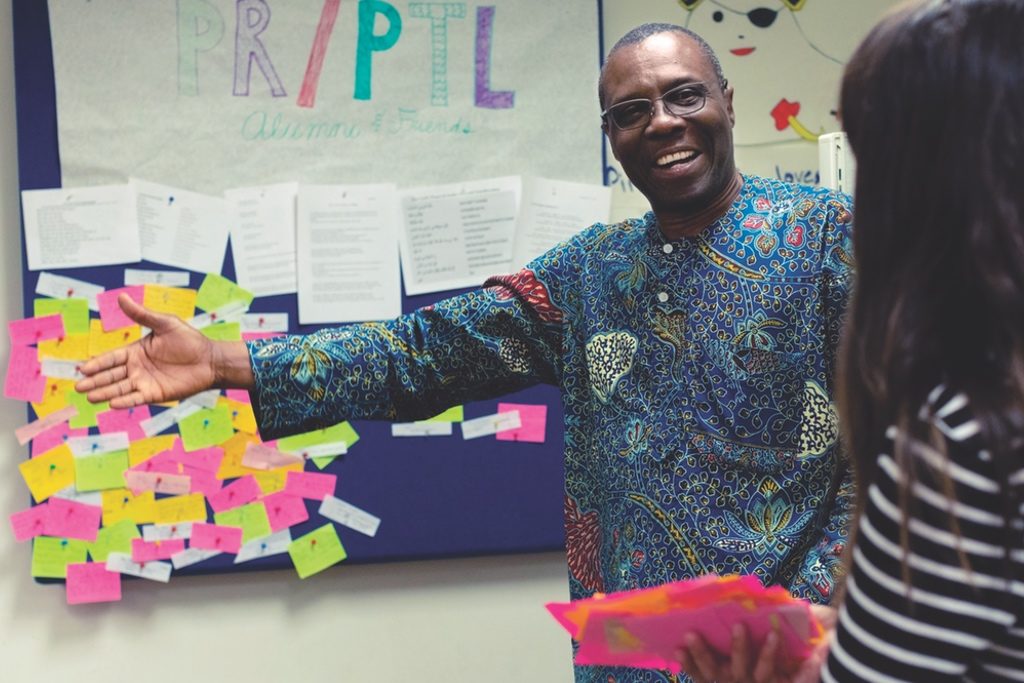 Narrow cubicles line the edges of Fuller Seminary's Call Center where student callers raise funds—unremarkable in appearance, windowless, and lit by fluorescent lights. When Director of Annual Giving Kaitlin Schluter visited the office to get it ready for use by a new team of people in the fall, a blast of vibrant colors on the back wall caught her eye. "On the left a sign said 'prayer requests,' and on the right it said 'prayed for,'" she remembers. "The whole wall under that second section was covered with post-it notes with handwritten prayer requests." She had come to clean and, instead, discovered a global ministry.
For years, student callers had been praying in that hidden room with alumni and donors from around the world. "Many of the Call Center employees were international students," Kaitlin says, "so the room was crammed with men and women—professors, bankers, and pastors in their home countries—who would call with the same passion they had fundraising for their own ministries overseas." At each station, Call Center employees would not only raise money on behalf of the seminary, but also pray over the phone for those they were calling and keep track of those prayer requests.
"Every call was like listening to a firsthand account of how God had been working through the generations of Fuller's ministry," Pramil Aruldoss [MAICS '14] recalls. After Ken Chikonzo [MDiv '18] told a pastor on the phone that he was from Zimbabwe, the man hurriedly exclaimed he was housing someone from that very country as a guest. "He handed over the phone to his guest, and we began to talk in our home language—Shona," Ken remembers. "I could sense the furtive glances and utter disbelief in my colleagues as we shared greetings and a lengthy conversation, laughing at the goodness of God to connect us in such an incredible way."
With each call, students would write down requests—anxiety about moves and pastoral work, weddings and divorces, children's futures and the loss of loved ones—and once they'd prayed, the post-it would move, reminding the students to continue praying long after the phone call was over. Sensing the ministry opportunity, the callers even worked with a psychologist on long-distance counseling techniques. "It was in my colleagues' presence that I learned how to pray again," Jarrod Phipps [MDiv '17] remembers. "Each shift I would listen to the exuberant, compassionate prayers of my team who perceived this role not as a mere job, but as a ministry that God had placed them in."
"It's like phone chaplaincy; you could feel the gravity of those prayers," Kaitlin says, looking at the post-it notes in her hand. "To think that our students picked up the phone, started talking to a stranger, and ended their conversation in prayer—how often do you get that call?"
---
+ In the image above, intercultural studies PhD student Uchenna Anyanwu shares memories of the Call Center with Kaitlin Schluter, then director of annual giving. The prayer wall behind them includes prayer requests and the Lord's Prayer in multiple languages—a prayer callers would often share with those they called.