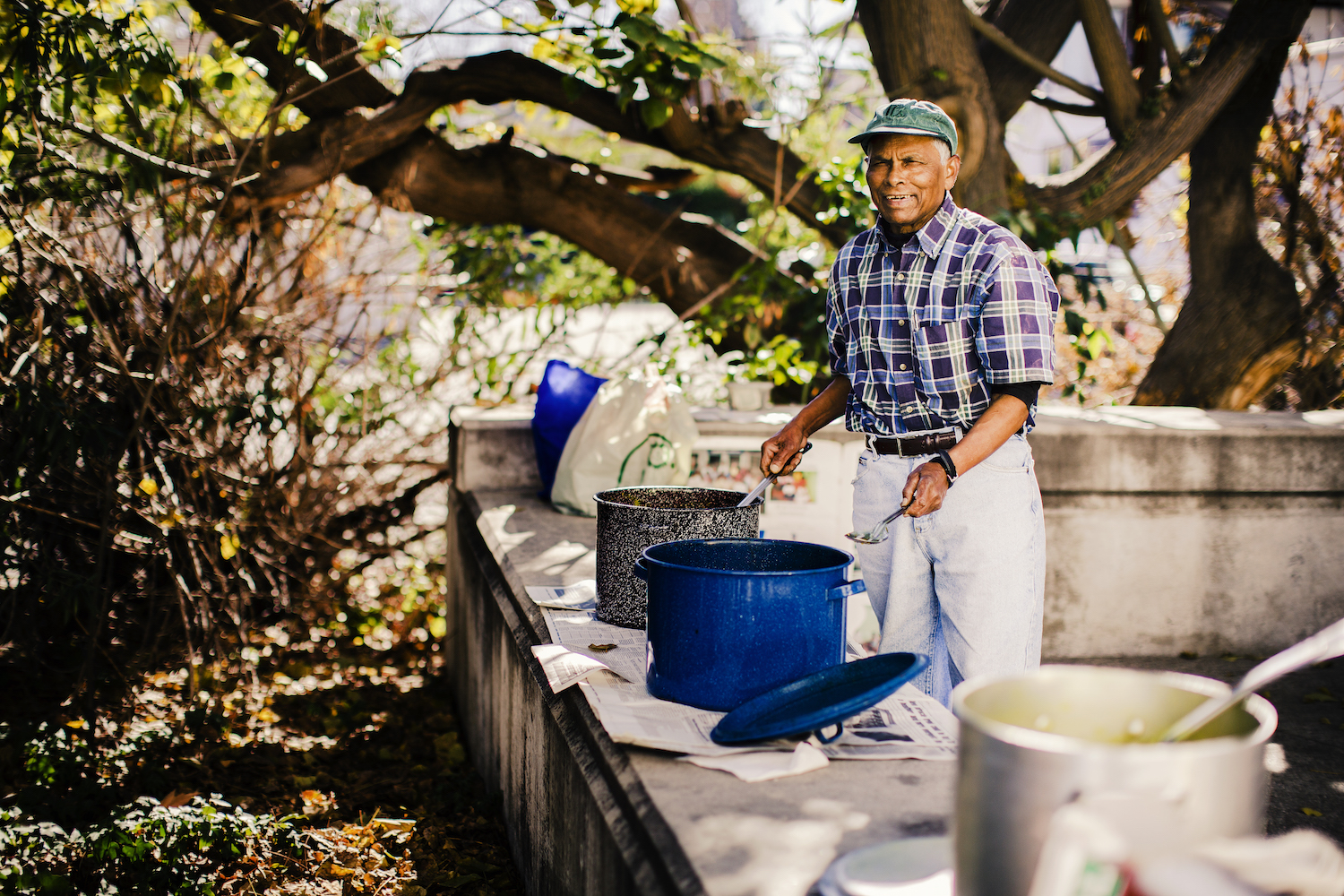 "Hey, sister! Hello! Don't you want to eat?"
It's a familiar invitation for anyone walking through the small patio tucked between Fuller Pasadena's psychology buildings and parking lot. The loving yet imploring voice belongs to Fuller alumnus BJ Dabhade [DMin '99]. BJ cooks and serves a buffet-style curry lunch weekly—as he has been doing since 1998.
Growing up in central India, BJ recalls that, as a child, he cried out not because of the abundance of food but the scarcity of it. "My parents had taken me to an orphanage because there was a famine—there was no food. I saw starving people in my community who ate leaves off the trees, whatever they could find. My own father," he shares, "died of starvation."
While famine sent BJ to the doors of an orphanage, the Conservative Baptist Mission that ran the orphanage became a gateway for educational opportunities he never would have anticipated. After first attending Bible college in India, he was sponsored to study halfway around the world in La Mirada, California, where he received a master's degree in Christian education from Biola University. Culminating his educational journey, BJ came to Fuller Pasadena, where he studied both ministry and mission on his way to earning three master's and doctoral degrees.
BJ never forgot his youth and the suffering he saw in his family and neighbors. During his time studying at Fuller, BJ's experiences in India motivated him to found "BJ & Friends India Ministry," an organization through which he supports orphanages like the one in which he grew up. During his time in the School of World Mission (now the School of Intercultural Studies), BJ noticed that his fellow students often went without nourishing food shared in community. This struck a deep and familiar chord within him.
Acutely aware of the power of a shared meal, BJ taught himself how to cook and started hosting lunches out of his apartment as a way of introducing his peers to the Indian cuisine he loved. Doing this brought him and his community such joy that he started bringing his curry lunches to entire classes— even cooking once or twice for special Admissions events. Now, for the last few years, BJ has served curry lunches open to the entire Fuller community in the psychology complex breezeway, with a donation box nearby for money to feed children back home in India.
Since suffering a stroke in 2013, BJ has been unable to work a conventional job. In spite of that, he continues to serve the flavorful rice, spicy chicken curry, and traditional vegetable dishes for which he is renowned on Fuller's campus. Serving the Fuller community is not a chore but a great joy, he says, with such rewards as these: "Sometimes a student will come and tell me, 'BJ, thank you for this food! I had nothing today and I did not know how I was going to eat.'" BJ relies on God to provide for him so that he can provide nourishment for others—whether that's in Pasadena, California, or Warud, India.