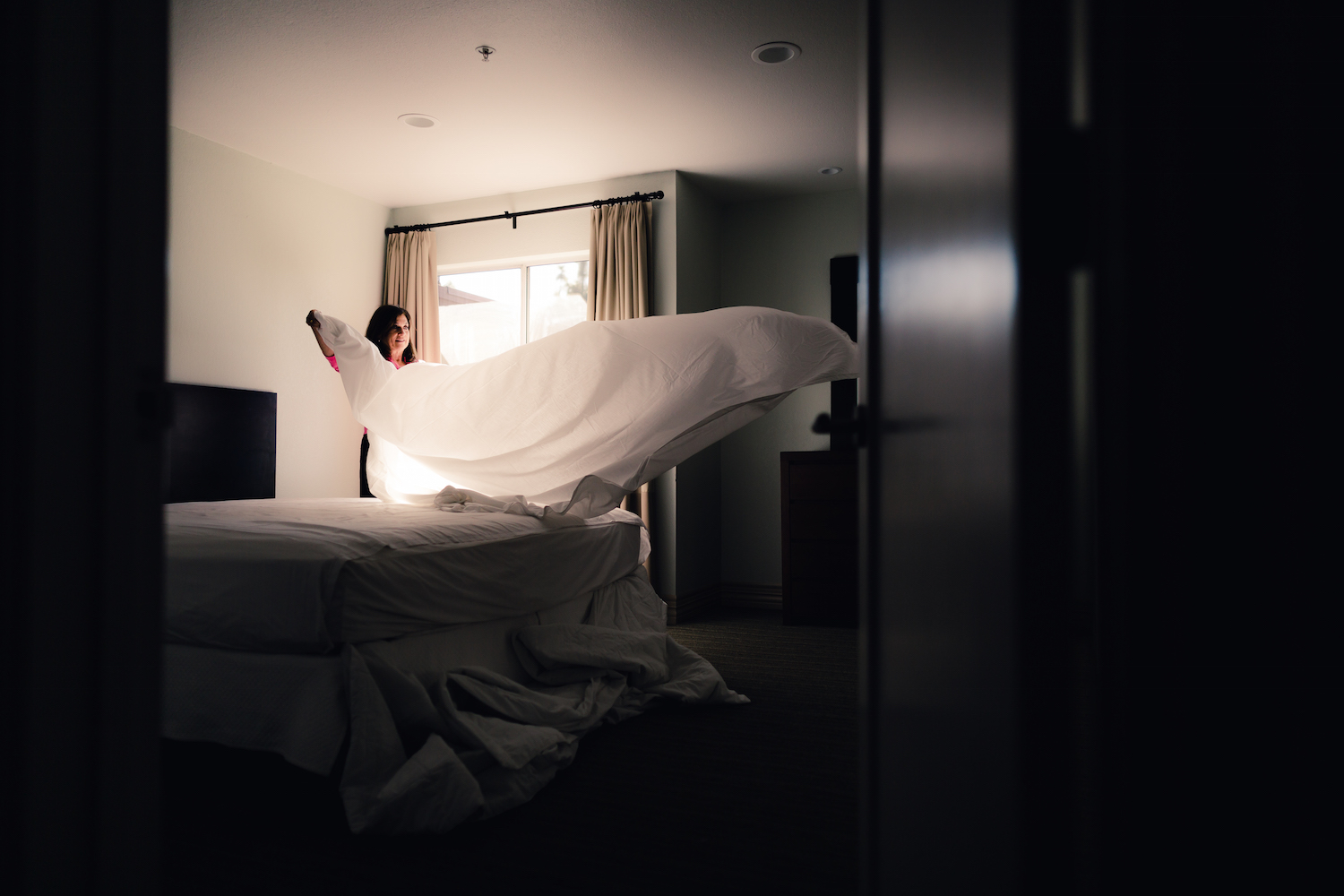 Anna Merritt grew up in a large, tight-knit Italian family—and if that brings certain images to mind, they're likely right. Sundays always meant a gathering of the clan at the grandparents' house: along with Anna's parents and five siblings were aunts and uncles and close to two dozen cousins. "All of us girls would be together in the kitchen with Grandma building cannoli or learning to make a good red sauce while the boys were outside swimming. It wasn't entirely fair," Anna remembers with a laugh. "But I did love the cooking." When that food was served, there was always room at the table for anyone else who might stop by. Says Anna, "'The more the merrier' was our family motto."
Today Anna brings that spirit of familial hospitality to her role as director of Fuller Seminary's Guest and Conference Center in Pasadena, known by most as simply the Guest Center. Located a few blocks from campus on a quiet street lined with camphor trees, the complex—which includes 70 guest units of varying size—was originally intended to primarily serve members of the extended Fuller community and their family members. Over time that mission expanded to include guests connected with local nonprofits as well: the Jet Propulsion Laboratory (JPL), Huntington Library, Caltech, and others.
"We're the first face of Fuller to many of our guests," Anna says. "So our role is to be welcoming! That's something we take very seriously." Referring much more often to "we" than "I," she expresses effusive gratitude for a group of staff members who are just as devoted to the guests as she is: "We have a collaborative team of people here who really care."
Most guests stay for just two or three nights; others—students coming from out of town for a series of intensive courses, faculty in the midst of relocation—stay at the Guest Center for weeks or even months. Either way, what they observe is an attention to detail that makes the difference between an impersonal way station and a home away from home. Everyone finds a welcome basket of chocolates, biscotti, water bottle, and other goodies in their room when they check in; return guests often find a hand-penned welcome note from Anna. During the Christmas season there will be an ornament tied with ribbon to every door; on St. Patrick's Day it'll be a clover-shaped cookie; on December 31, a cowbell to ring in the New Year. Anna and her team are lavish with such offerings but not with their spending: Treats are home-baked, welcome baskets are assembled on site, and Anna always keeps her eyes out for good deals, snatching up next year's Christmas ornaments at this year's after-Christmas sales.
"Anna always has the special touches," says Kaye Schneider, an MAFS and MATM alum who stayed at the Guest Center frequently over the years, coming up to Pasadena weekly from the San Diego area when she had classes. "She makes sure the rooms are stocked with everything you'd need to make a meal and that the study lounge has water and coffee. She takes care to have plants around to bring life and color to the entire community area."
It's especially the personal touches that make a difference, says Kaye: things like remembering Kaye's birthday, helping her cater and decorate for a graduation party, or just keeping an eye out for small needs. "After she found out I was bringing an extension cord with me to access an extra outlet, I arrived in my room to find a power strip she'd left me! That's Anna."
ALWAYS SOMETHING NEW
What energizes Anna about her work at the Guest Center is that "there's always something new," she says, "and always such interesting people coming through." Like the Special Olympics athletes and coaches last summer. Or John Nash,
the late mathematician who inspired the film A Beautiful Mind. Or the JPL scientists who were working on the Mars Rover mission and had a correspondingly topsy-turvy schedule. "We had to clean their rooms on Mars time!" says Anna, with the housekeepers following a schedule that matched up with that of the scientists—varying from day to day—over the three months they stayed at the Guest Center. But Anna especially loves getting to know members of the Fuller community who stay for an extended time: students like Kaye, or faculty or staff members who commute from out of town or are in transition, looking for a permanent place to live.
The "something new" that's always happening in the life of the Guest Center often comes in the form of the day-to-day challenges of property management that need to be creatively addressed. But every once in a while it's something much bigger. "We had a baby born at the Guest Center," Anna shares. "Our guest went to the hospital but they sent her back here saying it wasn't time yet. Well, the baby thought it was time!" The mom's husband dashed out to get a staff member to come help, but by the time they got back to the room, the baby had arrived.
Then there was the time a guest cut herself severely on a hand blender she'd brought with her. "It was a pretty serious wound, she was fainting, and her husband was out of town—she was all alone with her baby," Anna recalls. Without a moment's hesitation, Anna drove her to the emergency room while Katie, who works at the front desk, stayed with her baby.
TREATED LIKE FAMILY
Anna describes a tradition she had with her son, Nick, during his growing-up years. "He and I would go out of town just for fun, for a couple of days, just the two of us—I called them 'adventures with Nick.' One year we decided to go to Palm Springs but hadn't booked a place to stay ahead of time, and we ended up at a motel that was kind of run-down and shabby around the edges. It looked like it was from the '60s!
"But the owner was so friendly to us that we ended up loving it," she says, "and we decided to go back every year. That owner always remembered our names, and he always made us feel at home." Anna carries that spirit to the Guest Center: "Even if there are areas where our facility is a little bit dated, our customer service always needs to be in top shape."
What that might look like, for Anna or any member of her staff, is taking time to find out how a guest is doing or just engaging them in conversation. "When I walk by and see one of our staff members taking a moment to sit down with a guest out on the patio and have some coffee together, it makes me super happy," she says. "It's lovely."
Ultimately, it's about creating a place that feels like a home away from home, where guests feel as welcome as they did at that big Italian family dinner table that was central to Anna's childhood. Only here, the core family is the Guest Center team.
Every June on the morning of Commencement, they offer a complimentary breakfast on the patio for all their guests, most of whom are family members and friends of the new graduates. They don't cater; Guest Center staff all contribute the food. "It's always so much fun," Anna says, but the best part comes once all the guests have rushed off to Commencement. "When the staff are the only ones left, we pull a couple of the tables together," she shares, "and we sit down and eat together as a family. I cherish those moments."