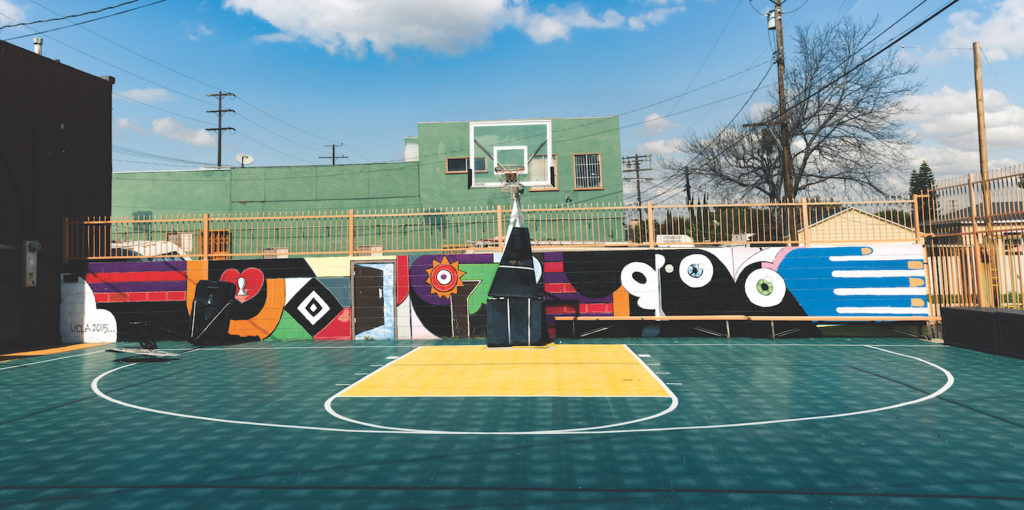 In South Los Angeles, on 91st and Western, a row of six storefronts faces the humming streets. A colorful mural is painted along a cinderblock wall on one side, detailed with the words "love, understanding, compassion." On the other end of the mural is a plea: "Please stop the killing because the pain is forever." Even from the outside, one can sense the weight of the work done in the Al Wooten Jr. Youth Center.
Inside the youth center is a series of interconnected rooms—winding and maze-like in order to connect what used to be six separate retail stores. University pennants line the hallways. Tacked to a bulletin board are college plan worksheets filled out by students from third to twelfth grade, detailing their career aspirations and goals for higher education.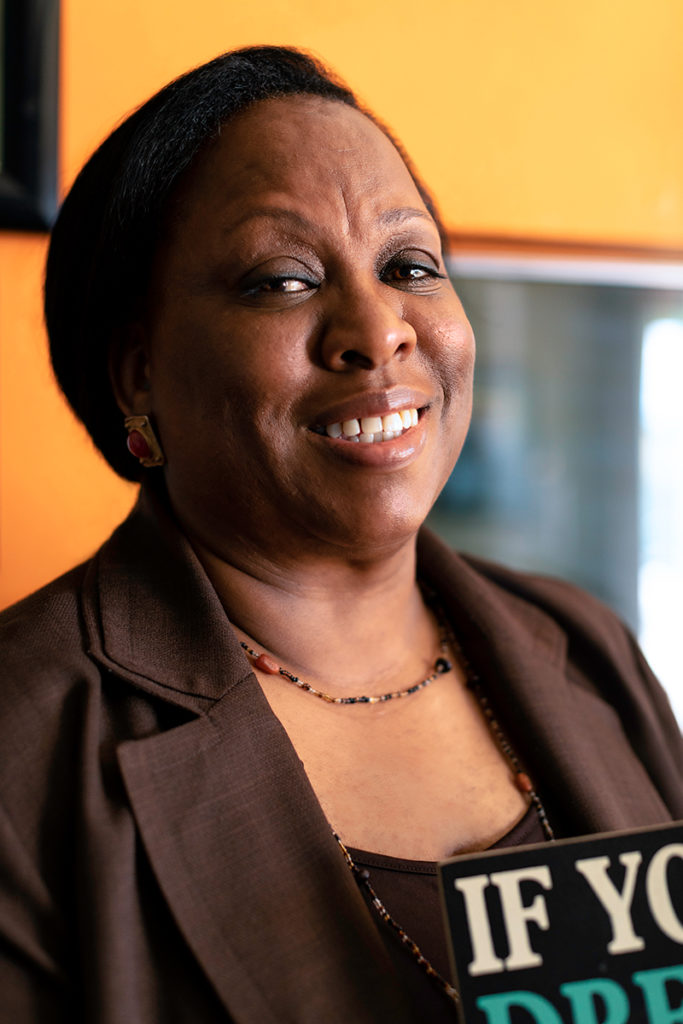 Naomi McSwain (MAICS '09), executive director of the center, explains the comprehensive after-school and college prep programs the nonprofit offers. Their CollegeTrek and Summer Fun Camp activities are all based on California's subject requirements for high school graduation and university admissions. Along with homework assistance and tutoring, the center offers world languages and culture, performing and visual arts, and SAT prep workshops. Summer classes have featured aerospace engineering and computer animation with curricula, materials, and instructors provided by NASA and Disney. Over 350 kids, from all over the South LA area, are helped by one or another of their programs annually.
Naomi knows the center is involved in crucial, life-changing work. But she has her own personal ties to the center, too. Alton Wooten Jr., for whom the center is named, was her cousin, killed at random in a drive-by shooting—a gang initiation—in 1989. He was 35. Well loved, he was seen by family and friends as "everybody's big brother." The center was born out of his family's determination to establish something in his honor that went against the spirit and system of violence that ended his life. Naomi says, "We couldn't let him be just another statistic."
The late Myrtle Faye Rumph—Al's mother and Naomi's aunt—founded the Wooten Center in 1990. To affirm the center's purpose, hanging in one hallway are quilts made up of panels honoring community members who lost their lives to violence. Al's panel, made by his mother, is displayed next to too many others. The memorials to the lost next to the college pennants on the walls speak the heart of the center's mission: education as a life-saving alternative to violence.
"I'm always fine with the rambunctious ones. I love to talk to those kids because I was that kid."
Naomi herself faced the choice between these diverging paths. In high school she was involved in gangs, selling drugs and running from gunfire. But a combination of her mom pushing her to church and time spent at a local youth center proved a turning point. The church helped change her heart. The center helped her turn straight Fs into straight As, leading to an education that saved her from what would have been a very different life. Of the Wooten Center's rigorous college prep system and robust educational bent, Naomi explains, "We're doing the kind of program I needed."
But arriving at youth center work wasn't a straightforward path for Naomi. While she was involved in the center at its founding, she left to pursue a career in journalism—reporting, for years, on the violence that plagued the LA area, including the civil unrest in 1992 over the Rodney King beating. "I was at Florence and Normandie that night," she says. She'd lived minutes away.
Later, she left South LA to cover gang violence in Pasadena. She wrote on killing after killing, churning out stories until it burned her out. She felt her stories offered no solutions—the rapid nature of the news cycle didn't grant her the space or time—and they even exacerbated the problems of violence by sharing information that gangs ended up using to retaliate. She remembers helplessly holding the mother of a victim, a woman she was meant to interview, as the woman wept in her arms. "I never picked up my notebook," Naomi says of that moment. The trauma of her work eventually led to an emotional breakdown, and her editors told her to take a month off. She spent the time in therapy, then in prayer.
"I told God I wanted to use my skills to help, instead of writing all these stories that weren't going anywhere." She quit her job and, soon after, decided to further her education. "To learn more about children and children's programming," she says, "that's how I ended up at Fuller." It was the inaugural year of the Children at Risk program in the School of Intercultural Studies. "It gave me exactly what I was wanting to do as a reporter," Naomi says, "to think more critically about the problems and develop solutions."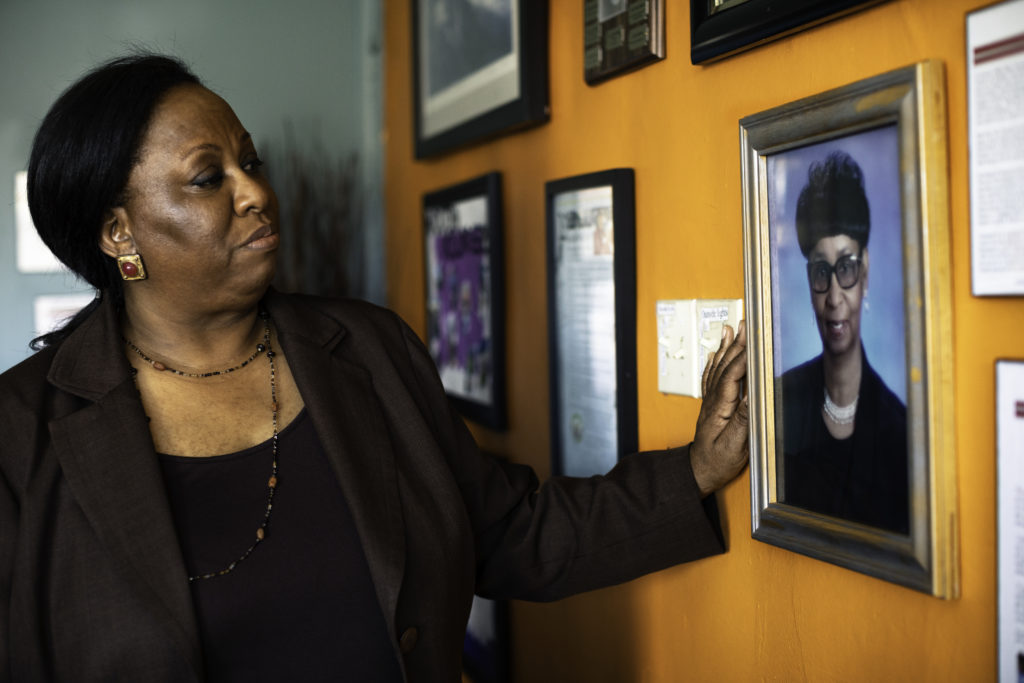 After her studies, she felt pulled back to youth center work and set her sights on multiple nonprofit organizations. She didn't consider a return to the Al Wooten Center, merely because of how far it was from her home. But, in the midst of her search, she received a call from her aunt. The center's executive director was leaving, and they needed somebody for the interim. "It never entered my mind that I would end up back here," Naomi reflects. "I thought I'd be here for two or three months. I've now been here since 2010."
Naomi has put everything she's learned into practice. The solutions she craved and wrote about extensively at Fuller came to life in the center's work. Her graduate thesis, "A Missional Approach to Gang Prevention in Los Angeles," serves as a framework for much of what the center does. Naomi credits her studies for teaching her the importance of contextualization, which has defined how the center serves its students. "How do you contextualize? Learning about the kids, seeing what they want, and then basing your programs on that," she says.
"We preach the concept of homework and studies," she explains. "After the homework is done, it's time to study!" Study, at the center, means working on individual challenges and sharpening weak areas, or delving into research on whatever subject interests the student. "It's college prep," Naomi says. "Learn how to research, to study, to be disciplined."
The practice has taught kids to use a critical and constructive lens to view their world—to identify problems and create solutions. "A problem the kids identified was junk food," Naomi says. "Too much McDonald's, too much Jack in the Box. Their solution was a community garden!" Now they grow lettuce, tomatoes, and kale, right by the basketball courts at the back.
Everything the center does in its after-school program is project based. Instead of math or science lectures, the kids have math and science labs—time to learn through practice. "The kids love it," Naomi says.
She glows while recalling their kids' success stories. She remembers Juan, who came to the center as a nine-year-old, pants sagging low. "He'd tell everybody, 'All of my friends are O.G.s'"—original gangsters—"and that was all he knew," she says. "We had to show him something else." Juan came to the program regularly, and Naomi laughs as she describes the moment he walked into their job fair, years after his first day, transformed: in a tie, vest, and belt, his shirt tucked in. "He's doing well now," she says. "He graduated last year."
Naomi is ready and willing to deal with the more challenging kids too. She thinks of Debra, saying, "she reminds me of the old me—loud, boisterous, obnoxious, rude, belligerent." Debra did everything she could to get herself kicked out. But it takes "baby steps" to get to change, Naomi says. After months of resistance, Debra agreed to fill out a college plan, smiling about the idea of college after the center took her on a tour of UCLA.
"I'm always fine with the rambunctious ones," Naomi says. "I love to talk to those kids because I was that kid." In her office, she keeps pictures of herself from her gang years. "That's not you, Miss Naomi!" kids say. But she assures them she's that girl. "Then I show them my degrees. I say, guess what? You can change too." Even with the ups and downs, she says, "I can't think of a kid here—and I hope it never happens—that went bad, or went the other way. They always improve. Of course they're going to improve if you're nurturing them. Between education and showing them opportunities, that will change their life. If that's not ministry, I don't know what is."
She remembers a young man she interviewed when she was still a journalist: a gang member who'd survived being shot by an AK-47. "What are your goals and dreams?" she asked him. "I want to be a truck driver," he told her, "so I can drive far away from here."
"A place to go for something to do," Naomi says, capturing the spirit of what the center offers kids like this young man, who said he'd joined a gang because he had nothing else to do. "If he'd been in an after-school program," she says, "maybe he never would've gotten into a gang or been shot." Instead of violence, she says, "We have to give them something else." Through the Al Wooten Center, Naomi strives to offer that something else day by day. "This is mission work in South Los Angeles," she says. "It's saving lives."