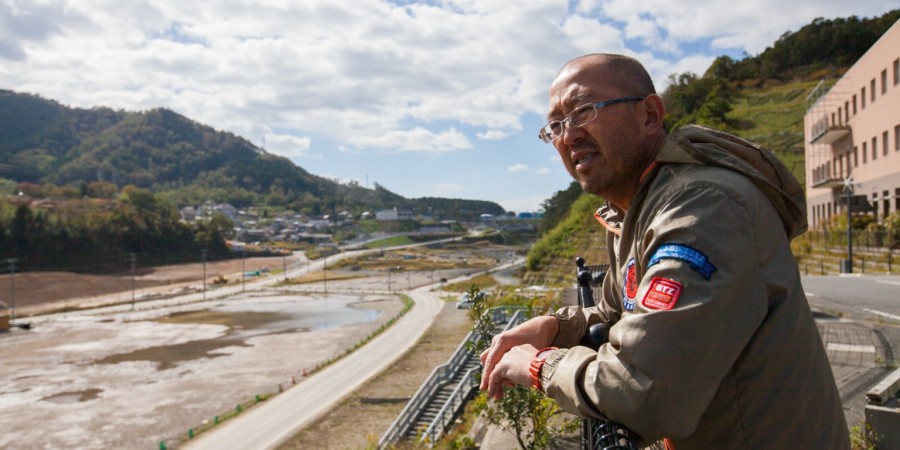 When Eric and Sue Takamoto show visitors around their seaside home of Ishinomaki, they call attention to the water-level lines.
"See up there?" They point to a spot high on the side of an apartment complex or a shop where faded markings are evidence of how far the floodwaters rose. Sometimes it's one floor up, or two. Sometimes more.
Ishinomaki, a sleepy fishing town on the northeast coast of Japan's Honshu Island, was one of the areas hardest hit by the devastating 2011 tsunami. It's impossible to imagine today, even with the evidence of the water lines: Black walls of water swallowed up homes, businesses, loved ones. A few years later, rebuilding is in full force; cranes and construction equipment dot the landscape. Most of the devastation has been cleared away. But not all.
When Eric or Sue introduce Ishinomaki residents who survived the catastrophe, the stories flow.
When the water surged into the bank building, its 13 occupants scrambled to the roof. Surely they would be safe there. But the water rose past the first floor, then the second, then onto the roof. The only place left to go was up a ladder on the roof's protruding doorway. Yet even that was not high enough. All but one of the 13 were washed away.

Hiro,+ whose wife was a bank employee and one of those who perished, located the roof ladder and kept it. Decorated with flowers, it served as the centerpiece of a memorial service in her honor. "That ladder," says Hiro, "was the last thing she touched."
Eric [MDiv '99] and Sue [PhD '03], who met as students at Fuller, moved to Japan with the mission agency Asian Access in 2001, and over the next decade did church planting work in various cities as their family grew to include children Owen, Annie, Olivia, and Ian. When the March 2011 tsunamis occurred, they were with other aid workers at a conference, well south of the tidal waves' destruction. Providentially, many of them had participated in disaster response training just days before.
"We knew the timing of our training was more than coincidence," says Eric. "A few of us quickly answered the call to go north." Since then Eric, and often Sue, made many trips to the ravaged town of Ishinomaki, partnering with a house church network called Be One. With each trip, says Eric, "our hearts broke for the victims."
Soon the Takamotos sensed God's call to move their family to Ishinomaki. "Our vision was not just to help with the physical needs there," they say, "but also to see people and communities transformed through the power of the gospel lived out in an incarnational witness."
A ministry of presence. Of entering into each individual's story.
The waters had barely receded when Tomo,+ who lived in a low-income housing complex, leapt into action, wanting to do his part. He knew rescue vehicles would soon be coming, yet rubble left in the wake of the punishing waves was everywhere. Grabbing a magnetized rod, he went to work picking up nails and other sharp objects so tires wouldn't be punctured when vehicles came through.

As mud-caked bodies were pulled from the rubble and lined up, Tomo thought about the family members who would come to claim them—and saw another need. Gently, respectfully, he washed the faces of the victims so they could be identified. Weeks later, he would meet a woman whose niece was among those victims. Her gratitude for Tomo's simple but thoughtful gesture would overwhelm her.
As the Takamotos settled in Ishinomaki, "we heard so many stories of tragedy and heartbreak," says Eric. So many members of the community felt isolated in their wrenching pain. In the midst of the effort to rebuild external structures and systems, the process of internal healing got pushed aside.
In the early months after the tsunami, the government offered to tear down damaged homes and businesses at no cost to those who requested help. But the time frame was short, explains Eric, so many people jumped at the opportunity while they could—often before they'd had a chance to go through their belongings and grieve their losses. Suddenly, all vestiges of their former life were gone.
"People internalized the trauma and carried it with them," says Eric. "On the outside it looks like everything is getting cleaned up and rebuilt, but that's not a reflection of what's going on inside for people." That's why they need to tell their stories now, he believes: to help them process that deep-seated trauma, that unresolved grief—and open themselves up to the healing touch of Christ.
After the disaster struck, Yui,+ who lived inland, became frantic. With power out and cell phones unusable, she couldn't get in touch with her family members in Ishinomaki. Her husband did not want her to use what little gas they had to drive there. Days later, she got news that seared her to the core: both her mother and her sister, who was seven months pregnant, did not survive.

Yui was distraught. In her work at her husband's hair salon, she was chided for not putting on a happy face for the customers. When her husband said he'd had enough and demanded a divorce, Yui—with two small children and a third on the way—went to Ishinomaki to live with her father, who was still miserably lost in his own grief. She looked for work to support her family but, with so many businesses washed away, there was none to be found.
When Sue met Yui at a community event, the young mother was vacant-eyed as she tried to manage her three young children. "She told me she couldn't find a job anywhere," says Sue, "and it put the fire under my feet" to pursue an idea that had been percolating—ever since Sue was struck by the beauty of the broken pieces of pottery they found while helping clean a field. She wanted to start a business employing women to craft jewelry from those pottery shards, and now, perhaps she had her first employee. "I had no idea if it could work," admits Sue, who had neither business experience nor a particular interest in jewelry—"but it was worth trying. Women like Yui were desperate not just for work, but also for hope. This way, we could hope together."
Now, two years later, the Nozomi Project—nozomi, in Japanese, means "hope"—is bringing sustainable income, dignity, and community to the 16 women who work there. As the broken pottery is being transformed, so are the women—emotionally and spiritually. Sue shares biblical truths with them, leading some of them to commit their lives to Jesus. And as they work together, the women share their stories with a level of honesty and vulnerability they wouldn't risk anywhere else. "It seems to feel safe," says Sue, "to be busy working, looking down, and opening up."
The tea shop where Noriko+ and her husband Masaru+ worked was on high enough ground that, when they heard the waves were coming, they knew they would be safe. But Masaru desperately wanted to retrieve some belongings from their nearby home below. He'd be quick, he told Noriko.

But not quick enough. From her vantage point on top of the hill, Noriko could see their home in the valley below. She watched the water press in with such force it dislodged the house from its foundation. And she saw her husband, trapped on the roof of the house, floating away. They waved at each other, knowing that this was the end, until he vanished from sight.

Masaru held on until the house began to submerge, then jumped onto a nearby boat. When that began to submerge too, he lunged onto another boat—and clung with every bit of strength he could muster.

Having seen her husband carried away by the rushing water, Noriko was convinced he was dead. When his bedraggled figure appeared before her the next day, she didn't allow herself to believe it. "You're a ghost!" she cried. But Masaru was very much alive. A survivor.
"If you're a survivor," says Eric, "you have a story." For both Eric and Sue, walking alongside those survivors in their stories and their healing is a long-term, multidimensional process.
Sue has helped many of them establish rituals, a concept she researched in her PhD studies with leadership professor Bobby Clinton at Fuller. "I discovered the importance of creating rituals not just to celebrate the good," she says, "but also to help grieve the losses and mark the passages of life." And a course on death with pastoral counseling professor David Augsburger helped her learn to listen well. "I am listening to stories all the time," she says. "It may be my most important role here."
It's been four years since Japan's tsunami. For the rest of the world, it seems like the distant past, but for the residents of Ishinomaki, the tragedy is still very real. Today, when Eric or Sue show visitors around town, it feels as if the tsunami happened yesterday. Their five-year-old son, Ian, comes running with a few pottery shards he's just found in the fields. Stories, too, continue to emerge from under the uncleared debris. Stories that need to be told. Stories that linger, and need to be told again.
Eric and Sue keep listening.
---
+ The names of tsunami victims have been changed, but the stories (in blue) are true. The photos were taken by TJ Lee who visited them in Japan while on vacation. Click here to watch Sue Takamoto recount stories of hope in the aftermath of the tsunami and share more about the Nozomi project.