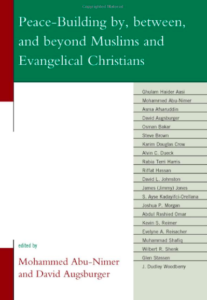 Abu-Nimer, Mohammed, and David W. Augsburger. 2010. Peace-building by, between, and beyond Muslims and Evangelical Christians. Lanham: Lexington Books.
This timely work addresses sensitive issues and relations between Muslims and Christians around the world. The book uniquely captures the opportunity for Christians and Muslims to come together and discuss pertinent issues such as pluralism, governance, preaching, Christian missionary efforts, and general misperceptions of Muslim and Christian communities. Joint authorship and discussion within the book is used to offer dialogue and responses between different contributors. This dialogue reveals that Christians and Muslims hold many things in common while having meaningful differences. It also shows the value of honestly sharing convictions while respecting and hearing the beliefs of another.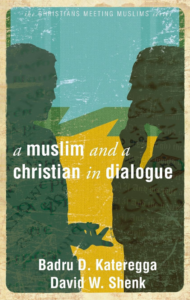 Kateregga, Badru D., and David W. Shenk. 2012. A Muslim and a Christian in Dialogue. Harrisonburg, VA: MennoMedia.
Millions of Muslims and Christians are neighbors, and they believe that they worship the one and only God. Yet they seldom witness to each other. In this book, a Muslim (Badru D. Kateregga) and a Christian (David W. Shenk) attempt to witness and listen. The issues they deal with are profound. Kateregga and Shenk open up the basic questions of the human situation and confront similarities and differences in Muslim and Christian responses. In recent years Muslim-Christian interactions have too often been antagonistic. Here the authors pioneer another way: that of authentic dialogue between friends.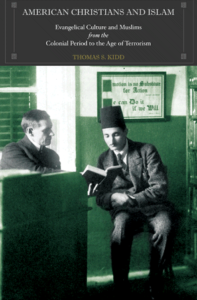 Kidd, Thomas S. 2009. American Christians and Islam : evangelical culture and Muslims from the colonial period to the age of terrorism. Princeton, N.J.: Princeton University Press.
In the wake of the September 11 terrorist attacks, many of America's Christian evangelicals have denounced Islam as a "demonic" and inherently violent religion, provoking frustration among other Christian conservatives who wish to present a more appealing message to the world's Muslims. Yet as Thomas Kidd reveals in this sobering book, the conflicted views expressed by today's evangelicals have deep roots in American history.
Tracing Islam's role in the popular imagination of American Christians from the colonial period to today, Kidd demonstrates that Protestant evangelicals have viewed Islam as a global threat–while also actively seeking to convert Muslims to the Christian faith–since the nation's founding. He shows how accounts of "Mahometan" despotism and lurid stories of European enslavement by Barbary pirates fueled early evangelicals' fears concerning Islam, and describes the growing conservatism of American missions to Muslim lands up through the post-World War II era. Kidd exposes American Christians' anxieties about an internal Islamic threat from groups like the Nation of Islam in the 1960s and America's immigrant Muslim population today, and he demonstrates why Islam has become central to evangelical "end-times" narratives. Pointing to many evangelicals' unwillingness to acknowledge Islam's theological commonalities with Christianity and their continued portrayal of Islam as an "evil" and false religion, Kidd explains why Christians themselves are ironically to blame for the failure of evangelism in the Muslim world.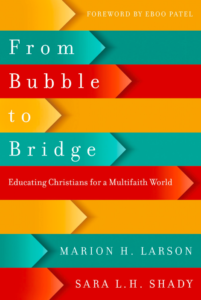 Larson, Marion H., and Sarah L. H. Shady. 2017. From bubble to bridge: educating christians for a multifaith world. Downers Grove, Illinois: IVP Academic.
In a world of deep religious strife and increasing pluralism it can seem safer to remain inside the "bubble" of our faith community. Christian college campuses in particular provide a strong social bubble that reinforces one's faith identity in distinction from the wider society. Many Christians worry that engaging in interfaith dialogue will require watering down their faith and accepting other religions as equally true. Bethel University professors Marion Larson and Sara Shady not only make the case that we can love our religious neighbors without diluting our commitment, but also offer practical wisdom and ideas for turning our faith bubbles into bridges of religious inclusion and interfaith engagement. Drawing on the parables of Jesus, research on interreligious dialogue, and their own classroom experience, Larson and Shady provide readers with the tools they need to move beyond the bubble.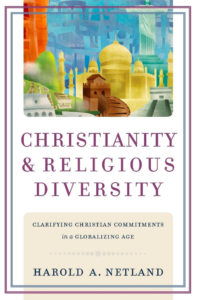 Netland, Harold A. 2015. Christianity & religious diversity : clarifying Christian commitments in a globalizing age. Grand Rapids, Mi: Baker Academic.
This book explores how religions have changed in a globalized world and how Christianity is unique among them. Harold Netland, an expert in philosophical aspects of religion and pluralism, offers a fresh analysis of religion in today's globalizing world. He challenges misunderstandings of the concept of religion itself and shows how particular religious traditions, such as Buddhism, undergo significant change with modernization and globalization. Netland then responds to issues concerning the plausibility of Christian commitments to Jesus Christ and the unique truth of the Christian gospel in light of religious diversity. The book concludes with basic principles for living as Christ's disciples in religiously diverse contexts.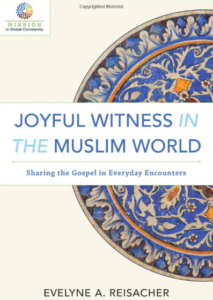 Reisacher, Evelyne A. 2016. Joyful witness in the Muslim world: sharing the gospel in everyday encounters. Grand Rapids, Michigan: Baker Academic.
Joyful Witness in the Muslim World features global perspectives on current Christian engagement with Islam. It equips readers for mission among Muslims, exploring how to move from fear to joy in sharing the gospel.
After emphasizing the importance of joy in the biblical narrative on mission and in human relationship building, Evelyne A. Reisacher surveys areas where Muslims and Christians encounter one another in the twenty-first century, highlighting innovative models of Christian witness in everyday life. Drawing on insights from global Christianity, this survey takes account of diverse conceptions of Muslim-Christian relations.
Reisacher, who has decades of experience in engagement with Muslims, has noticed a certain dehumanization of Muslims by Christians. Muslims are seen as targets of mission instead of being accepted as human beings with whom we interact in everyday life. Walls have been erected between Muslims and Christians by social and political conflicts, and theological debates give the impression that Christians always meet with Muslims in extraordinary contexts. However, in today's global village, Muslims and Christians are likely to meet each other anywhere and everywhere. Reisacher demonstrates that suffering and joy in mission are not in contradiction. Joy can be a catalyst to relationship and witness in a world threatened by conflicts involving Christians and Muslims.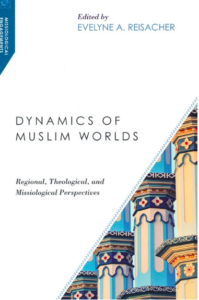 Reisacher, Evelyne A. 2017. Dynamics of Muslim worlds : regional, theological, and missiological perspectives. Downers Grove, Illinois: IVP Academic.
Christians in the West have many questions about the identity of Islam and Muslim societies. Due in part to misleading media reports and a lack of interreligious dialogue, a majority of Western Christians view Islam as more prone to violence. The perplexity is compounded by news of violent conflicts involving Muslim communities in various parts of the world. Discussions about Muslims in the media often give the impression that Islam is a single, uniform entity. The reality is that global Islam is a complex and diverse phenomenon, not a monolithic one. Unfortunately, what makes the headlines often shapes Christian mission strategies that are overshadowed, if not controlled, by such reports. The challenge for understanding Islam is further complicated by the fact that an already very diverse Islam across the world stage is fluid and dynamic, with changes motivated as much by Islamic agency from within as by forces impinging "from without." Dynamics of Muslim Worlds brings together leading missiologists, theologians, and historians from the 2016 Missiology Lectures at Fuller Theological Seminary's School of Intercultural Studies to present a nuanced account of contemporary Muslim societies. Edited by Evelyne Reisacher, the contributions to this Missiological Engagements volume explore the changing dynamics of Islam today and how current religious and social climates shape Christian engagement with Muslims.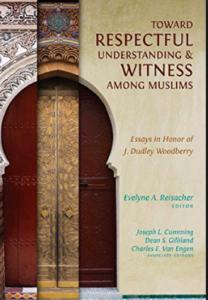 Reisacher, Evelyne A. 2012. Toward respectful understanding & witness among Muslims : essays in honor of J. Dudley Woodberry. Pasadena, CA: William Carey Library.
Fifteen preeminent Christian scholars of Islam present their latest research and reflections. The book is organized around three themes: encouraging friendly conversation, Christian scholarship, and Christian witness.
Published in honor of J. Dudley Woodberry, it is more than a collection of essays by friends and colleagues. It offers a seldom-available synopsis of the theories of contemporary leading Christian academicians whose work is currently influencing a wide range of Christian institutions, agencies, churches, and individuals. The authors provide cutting-edge and greatly needed resources for developing a better understanding of Muslims.
In an age of increasing challenges facing Muslim-Christian relations, this volume offers Christians a unique opportunity to rethink their assumptions. It also presents practical steps, which can inform their daily encounters with Muslims. This book is essential reading for people with research interests in Islam, for Bible school and seminary students, for church leaders, and for all those who want to be informed of the latest empirical research and theoretical perspectives affecting Muslim-Christian relations.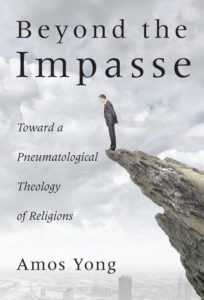 Yong, Amos. 2014. Beyond the impasse : toward a pneumatological theology of religions. Eugene, Or.: Wipf & Stock.
"No one who cares about a theology that does justice to what the Bible tells us about the cosmic ministry of the Holy Spirit can afford to ignore this important work. Amos Yong's book itself displays the 'robust sense of discernment' that he asks all of us to exercise in our engagement with non-Christian religions." (RICHARD J. MOUW, Fuller Theological Seminary)
"Finally, a Spirit-based theology of religions that takes the Spirit seriously! Drawing on his Pentecostal roots, Yong offers guidelines for discerning the voice of the Spirit in other traditions-a voice that may call us to unexpected christological conclusions. This is truly a pioneering work that opens new theological paths but modestly recognizes that there is still much to explore. (PAUL F. KNITTER, Xavier University)
"Few areas in theology are as complex, controversial, and urgent as theology of religions. Amos Yong has advanced the discussion significantly with his creative and sophisticated proposal for a pneumatological theology of religions. While undoubtedly controversial, Yong's proposal frames the issues in fresh ways and suggests new options for an evangelical theology of religions." (Harold Netland, Trinity Evangelical Divinity School)