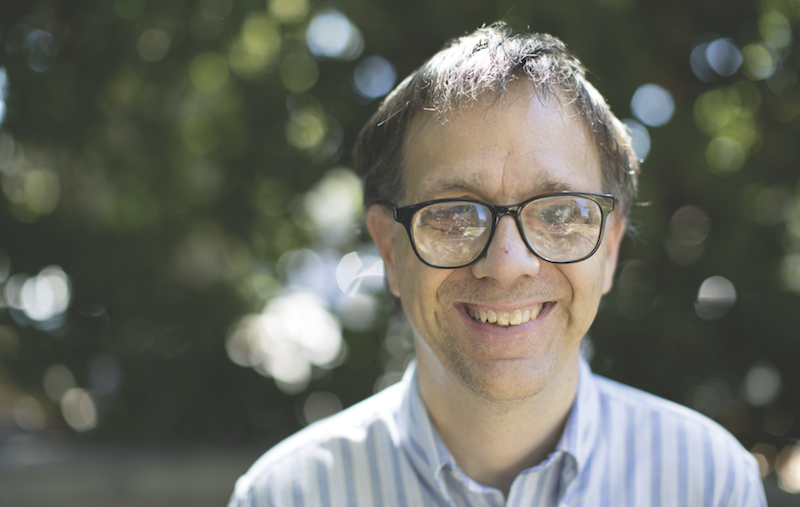 At least once a week David Stassen spends his day visiting friends at Fuller's Pasadena campus. Getting up early, he walks 15 minutes to the corner of Allen and Orange Grove to board the number 40 bus. Exiting at Walnut and Los Robles, he begins his rounds at the offices of Student Life and Services, Disability Services, Building Services, Archives Bookstore, Coffee by the Books, Communications, Marketing, and Admissions—and sometimes others.
David's visits date back to when his father, Glen Stassen, began teaching ethics at Fuller in 1997, and have continued steadily even since his father's passing two years ago. "Fuller is a pleasant place to be and a good place to hang out," David says. "I enjoy being able to be with so many good people who are here."
Those good people include Bethany Fox, director of Student Services. David, who is fluent in German, helped her translate writings of Dietrich Bonhoeffer for her PhD. Moreover, his passion for transit systems and technology have translated into specific travel advice for her, which she reciprocates with dinner recommendations. For six years, Bethany did her PhD work under Glen Stassen, and, after his passing, "it was good to be able to talk about my own grief with David and have him talk about his grief, too," she recalls.
David's mother, Dorothy, who works in the Hubbard Library, explains the unique relationship between her son and the people at Fuller he visits: "His community," she says, "is Fuller and our church." She notes that David was completely silent until he was three, but "you'd never know that because he's a great talker now!"
David stops by the Communications, Marketing, and Admissions office where he occasionally helps Vice President Irene Neller brainstorm for press releases. "He's a Fuller encyclopedia," says Irene. "He has a wealth of knowledge about all of the presidents."
One of David's favorite stories is when Irene threw a surprise party for his birthday. "That was kind of a neat little thing, that they thought it would be nice to throw a little party for me!" he recalls. "That made me feel, I don't know, appreciated."
The chance to be of some help is what gives his visits purpose, which becomes clear as David elaborates: "I'm the kind of person who's always trying to be helpful to other people. I like to come up with solutions for things. If they like it, fine; if they don't, fine. But I'm always trying to be helpful in one way or another."