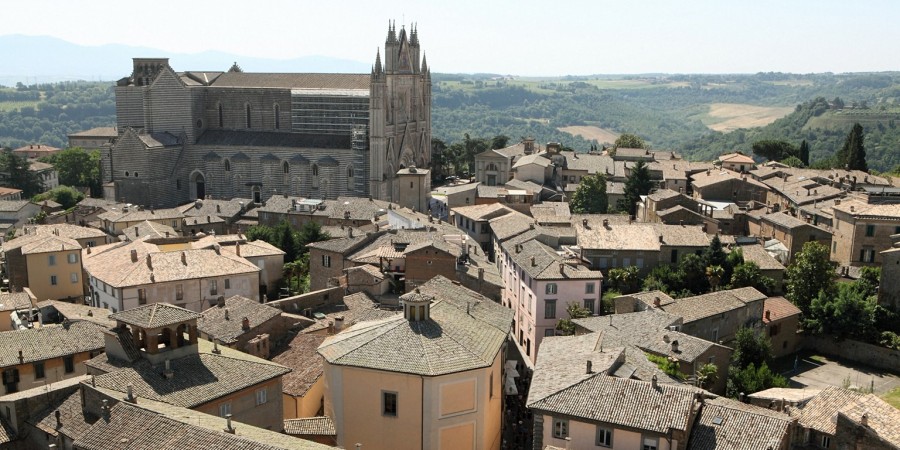 +  This is the second in a series on immersion courses examining why the learning experience they offer is unique. All of the following photographs are of Fuller students and faculty in places they encountered together during a trip that included photographer Richard Min, then a student.
Following Professor of Theology and Culture Bill Dyrness around the tiny town of Orvieto, Italy, on an immersion course feels like watching a kid in a medieval store of delicious delights. The town transforms him, enlivening him with its beauty—he is a man in his element. I have had the pleasure of seeing this side of Bill several times and have witnessed the transformation of so many other faculty, students, and alumni as we study, eat, pray, and walk the ancient streets together. It is something wholly unique to this course, in this town.
My trips to Orvieto with Fuller mark significant moments in my life in which I was transformed too. There is something unexpected that happens there to those of us whose lives are typically run by agendas, schedules, and deadlines. It does not take long to realize that the pace of life is different: Everything and everyone moves slower. Not just an ambling, aimless slowing—though there is that too—but a way of life that savors moments so as to absorb things more deeply. To me, this is a good and godly thing.
Every evening we would join in the Italian ritual of la passeggiata, or "the walk." This communal stroll through town occurs in the evening following supper and before bedtime, when the whole town makes room for conversation and frequent stops to greet a neighbor, hug an old friend, or hold hands with a loved one. The mood is upbeat, a celebration of the simple joys of life, and there is no stranger, no lonely pilgrim, no orphan or widow—only family, friends, and lovers. Even guests in Orvieto are expected to participate in this nightly amble, and so, every night, a group of 25 people from Fuller Theological Seminary joined in a slow stroll around town trying new gelato flavors, sipping regionally grown wine—always together, always in conversation.
We would pause on the steps of the Duomo di Orvieto (Cathedral of Orvieto), reflecting on our long days of activity and study, letting the profound beauty of the ancient town soak into the marrow of our bones. There is something transforming about such conversations that allow us to laugh with abandon as stories are told, to feel the weight of past or current tragedies shared in newly earned confidences, because we willingly allow ourselves to be opened up to one another. Because of the concentrated, unhurried time spent together in shared purpose, we were more apt to see the paradoxes of beauty and ugliness, fragility and strength as creations of the God we were there to study and to worship.
The temptation is to resist this forced slowing and fill the slower, quiet moments with something noisier, but it becomes apparent pretty quickly that it is futile to resist the centuries-old pace of la passeggiata. This is one of the initial tests that one must pass in order to thrive while there. Those who don't pass are doomed to two weeks of frustration. Those who do adjust find that the slower pace is a gracious gift—an awareness of being in a liminal or "thin space" between terra firma and etherium.
The small town of upper Orvieto sits atop a hill in the Umbrian countryside. From its borders one can see the endless rolling hills, vineyards, and wilderness that make the region so charming. Not long after the Romans had taken over Orvieto, the town experienced an extended period of flourishing that saw the construction of numerous Roman Catholic churches within its small-cliffed borders.
None stands out like the duomo, though, where every group of immersion course participants spends a great deal of time. The duomo was built to serve as the center of all activity in Orvieto in the 13th century and still serves that function today. That's why it is the center of Fuller's immersion program. Taking just over 300 years to build, the façade and interior art are a feast for the senses. It takes time, lots of time, to absorb its intricate details, to sit in the piazza and watch as the sunlight bounces off the glittering mosaics, sculpted reliefs, and stained-glass windows of the façade. No wonder the people of this city have learned to take their time absorbing what is around them.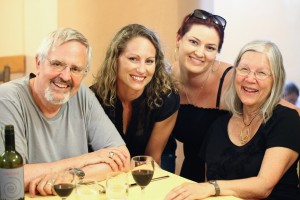 For nearly ten years Dr. Dyrness has led students to Orvieto, using the duomo and other parts of the town as a backdrop to consider medieval religious life and the role of the arts within it. One of my favorite memories comes from my first year there, when sculptor and Brehm Center Artist-in-Residence Christopher Slatoff accompanied Bill Dryness as a guide for the students. Professor of Evangelism and Spiritual Formation Richard Peace and his wife, Judy, were also there, teaching a class on medieval Catholic spiritual traditions and practices. That year, we decided to lead the students through a monastic exercise known as praying the hours, an exercise that calls on participants to pray eight times a day, setting aside a moment of ordinary time to step into kairos time—God's time. At these select times throughout the day and night, we intentionally met for corporate worship. The surroundings reminded us of a historical procession of saints who, like us, had set aside time to worship God beyond their ordinary circumstances. We joined them in lifting up similar prayers as they had for thousands of years. As our worship came to a close on any given hour, we knew that there were others in some near or far off land taking up the baton of prayer, just beginning to let their words rise as incense to the triune God. We felt ourselves as one small but significant part of an unceasing stream of worship.
For that trip, and to facilitate our experience of the divine hours, I had hauled from Los Angeles a box of 40 unpublished manuscripts of what would later become the book Praying the Hours in Ordinary Life. These manuscripts served as our guides, weaving in poetry, prose, song, and chant that were entry points into divine encounters. A group of dedicated students considered the space where we gathered for prayer and arranged the room to best reflect the unique personality of each hour. Before the book was finally published, I had the privilege of adding a chapter to it on our experience of praying the hours in specific sacred spaces.
Read an excerpt of Nate's chapter from Praying the Hours in Ordinary Life
There is something uniquely holy about sharing regular meals, living quarters, worship, study, and thoughtful journeys with brothers and sisters in Christ in an ancient context where the faith has been similarly shared for thousands of years. Participating in an immersion course, such as the one in Orvieto, brings a focus to those holy experiences that can't be replicated elsewhere. It is the experience of intentionally living in, and being embraced by, the woven fabric of ordinary time and kairos time that sets it apart. We form deep bonds with our fellow classmates as we work toward a more profound understanding of our faith, the faith of those who went before us, and the faith of those who surround us across this world. And we return home graced with a powerful reminder that God is never, never far from us.
Hear from Tamisha Tyler, a student who went to Orvieto with Fuller