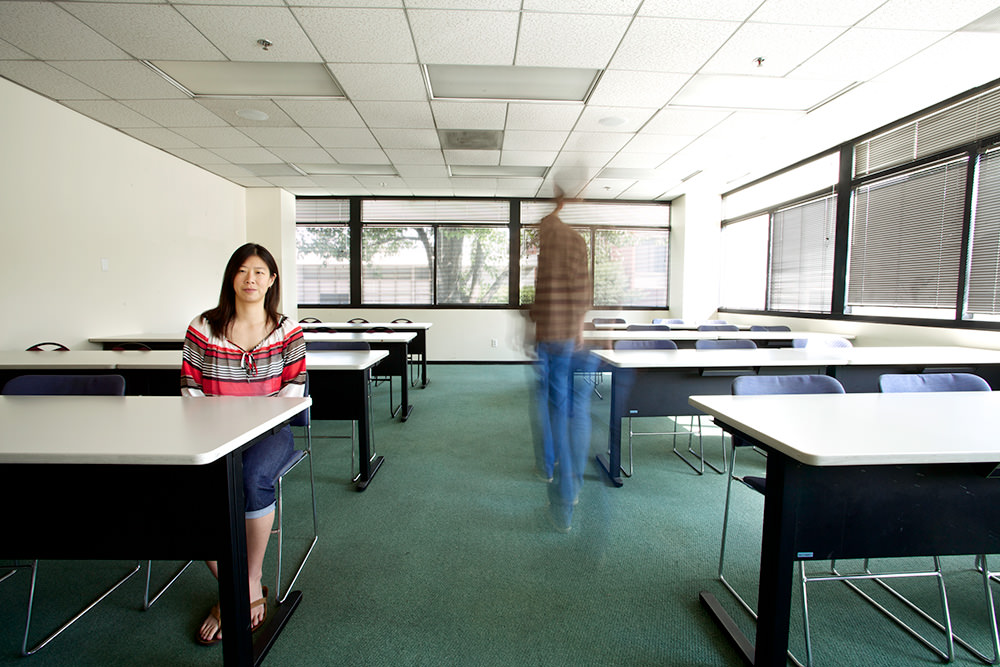 She was Rachel. From Los Angeles. Returning to Fuller after a hiatus in her MDiv studies and interested in the ways that vital church communities contribute to international development. I was Lincoln. Originally from Detroit. Studying for an MAT, and also interested in international development.
I first met Rachel Yu in an orientation breakout session about the "International Development and Urban Studies" emphasis that intrigued us both. Our first class together at Fuller was Systematic Theology with Dr. Rob Johnston. I scurried in a bit late, took the available seat next to her, and before the lecture started we covered those first few questions relative strangers tend to repeat: Who are you? Where are you from? What do you do? Then class began. Creatures of habit, we continued to sit next to one another for the duration of the course, but it was quite a while before we realized how close our stories had swerved toward one another just a few months before.
Her Parents Emigrated From Taiwan
Rachel's parents emigrated from Taiwan to Southern California with dreams of setting down roots in the States. Young Rachel got used to being the new girl in class, and found consistency in her life through books—particularly biographies of the great medical missionary David Livingstone and Holocaust activist Corrie Ten Boom. Those early influences shaped in Rachel a desire to make a difference in the world.
Her first opportunity to do so was a post with the Salvation Army in the Democratic Republic of the Congo (DRC), where she spent nearly a year as a project officer. Her next chance was working with World Vision in Southern California, during which she signed up to take classes part-time at Fuller to deepen her theological connection with her passion for development work. Fuller was a place where she could test her growing interest in a message of the gospel that, well applied, could revolutionize development as she had come to know it.
My Father Pastored a Church in the Suburbs of Detroit
My dad pastored a church in the suburbs of Detroit small enough to convince me that I was a big deal. The roots of my inclinations toward leadership and service were developed there. I had the opportunity to work for the Red Cross trying to get new donors. The job taught me how important it is for people to donate blood and how bad I am at convincing anyone to do it.
I was weeks away from a performance review that was likely to include the phrase "consider other options," when a friend told me about work her husband was doing with a new NGO—non-governmental organization—in the Delmas neighborhood of Port-au-Prince called J/P HRO. I had felt drawn to Haiti when the earthquake happened and this was my opportunity to help. I took it.
Her Weapon Against the Disease was a Trained Team
That earthquake in January 2010 was centered in Port-au-Prince, Haiti. For 35 seconds, the ground rolled, buildings toppled, and an inconceivable 250,000 people were killed or wounded. Rachel's part-time studies at Fuller were interrupted when she learned of a call for someone "on the ground" in Haiti to address the spiritual needs of the World Vision team as well as local church leaders. Not long after she arrived, cholera began to spread throughout the country.
Rachel quickly became the cholera program manager for World Vision Haiti even though she had never seen cholera before. Daily she thanked God for excellent doctors and nurses as she learned about the disease and how to treat it, and by God's grace she was able to stay sane while making strategic decisions in insane circumstances. A key factor in fighting the disease was oral rehydration: an average patient requires 10 liters of intravenous fluid along with antibiotics, sterile catheters, tubing, and all the materials required to clean and dispose of infected biowaste. Providing support was Rachel's responsibility.
That meant a lot of administrative work like grant reporting, budget management, staff management, training, monitoring and evaluation, and donor meetings. She fought the disease by managing a team of 25 people including doctors, nurses, engineers, specialists, hygiene promoters, and administrative support. For the first two months when the cholera epidemic hit, she worked 80-hour weeks, combating the disease through teamwork and determination.
Honoring the Sacred in Humanitarian Assistance

"I believe that human flourishing and well being are inseparably tied to human spirituality."
Read more from Rachel
I Fought the Disease with a Mop and a Bucket
In October 2010, the first cases of cholera appeared near a MINUSTAH (The U.N.'s Stabilization Mission in Haiti) base in the Central Plateau. Because cholera is waterborne, the disease migrated down the Artibonite River and to the port city of Saint Marc. That was the first place I saw cholera in my work with emergency disaster relief in Haiti. When the disease hit, my focus shifted to sanitation and issues surrounding the epidemic—just as Rachel's had. My team and I were commuting from Port-au-Prince daily so that they could get back at night to their families who lived in the camp that my organization managed. The hospital was seeing three times the number of patients it was designed for. Everyone was exhausted.
Our responsibility was to oversee sanitation, and we threw ourselves body and soul into our work. With weapons no more powerful than mops and sponges, we tried to hold the line at Saint Marc before the devastating disease could reach the camps of Port-au-Prince.
My team was untrained and still reeling from the death we had witnessed during the earthquake. There were 300 occupied beds in the hospital and between five and ten people were lost every day. As we learned to hate death, we learned to love each other. We became brothers in Saint Marc. We would see each other in camp and bump elbows to avoid passing cholera between disease-stained hands. No matter how hard we fought, however, the disease spread and there was no time or place for us to mourn our losses.
"Tommy Givens' New Testament 1 class on the Gospels profoundly shaped me on the need to love people and recognize their humanity."


—Linc Moore [MAT '13]
We Were Partners
When Rachel's time in Haiti came to an end, in the summer of 2011, she returned to Fuller to, among other things, sit next to me in Rob Johnston's class. After five weeks, imagine our surprise to discover just how close our experiences had been.
After we talked a little more in depth, we found that I delivered supplies to a hospital that was managed by World Vision, so it was conceivable that we actually crossed paths. I later learned that La Gonâve and the World Vision hospital there had done well at stopping the spread, avoiding the huge numbers of infected people seen in places like the Artibonite. So, in some ways, I felt as if we had returned from fighting the same war together. We didn't know each other while we were in Haiti, but we were unknowing partners there.
This random connection with another student was a small joy I was to find frequently in my experience living in Pasadena and attending classes at Fuller. At the desk right next to me was one of only a few people who would uniquely understand the joys and pains of working daily in the face of an epidemic. We talked about watching people grow ill, we talked about miraculous recoveries. Conversation like that had been missing for me since I had returned from those traumatic experiences, and talking with Rachel was incredibly healing for me. I realized, in retrospect, that the whole experience—all the way from my first flight to Haiti to that last systematic theology class—was a lesson in integrating the gospel with humanitarian aid relief.
We both agree that what is called "community development" integrates well with the gospel, but it's been separated out so much, as Rachel says, "it's almost like they're two different things." As we each leave Fuller, she is in search of a new way to provide aid and build church communities, and I am on my way back to my hometown of Detroit, Michigan. But we both leave believing in a new way that development and the gospel go hand in hand—and with a renewed impression that the work we are doing, though in separate places and with separate goals, is communal work, partnered together.

This story was originally published October 2013.