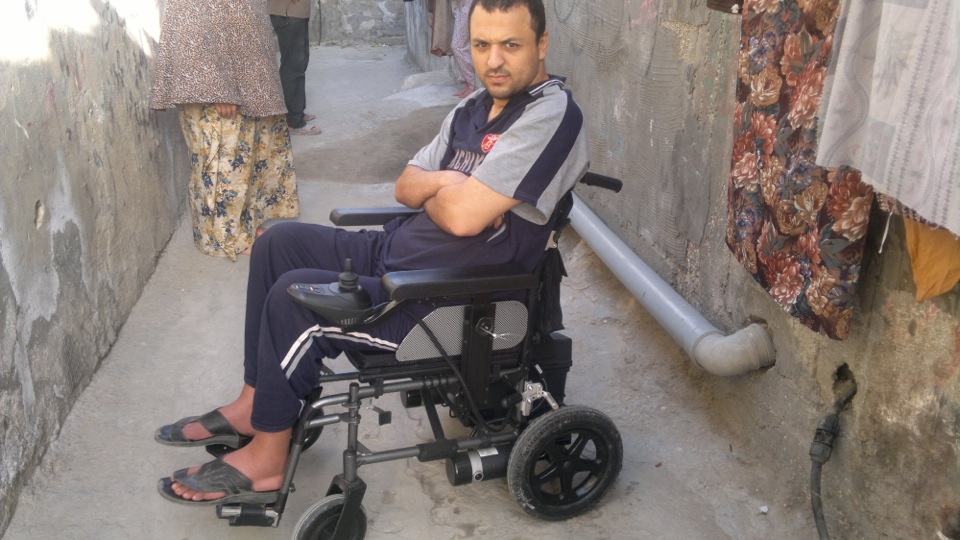 I want to share with you the story of Arab Dola, a man I visited recently in Gaza with Pastor Richard, my friend from Scotstoun Parish Church, in Glasgow, Scotland.
Three weeks before Pastor Richard and I were due to visit Gaza together he saw a feature on the Channel 4 News in the UK about a man called Arab Dola in Gaza—a young martial arts champion who had been paralysed from the neck down in a construction accident. They reported that Dola could no longer support his wife and young baby on the way.
We agreed we should try to help this young man, only in his twenties, so Pastor Richard tweeted the journalist who first discovered the story, asking for an address. He received a reply at the last minute before he left Scotland, with the phone number of a local Muslim contact named Khaled. Pastor Richard texted Khaled several times without success, and just as we were about to give up, Khaled called and agreed to take us to see Arab Dola on the morning we were to leave Gaza.
We met Arab and his mother, wife, and baby daughter. We were taken aback by their circumstances. All of life was centered around two poor rooms, one where the women cooked on a gas ring (and dealt with rats that came in through the drains) and the room where Arab lay continually on his bed.
After a nice time talking with Arab, we asked what we might do to help. He longed to have an electric wheelchair, so that he might return to some semblance of a life, but the cost was impossible for them. Khaled, who also was a nurse, informed us that a medical supplies company was just a few streets away.
We prayed in the name of Jesus for this Muslim man and his family, asking God's blessing to be poured into their lives. Pastor Richard revealed that he had brought with him a gift from his church that would cover the cost of a wheelchair, which we were able to order before we left Gaza.
I have seen a photo of Arab in his wheelchair and heard that he has been in his new transport to the beach and to the seaport—places where he can meet friends and rejoin his community. This makes me happy!
---
+ by Hanna Massad [PhD '00], founder of the Christian Mission to Gaza