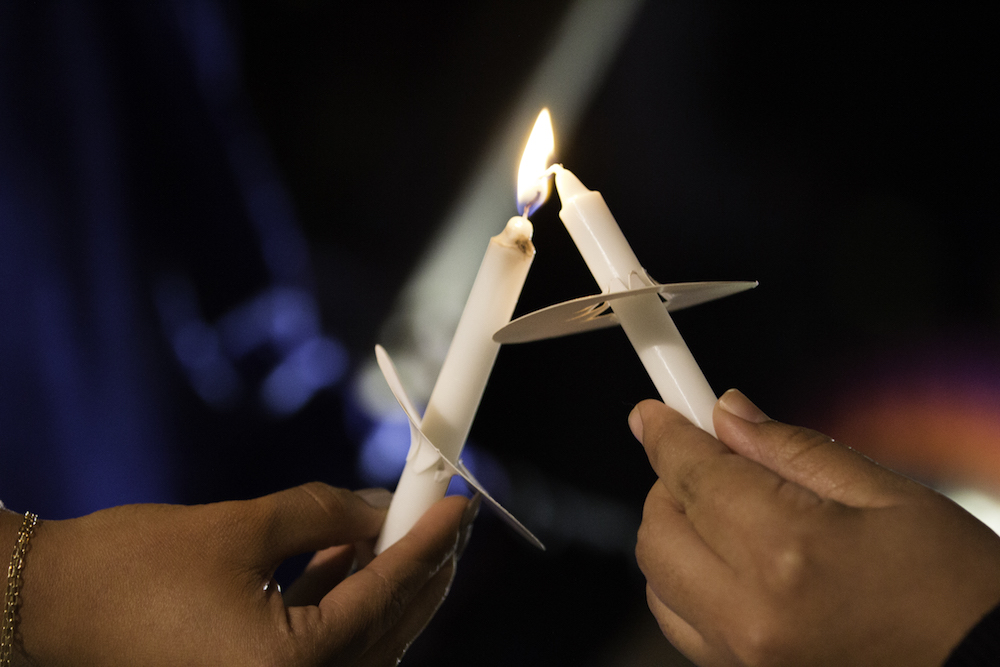 I don't just think of Christmas. I feel Christmas! Each year, when I hear the first Christmas carols on the radio, my embodied memory takes me back to the French town where I grew up. I feel the sounds of the carols we sang in our living room packed with relatives, the smells of 30 kinds of cookies my mother baked, the taste of roasted chestnuts my grandparents brought from the farm, the touch of the ribbons on gifts I frantically untied. I feel the slow motion of my childhood feet tracing a way through fresh snow toward the midnight Christmas service . . . and the view of the sparkling Christmas trees my home town, Sélestat, is proud to erect in its streets every year—because it holds in its library the world's first written record, in 1521, of the use of trees for Christmas celebrations!
The biblical narrative of the birth of Jesus was always the core of this celebration in my family. All the rituals were only meant to help us resonate with the joy of welcoming the Savior of the world, but they soon made us look forward to this season. Later in my ministry, I wove this happy mood into many Christmas celebrations with my North African friends in Paris. My greatest joy was seeing North African Muslims discover why Jesus came to this world. I remember the North African sisters' giggle in the kitchen because they had prepared couscous only for 50 people, and 200 or 300 showed up for the feast. Bursting with joy, North African believers sang and danced late into the evening. But the same Christmas evening was also filled with the tears of those who had been reprimanded by their families for becoming followers of Jesus.
I experienced the same conflicting feelings about Christmas when I recently visited some friends in the Middle East. They had spent days in their basement for fear of bombs falling on their city. To them, Christmastime this year feels like terror. And recently on Fuller's campus, a student told me how she dreaded Christmas because she lost a close relative last year, and this season painfully reminds her of the loss. Christmas does not feel happy for everyone.
Whether there is joy or sadness at Christmas, the story does not change. It is a time to draw near to the manger and welcome the newborn Jesus . . . and when standing there, shoulder to shoulder with Mary, Joseph, and the shepherds, to feel the warmth and comfort of this divine moment. The greatest wonder of Christmas is not feeling Christmas, but feeling close to God in welcoming Jesus!
---
+ Read more from our series of Advent reflections here.