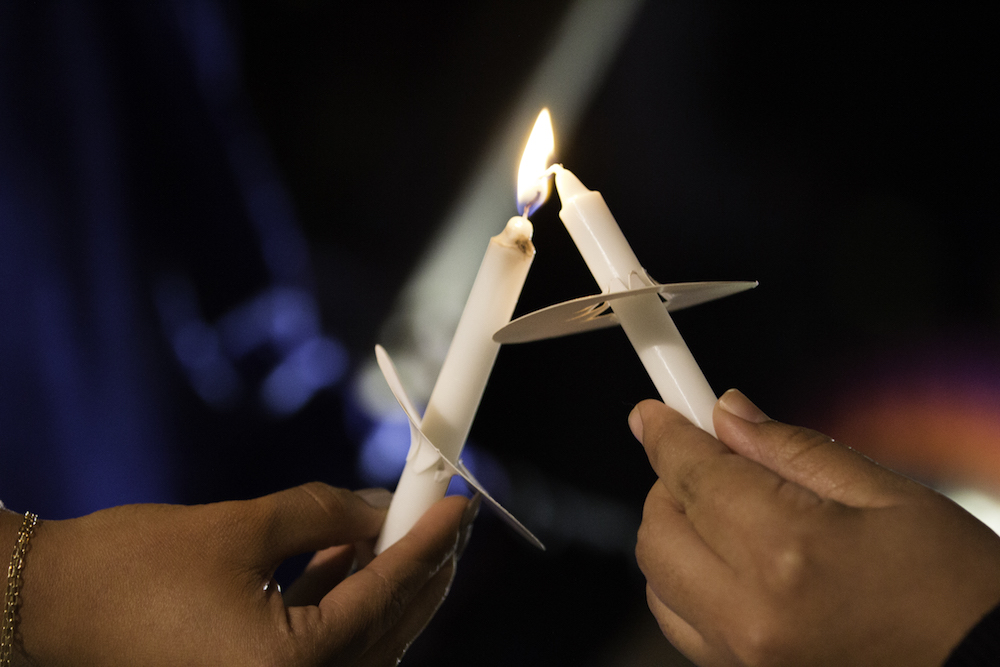 When I look back at Advent seasons I have experienced, speckled throughout were several that I recall a most palpable desire for Jesus to be present, physically present. Other years, I had deep-seated doubts that Jesus was returning at all—and the mix of emotions and thoughts as I waited displaced me. The most complex and deeply felt of these periods of displacement happened just before Advent in 2006. In the midst of deep personal darkness I experienced renewed hope in a completely unexpected way.
On September 6, 2006, my mother died after a long and painful battle with breast cancer. In the months leading up to her death, there was no relief for the physical pain or toll it took on her. And we watched somewhat helplessly as she deteriorated. As time passed, there was less of the person I knew as my mother and more of a fog and darkness that settled on us, her family. Hope wasn't just fleeting, it did not exist. And with our numerous seemingly unanswered prayers, God seemed elusive at best. Our prayers for healing seemed to disappear in the vast ethereal expanse and never find their way to God. And yet there was one prayer of hope that God heard. It was a powerful prayer from my mother, a woman of simple, deep and abiding faith. This prayer was not for her, but for her grandchild—the non-existent grandchild she wanted from us.
My wife and I had delayed trying to have children while we both finished grad school, and it left my mom waiting and waiting and waiting. When we learned that her remaining life was short, we began trying to get pregnant. For eight frustrating months we tried, with no success.
In late August, the oncologist told us there was nothing more they could do for my mother. In the weeks that followed, the cancer ravaged her brain and body to the point that she had difficulty walking and speaking. We decided to stay at my parents' house so we could spend time with her.
In the middle of that first night at their home, my wife woke up in excruciating pain, and we decided that she needed to go to the ER. For hours there we waited, my wife was poked and prodded, until the doctor came to see us. Though they saw some possible causes of my wife's pain, they couldn't give us a diagnosis. But what the doctor said next nearly threw me to the floor. "I can tell you one thing we discovered: you are pregnant. About 10 days pregnant."
We looked at each other in utter shock. 10 days pregnant. What amazing words those were for us. There in that cold, white-washed hallway of the ER we held each other and cried together—tears of joy and tears of sorrow.
Back at my parents' house, we found my mom sitting on the couch silently. When I sat down next to her, she turned to me and smiled.
"Mom," I said, "we're pregnant. You're going to be a grandma again." I didn't have to say anything more.
Her smile widened and she said, "That's wonderful." Those were the last words I would ever hear her speak. But I knew that something she had hoped and prayed for, waited faithfully and patiently for, had been answered.
Three days later, my mother died. The days that followed were a confusing mix of emotions. Had I not had the hope of this baby—had many of our family not had the hope brought on by the coming of this baby—I would have sunken deeper into darkness and the light of hope would have been all the dimmer.
Much of that fall is a blur to me now, but I remember with clarity the deep sense of hope and joy I felt because of this child. It was a gift of grace for us. When we found out she was a girl, we named her—still in the womb and barely larger than a sweet potato. Her first name would be Abigail, which means "my father's joy." And she would have two middle names: Helene, which means "light," in honor of my mother, Helen; and Mi-Hyun—"beautiful and wise" in Korean. We marked her with these names in the hope that she would live a life that exemplified the strength, wisdom, and faith that my mother displayed as God calls us to do.
We kept her sex a secret until Christmas morning, when we announced it to our families with great joy. I saw on my Dad's face a hope fulfilled. While the absence of my mother was painful and deeply felt, the hope we had in the birth of this beautiful little girl was a salvation of sorts. It made me appreciate the coming of God in the flesh all the more—and the hope so deeply felt by his parents and all who waited on the Savior of the world.
---
+ Read more from our series of Advent reflections here.