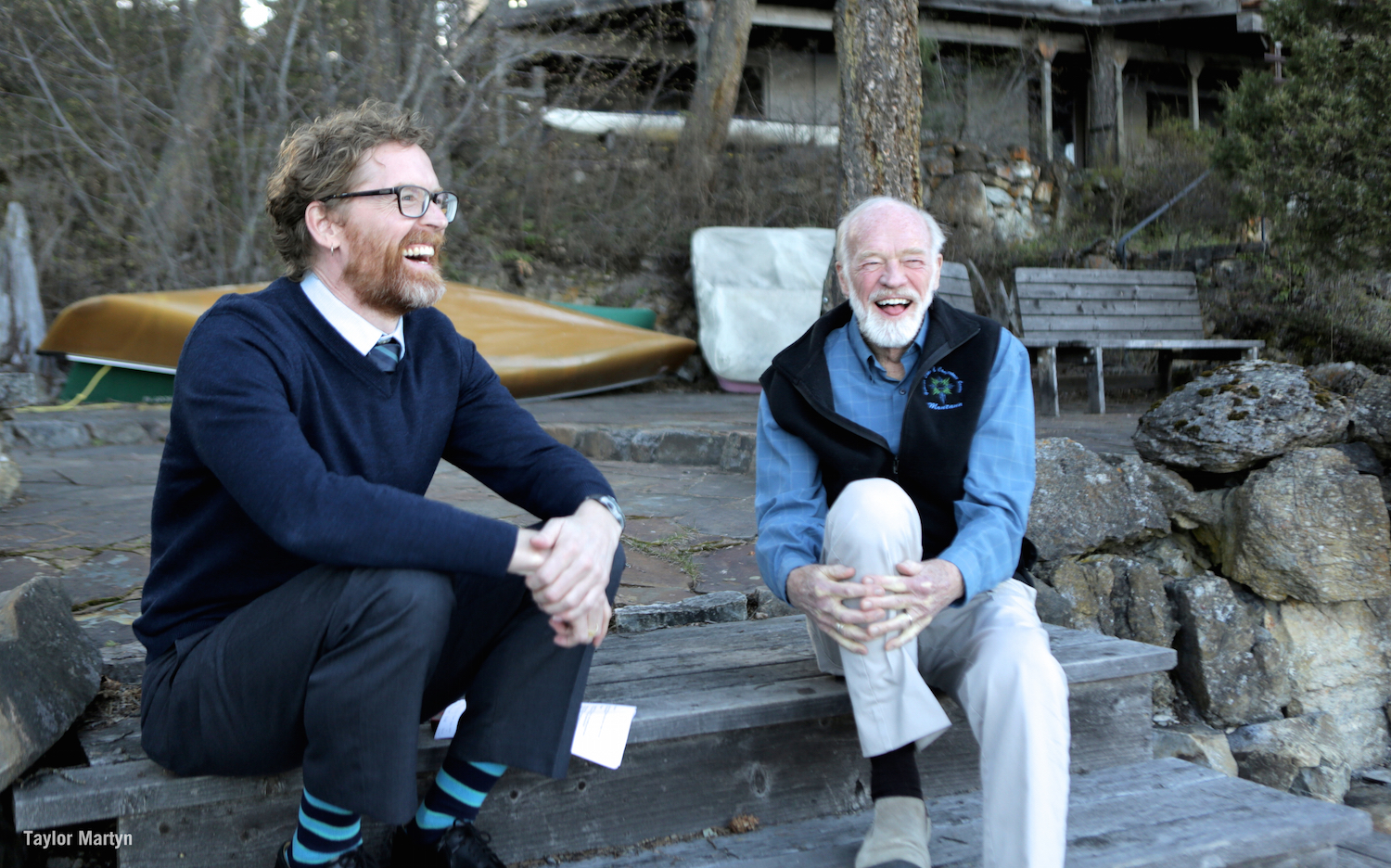 "If you are interested in exploring the psalms further, after having watched the conversation between Bono and Eugene Peterson, here are a few resources that might be of interest to you or to your community. I will also be posting additional material on the Brehm Texas website. A warm thanks to The Calvin Institute of Christian Worship and to Cardiphonia for their help in collecting these resources."
+ David Taylor, assistant professor of theology and culture and the director of Brehm Texas, taking a break with Eugene Peterson during the filming of their conversation with Bono. Photo: Taylor Martyn
Psalms and Prayer
Praying the Psalms: Engaging Scripture and the Life of the Spirit
Walter Brueggeman (Wipf & Stock Pub, 2007)

Reflections on the Psalms
C. S. Lewis (Mariner Books, 1964)
Answering God: The Psalms as Tools for Prayer
Eugene Peterson (Mariner Books, 1964)
Praying with the Psalms: A Year of Daily Prayers and Reflections on the Words of David
Eugene Peterson (HarperOne, 1993)
U2 and the Psalms
Psalm References in U2's Music
"40," "Gloria," "Scarlet," "Vertigo," "Love and Peace or Else," "All Because of You," "Yahweh."
The Sayings of Bono (on the Psalms)
David Taylor (Diary of an Arts Pastor, 2016)
Ancient Psalms for a State of the Art Tour
Tim Neufeld (www.ATU2.com, 2015)
Eugene Peterson: U2 Connections
Angela Pancella (www.ATU2.com)
Bono's Prophetic Vox
Scott Calhoun (www.ATU2.com, 2006)
Fresh Translations of the Psalms
Music of the Heart: New Psalms in the Celtic Tradition
David Adam (Spck, 2004)
The Message: Psalms
Eugene Peterson (NavPress, 1994)
Psalms (Pocket Book Canon)
Introduction by Bono (Canongate Books, 1999)
Voicing God's Psalms
Calvin Seerveld (Eerdmans, 2005)
Psalms and Worship
Psalms for All Seasons: A Complete Psalter for Worship
Martin Tel (Brazos Press 2012)
This Far by Faith: An African American Resources for Worship
(Augsburg Press, 1999)
The Anglican Chant Psalter
Alec Wyton (Church Publishing, 1987)
¡Grita de Alegría! Salmos para el año liturgico
Carlos Rosas (OCP, 2012)
Chant from the Hermitage: A Psalter
John Michael Talbot (Troubadour for the Lord Music, 1900)
The Biblical Psalms in Christian Worship: A Brief Introduction and Guide to Resources
John Witvliet (Eerdmans, 2007)
Psalms and Justice
Reading the Bible with the Damned
Bob Ekblad (Westminster John Knox, 2005)
The Psalms as Christian Lament
Bruce Waltke and James Houston (Eerdmans, 2010)
The Green Psalter: Resources for an Ecological Spirituality
Arthur Walker-Jones (Fortress Press, 2009)
Psalms of Lament
Ann Weems (Westminster John Knox Press, 1999)
Psalms and Poetry
The Art of Biblical Poetry
Robert Alter (Basic Books, 2011)
The Unpublished Poetry of Charles Wesley
T. Kimbrough Jr. (Kingswood Books, 1990)
The Great Poems of the Bible: A Reader's Companion with New Translations
James Kugel (Free Press, 2008)
Dead Men's Praise
Jacqueline Osherow (Grove Press, 1999)
The Psalms for Small Group Study
Psalms: Managing Our Emotions
Christianity Today (2015)
Christ in the Psalms
Patrick Henry Reardon (Conciliar Press 2000)
Psalms: A 12 Week Study
Douglas Sean O'Donnell (Crossway, 2014)
The Spirituality of the Psalms
Carroll Stuhlmueller (Liturgical Press, 2002)
Biblical and Theological Perspectives on the Psalms
Psalms: The Prayerbook of the Bible
Dietrich Bonhoeffer (Augsberg Fortress, 1974)
Journey Through the Psalms
Denise Dombkowski Hopkins (Chalice Press, 2002)
The Psalms: volumes 1-3
John Goldingay (Baker Academic, 2002)
The Psalms Through Three Thousand Years
William Holladay (Augsburg Fortress , 1996)
A Theological Introduction to the Book of Psalms: The Psalms as Torah
Clinton Jr. McCann (Abingdon Press, 1993)
The Psalms in Israel's Worship
Sigmund Mowinckel (Eerdmans, 2004)
The Case for the Psalms: Why They Are Essential
N. T. Wright (HarperOne, 2013)
The Psalms and the Visual Arts
Seeing the Psalms: A Theology of Metaphor
William Brown (Westminster John Knox Press, 2002)
Songs of Ascents
Aaron Collier (2007)
"Psalms," The Saint John's Bible
Donald Jackson (Illustrated Edition, 2005)
Seeing a New Song: Painting the Psalms Connection
Anneke Kaai and Eugene Peterson (Piquant Editions, 2008)
Worshiping with the Psalms Through the Church Year
Psalms for Advent
Jacob Tilton (2013)
"Psalm 126," He will Not Cry Out, Anthology of Hymns and Spiritual Songs
Bifrost Arts Music (2013)
Holy Week Devotional through the Psalms of Ascents
Cardiphonia (2010)
Hallel Psalms Compilation
Cardiphonia (2013)
The Psalms and Contemporary Music
The Prayerbook Project
Brian Moss (2008-current)
+ Piano based contemporary renderings of the Psalms from pastor-poet
Psalms
Sandra McCracken (2015)
+ A Nashville singer-songwriter writing devotional meditations on the Psalms. A few certainly useable by congregations.
The Songs from the Psalter
Cardiphonia (2015)
+ A crowd-sourced effort by worship songwriters to provide a variety of approaches to singing the psalms in the modern church. Largely in the folk rock vein.
Psalm 1
Joel Limpic (2014)
+ Worship Pastor at Park Church in Denver, CO. Working on writing songs based in a word-for-word rendition of the ESV.
The Psalms
Robbie Seay (2014)
+ A popular contemporary worship songwriter who is exploring the psalms in word for word versions
Asaph
Loud Harp (2014)
+ Some ambient folk-pop meditations on the themes of the psalms.
From The River to the Ends of the Earth
Matt Searles (2013)
+ Original songs treating whole psalms for the contemporary church from a folk-rock idiom.
Psalms EP
The Gathering Sound Collective (2014)
+ A group of recent graduates from Kuyper College (Grand Rapids, MI) writing excellent versions of thePsalms.
Intown Psalms
Intown Music (2004).
+ A collection of largely retuned psalter texts from Matthew Curl and the musicians of Intown Presbyterian Church in Portland, OR.
Psalterium Vol. 1
Desert Springs Church (2011)
+ A church in Albuquerque, NM committed to writing and recording original versions of the Psalms.
Highways in Our Hearts
The Psalter Project (2014)
+ Ongoing project from producer Emily Moore seeking to reintroduce the Psalms into the church, with a few Indelible Grace contributors.
The Sons of Korah
+ A long term project from Australia band putting the Psalms word for word into music.
Psalms Vol. 1 Songs of the Forgotten
Garden City Project (2015)
The Psalm Project
+ A group of musicians from the Netherlands producing contemporary arrangement's of the Psalms based on the old Genevan tunes.
Sing a Psalm
Jeremy Mayfield
+ Short responsorial songs written in a folky vein for the liturgical needs of the Anglican and Catholic traditions.
By the Streams
Jonathan Orden (2015)
+ Independent musician from the UK recording songs based in the Psalms.
Love and Fear
Worship at Pacific Crossroads Church (2014)
+ Album of contemporary worship songs inspired by the Psalms.