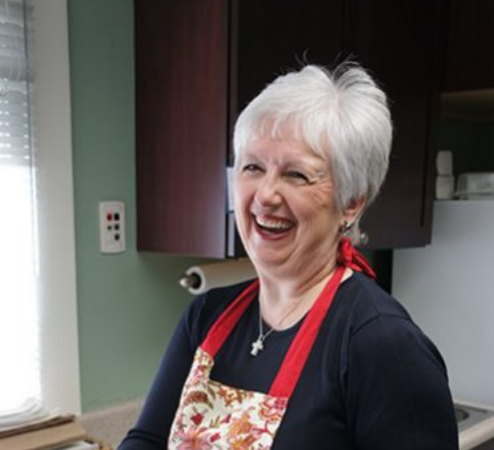 Photo courtesy of Bert Jacklitch
Ten years ago, in 2003, Heath Greene [PhD '03] sat at his desk in the Alumni and Church Relations Office he shared with then-Associate Director Bert Jacklitch and did what every graduate student staring down the future is tempted to do: he thought mournfully about his dreams. A friend's question resonated in his ears: "If you could have any job you wanted, what would it be?" The answer popped to life in his head with the clarity of an infographic: he wanted to run a stand-alone counseling center associated with—but independent of—a network of churches and to teach in his field, part-time at the university level, somewhere near his home. Heath knew he would have to put those vivid dreams aside to address vaguer and harsher realities, finally to make a decision for the last thing he wanted.
Across campus, Heath's wife Andrea was working in public relations with Fred Messick as a writer and copy editor. She, too, was pondering a tough truth: her parents and Heath's were not likely to survive much longer than ten more years. Returning to the old life in North Carolina they had worked so hard to leave behind was not her heart's desire. Their families of origin were a constellation of broken, messy, painful relationships. But Andrea weighed the duty of caring for their parents and of letting their children know their elders. In the end, it was obedience to what they felt God wanted them to do that won out.
The Greenes had built a life-giving community at Fuller. Both from disrupted families, they had learned how to soak in the company of "adopted" siblings and elders, workmates and schoolmates and neighbors, the way parched ground drinks water. And they were adopted right back. "They were like my own family," says Jacklitch, who welcomed the Greenes at her Thanksgiving and Christmas table more than once. The community they found at Fuller back then was the family life they'd always dreamed of and found by the choices they made along the way. And now, they faced leaving it behind.
When Heath knew that moving back to North Carolina was inevitable, he set to work being strategic rather than dreamy. He mapped out areas and surrounding zip codes where he might work, raise his nuclear family, and keep a safe distance "from the drama" of extended family. With Bert's help, he contacted alumni in all those areas to introduce himself. Miraculously, Joe Verga (PhD '81) wrote back almost immediately offering the perfect position in the worst location. "Come here," Verga said, to Associates in Christian Counseling (ACC) in Winston-Salem—dead center in their old stomping grounds.
When she looks back on that decision years ago, Andrea says they feel as if they have not lost anything. In fact, they wouldn't trade what they have experienced in the time since, as the community they've been blessed with in Winston-Salem has been "equally amazing." They've needed that community, as the Greenes have suffered a lot of loss in the last few years. Three of their four parents have died in that time. "After my dad became sober," Andrea says, "he was the sweetest guy, and he really loved our girls." Her father used to bring his three granddaughters quarters that he would save for them. They will always remember that during the summers he would set up the biggest portable pool he could find and sit in a lawnchair for hours to watch them play, or get into the pool and let them dunk him under. Andrea's father died last December, of 2012, "on Christmas day," she says. Looking back, she's glad she had those healing years, "I only wish I had more time with the man my father became closer to the end of his life."
Still, so much loss comes with a heavy burden. The other day, her six-year-old asked Andrea, "Mommy, who is going to die next?" It broke Andrea's heart to hear such a tough question from one so young, and yet she is very candid and direct with their children. She replied, "no one is promised another day, baby. Only God knows when we have fulfilled our days here on earth. But we can trust God. That's what we have. We can trust God."
"Trusting God . . . is a hard-won virtue acquired over years of spotty discipline and even begrudging obedience."
Trusting God, say the Greenes, is a hard-won virtue acquired over years of spotty discipline and even begrudging obedience. "I'm not gonna say that I have always been faithful, or that I have always been happy about what God has led me to do. But God's grace does not depend on my faithfulness," Heath says. Look what has happened in the last ten years, he insists. The deaths of their parents that Andrea warned might be imminent? They were. The desolation they feared would overwhelm them when they left a loving community to return to difficult memories and dry prospects for the future? "We love our church. We love our friends. We love our work here and we love our family," Heath answers. "Nobody is saying it's an easy life, or that we couldn't have made a lot more money elsewhere, for example. But God has brought about redemption upon redemption that we could not have seen coming. We've seen everything we dreamed of ten years ago and more come about." And as for the family they left behind, their understanding about how family works has been stretched beyond those limits as well. Andrea says: "Our friends from seminary are scattered everywhere now. We were afraid that we were losing them, but that's not what happened. Now we have family all over the world."
Heath smiles a bemused smile when he reflects on all that has happened since he walked the stage at Commencement a decade ago. A few years ago, Wake Forest University in Winston-Salem, North Carolina called Heath out of the blue and offered him a part-time job teaching. Recently, he took over the directorship of AAC—a stand-alone counseling center associated with, but independent of, a
network of churches in the area that is a few miles from his front door. Ten years later, "nearly to the day," everything Heath remembers as the dreams he set aside has come to fruition around him.
"Isn't that how it goes," a puckish and cheerful Heath says, across a seared Ahi salad at the Village Tavern in Reynolda Village ten years later. "Man, we hated leaving Pasadena. It ripped a hole in my heart to leave there." But God, he says, has blessed the Greene family with more of everything they feared they were losing a decade before, including a deep community life. Heath gives as an example baking cinnamon rolls every Christmas and delivering them to his neighbors. "Hot cinnamon rolls!" Andrea exclaims, "who doesn't love that!" They call him Uncle Heath, she elaborates, asking all year long, "Daddy—when is Uncle Heath going to bring over cinnamon rolls again?" Andrea laughs, "They probably want to kill us because their kids don't stop talking about it."
Heath adds that the privilege for him is that he gets to see how people celebrate the holy day with their families, seeing all his friends with their families and being so grateful for his own. "It's a lot of work, don't get me wrong. But I love going house to house on Christmas Day. It's one of my favorite traditions." The thought of it overcomes him for a second when he adds, "it's Bert's recipe you know. Bert's cinnamon rolls."
---
+ Want to start your own tradition? Get Bert's recipe here. This article was originally published in December 2013.