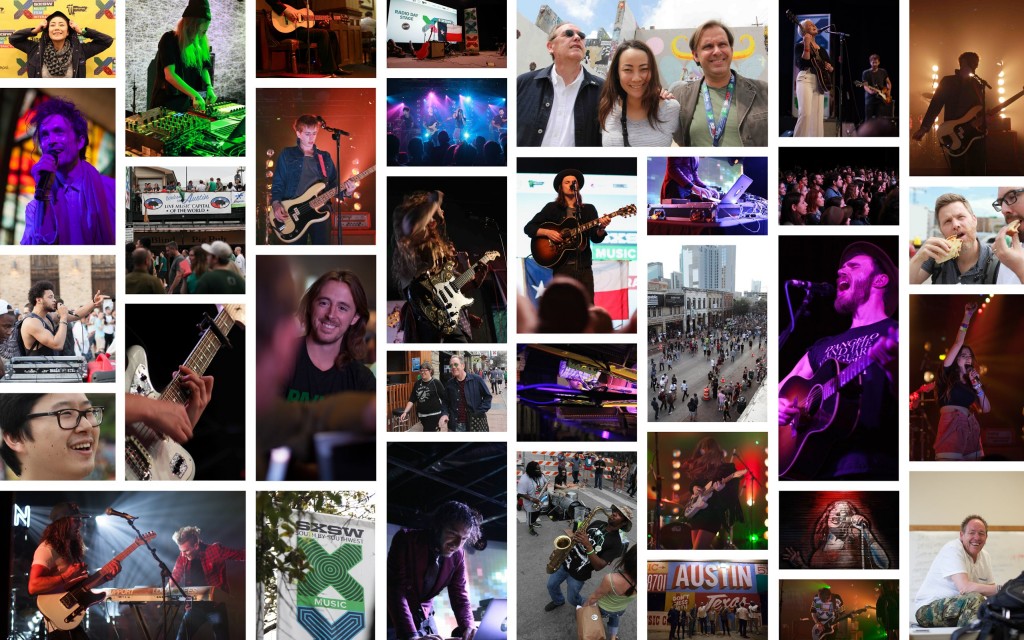 It was just after midnight. Hunched in our Uber driver's little SUV, we told the Austin native how exhausted we were after our first full day of exploring the chaos and excitement of the annual South by Southwest (SXSW) music festival. He listened intently as we talked about pinballing from concert to concert at bars and warehouses scattered throughout downtown.
He smiled, nodding as if he were watching someone discover a new favorite album that he'd known about for years. "By the end of the week, you'll feel like you've been hit by a bus," he assured us. "But it'll feel amazing."
The South by Southwest music and film festival, known simply as "South by" or SXSW, began in Austin, Texas, in the late '80s when the sleepy capital was hardly a music industry town. Nearly three decades later, it has grown to arguably the world's leading music destination, where musicians, audiences, fans, studio scouts, agents, media, and celebrities seem to be going a million miles an hour for one week every year. Over 2,300 musicians perform 40-minute showcases for more than 28,000 music industry professionals and fans alike, sometimes up to 11 times over the 7-day festival.
That doesn't include what our Uber driver called "free-by-free." All of the clubs and bars that aren't official SXSW venues join in on the spectacle by hosting free showcases of their own. The sheer volume of possibility is mind-numbing.
The first show I went to in Austin was a free-by-free show, and it didn't disappoint. I found myself at an Irish bar on 6th Street in the heart of downtown Austin. The self-described "premier surf-rock-disco band" blasted tunes that leaked out onto the street as people walked in and out, contributing in their own way to a cacophony of diverse music flooding the main drag where thousands milled about.
I can't quite say I was a fan of the surf-rock-disco fusion, but the band was a reflection of an idea we talked about extensively in class the next morning and each subsequent morning: plurality as the order of the day. As Bruce Springsteen explained in his 2012 SXSW keynote speech, "There are so many subgenres and fashions: two-tone, acid rock, alternative dance, alternative metal, alternative rock, art punk, art rock, avant-garde metal, black metal, black and death metal, Christian metal, heavy metal, funk metal, bland metal, medieval metal, indie metal, melodic death metal, melodic black metal, metal core, hard core, electronic hard core, folk punk, folk rock, pop punk, Brit pop, grunge, sad core, surf music, psychedelic rock, punk rock, hip hop, rap rock, rap metal, indie pop, indie rock, heartland rock, roots rock, samba rock, screamo-emo, shoegazing stoner rock, swamp pop, synth pop, rock against communism, garage rock, blues rock, death and roll, lo-fi, jangle pop, folk music. Just add neo- and post- to everything I said, and mention them all again. Yeah, and rock & roll."
A musician can add any sort of instrumentation to or create any kind of permutation of a given genre and it will not be dismissed. Some may like it, others may not, but it will get a real hearing at SXSW—a rarity in today's musical landscape. It will get even more than that from students who attend from Fuller in order to think about the nexus of contemporary music and theology.
It is because of that diversity and multiplicity that one of our professors, Barry Taylor, was able to drive home a core message of his class: "This place can help you think about and understand how theology works in the world today." Theologically, we have to learn to navigate the multiplicity of theological voices just as we learned to engage the diverse musical voices on display in Austin.
But the music isn't just a metaphor for multiplicity—it's also a participation in it. Music doesn't emerge from a vacuum. It's organized noise that materializes out of specific contexts and gives us a way of participating in the longings and losses of those contexts. In that way, an Edward Sharpe and the Magnetic Zeroes concert can be eerily similar to a worship set.
Over a breakfast of coffee and apple-wheat pancakes one morning at Kerbey Lane, an iconic diner in Austin, a few of us chatted with our professors about the Sharpe show. The consensus: it was a concert that made all of us want to make music. It got people standing and moving. It gave us a chance to experience and talk about the way music is much more than just a commodity. The way it can change a person's consciousness or transform the ambiance of a space. And the way it can emotionally and physically drain us when we're going to shows from lunchtime to after midnight, day after day.
Even though I was exhausted by the week's end, the Uber driver was right: it felt amazing.
+  Brehm Center Artist-in-Residence Barry Taylor and Program Director Nate Risdon lead Fuller students in intimate conversation groups throughout the festival, drawing on years in the music industry and experience with SXSW. The photos on this page show different bands and events available to students in the class. (This feature is the fourth in a series on immersion courses examining why the learning experience they offer is unique.)