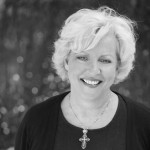 In the 14th chapter of Acts, Barnabas and Paul come upon a man crippled from birth. All his life, his folded body lay on the street in Lystra, a familiar sight for his Zeus-worshipping neighbors. Paul sits on his heels, I imagine, to make contact with the collapsed man, and finds evidence in his eyes "that he was ready for God's work, ready to believe" (v. 17, The Message). So Paul says, "Get up on your feet." And the man stands.
The town, stunned by the miracle, misses the whole point. They miss the electric moment between the one readied to hear and the one readied to speak. They miss the greater miracle than the sight of one who had never even walked now dancing in the street. They miss that Barnabas and Paul are servants of God and, mistaking them for gods, prepare a misguided hootenanny of worship. They are not ready for God's work.
Paul sets them straight, too. He points to the God whose work is beyond any man's to accomplish, whose generous hand has poured down rain and given the harvest to the straight and the crooked alike. "When your bellies were full and your hearts happy," he reminds them, "there was evidence of good beyond your doing."
There is a characteristic of true restoration that is similar to this fecundity Paul evokes to prove the presence of God. A miraculous synapses-fire that is of our experience while still beyond it. Something bigger than the sum of ourselves is present at the dinner table of hospitality, behind the closed eyelids of sweet rest, within the shy aha of belonging. It is good beyond our imagining.
The authors in guest editor Miyoung Yoon Hammer's theology section get at this "beyond" in their observations about Sabbath, identity, and hospitality. "Where two or three gather in my name, there I am with them," says the Lord in chapter 13 of the book of Matthew. It is invigorating to imagine the presence of God at our table in the bread or accompanying us in a groan of prayer too deep for words or hosted in a suffering man's expression. Was that what Paul saw, I wonder.
---
+ Lauralee Farrer is storyteller and chief creative at Fuller, editor in chief of FULLER magazine, and creative director of FULLER Studio.