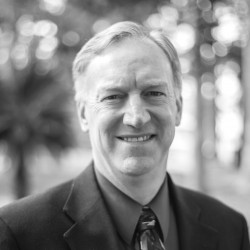 In September 2015, Scott Cormode was named Director of Innovation, a position created in order to better coordinate the entrepreneurial efforts of Fuller's Centers, Institutes and Initiatives. Cormode served as academic dean from Fall 2013 to 2015, after serving on the faculty at Fuller since 2006 as the Hugh De Pree Associate Professor of Leadership Development. This faculty chair was established by the family of the late Hugh De Pree, an accomplished leader and brother of longtime Fuller board member Max De Pree, in order to further develop leadership training programs within the School of Theology and the De Pree Leadership Center.
Cormode brought significant leadership and teaching experience to this position, as an ordained minister in the Presbyterian Church (USA) who served for the previous decade as George Butler Associate Professor of Church Administration and Finance at Claremont School of Theology. Cormode also served at Claremont as associate dean for institutional research, chair of the Curriculum Committee, chair of the Accreditation Team, and principal writer of the Long Range Planning Committee.
Learn more about Dr. Cormode on his faculty profile.