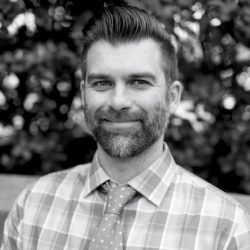 Theology Author
Kutter Callaway is associate professor of theology and culture and co-director of Reel Spirituality. He is actively engaged in writing and speaking on the interaction between theology and culture—particularly film, television, and online media—in both academic and popular forums. Dr. Callaway's most recent books are The Aesthetics of Atheism: Theology and Imagination in Contemporary Culture (Fortress Press, 2019) and Deep Focus: Film and Theology in Dialogue (Baker Academic, 2019).
Learn more about Dr. Callaway on his faculty profile.
Study Theology and Culture with Dr. Callaway.
"If theology and the Christian faith is going to be intelligible or make sense to anyone in the modern world, it really has to come from a place of being conversant with culture. We need to honor and respect the things we're engaged in dialogue with just as if it were a person sitting across a coffee table from us."
+ Kutter Callaway reflecting on a generous theology of culture. He recently discussed American Christianity with Morgan Freeman on the National Geographic series The Story of God (pictured above).
---
+ Writer and Academy award-winning director Martin Scorsese discusses faith, suffering, and more after a screening of his new film Silence, the powerful story of Jesuit missionaries in 17th-century Japan. Scorsese reflected on the film with Kutter Callaway and Mako Fujimura, director of the Brehm Center. The screening was sponsored by Reel Spirituality, an initiative of the Brehm Center for Worship, Theology, and the Arts. Watch the full film here.