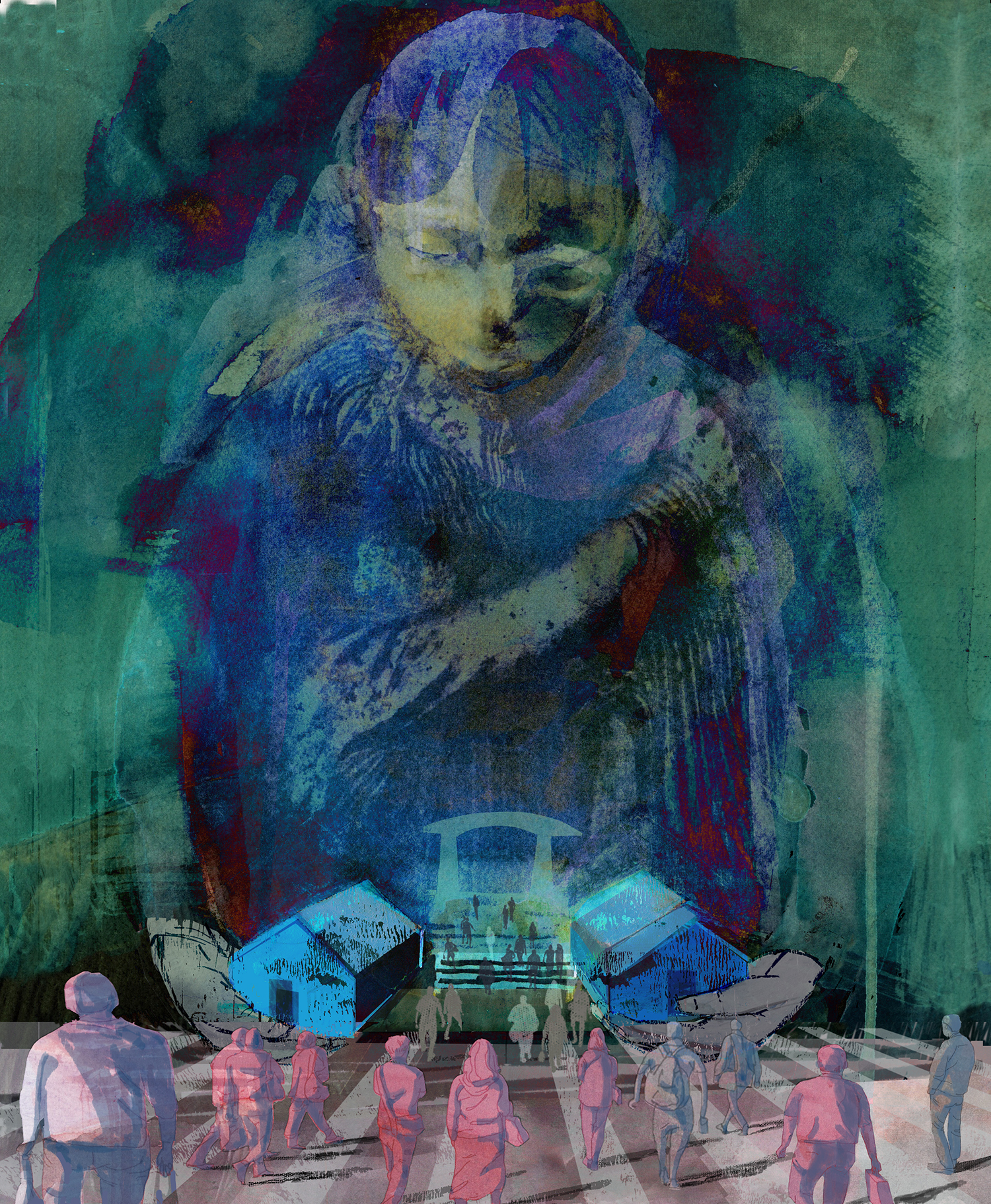 Blessed are those who are persecuted because of righteousness, for theirs is the kingdom of heaven. (Matthew 5:10)
I have had a fulfilling life as a musician in various roles: worship leader, pastor, composer, and professor. I have also been aware of some of the realities of Christian persecution. However, the two realities rarely intersected until, during what was an otherwise normal worship service, my musical self and my understanding of persecution began a journey of convergence. In that service, the pastor provided a short commentary on Christian persecution in the world. A couple of weeks later I was still pondering the issues of persecution, realizing that I didn't know much about it, and wanted that to change. The discoveries I made changed my world view so significantly, they eventually led to the composition of a major musical work.
My research began in Fuller's School of Intercultural Studies. Former dean Scott Sunquist has written a book on Christian mission and suffering,1 and professors Evelyne Reisacher and Mel Robeck shared a wide-reaching set of experiences and writings on topics pertaining to persecution.2
I connected with Open Doors USA (ODUSA)—an outgrowth of the Cold War-era ministry of Brother Andrew—that ministers to people around the world who live in situations of Christian persecution. Through ODUSA, I came upon the writing of Fuller alumnus Ronald Boyd-MacMillan, and it was his book, Faith that Endures: The Essential Guide to the Persecuted Church, that became a guide for me.3 The book included first-person accounts that helped define persecution, discussed ways we can assist those who are persecuted, and offered lessons we can learn from the persecuted. 
Scott White, the global outreach pastor at Lake Avenue Church in Pasadena, became a willing and knowledgeable resource, synthesizing what I began to hear over and over in my study and conversations. He pointed out that many people who live in persecution often feel a sense of God's call to remain in their difficult circumstances, but they have two messages they want other Christians to hear: "Please pray for us, and please don't forget us." However, I knew that, for the most part, we really don't pray for them often, and we do forget them. The realities of persecution seem far away—usually observed as remote news stories. Besides that, persecution is not a popular topic that naturally arises in day-to-day conversation, or even inside the walls of our churches.
It is difficult for a comfortable church in the United States to imagine the magnitude of Christian persecution around the world or the risks and pain experienced by brothers and sisters in Christ. Consider these facts:
215 million Christians experience high levels of persecution in the countries on the World Watch List. This represents 1 in 12 Christians worldwide.4
North Korea is ranked No. 1 for the 17th consecutive year as the most dangerous country for Christians; however,
Afghanistan is now a very close second.
India has experienced a dramatic rise in persecution, moving from No. 15 in 2017 to No. 11 this year. Radical Hinduism and Indian nationalism are driving factors in the increasing levels of unrest and instability Christians face.
During the World Watch List 2018 reporting period, 3,066 Christians were killed; 1,252 were abducted; 1,020 were raped or sexually harassed; and 793 churches were attacked.5
The highest price for faith is paid by those who are martyred. While the statistical "rate of martyrdom" might appear low at 0.01 percent, when based on a calculation of 1.9 billion Christians worldwide, we come to the stark realization that this represents 159,000 lives per year—159,000 daughters, sons, mothers, fathers, wives, husbands. In the 20th century, there were 26 million documented cases of martyrdom.6 Christian martyrdom is not a thing of the past; it is a modern issue that should capture our present attention. And yet martyrdom is a small part of the bigger picture, the "sizzling tip of the iceberg that hides the dark bulk" of the story of the persecuted church.7
Studying specific accounts of people who live or have lived in areas of Christian persecution helped me gain a deeper understanding of their daily realities. Without question, though, I was most impacted by personal conversations with the students and faculty at Fuller Seminary whose lives have been affected personally by persecution. Fuller's School of Intercultural Studies professor Eun Ah Cho's grandfather was shot in his church in North Korea, after which the church was set on fire as family and others watched. Students Eric Sarwar and Lilian Ateh have personally experienced guns on their foreheads as their activities were questioned.8 I cried as I heard stories of kidnappings, burned churches, and threats of reprisal on family members. Yet I was amazed to discover that most of the students fully intend to return to their home countries to continue their ministries.
I continued to hear voices echoing with the request, "Please pray for us, and please don't forget us." As the weight of my understanding grew heavy, I wondered what I could do as a musician to raise awareness of the realities of persecution, which were becoming knit into my own experience of faith.
I wanted to somehow join the musical tradition of lament that streamed from ancient times to the present. In A Sacred Sorrow,9 musician and author Michael Card filled an entire book with reminders that Job wept, David wept, Jeremiah wept, and Jesus wept, then asked, why shouldn't we weep as well? Further, the fact that their weeping was "sanctioned by inclusion in our Holy Scriptures" is "a continuing and reliable witness that weeping has an honored place in the life of faith."10 The biblical Psalms are a well-known musical repository of lament from which Christians have drawn to express sadness over many centuries. From the cross, Jesus chose to quote a portion of Psalm 22 in the greatest moment of sorrow history has known: "My God, my God, why have you forsaken me?" Weeping for grief, loss, pain, and injustice is a significant part of biblical literature and Christian faith.
Music has been a longstanding way of expressing lament. Classical composers such as J. S. Bach, Purcell, and Monteverdi have all utilized minor and modal tonalities, descending bass lines, and the passacaglia form (a form that usually has a low, repeated line that etches deep into the ear of the listener) to express lament. Classical composer Samuel Barber's Adagio for Strings became one of the most played forms of lament after the tragedy of September 11, 2001. Some of these same forms have been accessed by popular composers such as George Harrison, Steven Tyler, and Ray Charles. The African American tradition has a full repertoire of songs of lament, from slave and civil rights songs to music for worship. After losing his wife, gospel songwriter Thomas Dorsey wrote "Precious Lord, Take My Hand," which became one of the most performed pieces of music at personal and national times of mourning.
After hearing that initial sermon about the persecuted church, I spent more than two years sitting with personal accounts of persecution and studying musical elements traditionally used in lament. What developed was the composition of a major work of music for choir, soloists, and orchestra: Consolation for the Suffering. Through it, I desired to raise awareness of the issues of Christian persecution, but it also became my way of suffering with those who suffer, weeping with those who weep. Composing it sometimes meant sitting in silence, other times banging in frustration on the piano; still other times it meant manically skipped meals, sleepless nights, early mornings, and plenty of tears. It was both a wonderful and cathartic process of creation, trying to express in music what I was experiencing as I read, listened to, and absorbed the issues of Christian persecution.
In Consolation, I provided space for Eun Ah, Eric, and Lilian to tell parts of their stories. The musical responses allowed for lamenting reflection on their stories—a requiem, of sorts, for the living. It became a wrenching cry for mercy (Kyrie eleison), a plea for the Lamb of God to take away the sins of the world (Agnus Dei), a prayer for God to deliver us from evil (the Lord's Prayer), and a petition for the angels to welcome those who lost their lives for their faith into their heavenly home
(In paradisum).
Our Christian faith teaches us of a coming day of victory based on our hope in Christ. Astoundingly, many who suffer persecution find hope through their suffering, and often discover a strengthening of faith. In fact, persecution is not always viewed as a negative by those who suffer, with many seeing it as a part of their call to follow the mission of Christ. Tim Keller asserts that "suffering can strengthen our relationship to God as nothing else can."11 This is supported by the fact that high rates of persecution tend to coincide with high rates of new conversions to Christianity. History has proven many times that outward persecution may be a positive catalyst for a latent church.
There is an inherent tension in grasping for strands of hope in the face of immense suffering because of one's faith, a tension that finds its example in the cross of Jesus Christ. Yet the cries heard in the psalms of lament almost always have a final upturn of hope and faithful affirmation. Further, Scott Sunquist reminds us that the mission of the church is to act as agents of hope, regardless of the condition in which we live. In Revelation 7, we have a glimpse of the ultimate result of the church's mission: a grand picture of all tribes and tongues gathered, with no more tears or sadness, no suffering or persecution, and the Lamb of God as the sole focus of worship and adoration. What a great vision of hope!
Knowing that hope is both present in suffering and the conclusion to it, I wanted to weave words of hope and expectation into Consolation for the Suffering. In his letter to the Romans, the Apostle Paul asks a series of honest questions that are relevant to today's accounts of persecution.
What, then, shall we say in response to these things? If God is for us, who can be against us? He who did not spare his own Son, but gave him up for us all—how will he not also, give us all things? Who will bring any charge against those whom God has chosen? It is God who justifies. Who, then, is the one who condemns? No one. Christ Jesus who died—more than that, who was raised to life—is at the right hand of God and is also interceding for us. Who shall separate us from the love of Christ? Shall trouble or hardship or persecution or famine or nakedness or sword? (Romans 8:31-35)
There is also a strong, convincing answer for all the questions raised:
No, in all these things we are more than conquerors through him who loved us. For I am convinced that neither death nor life, neither angels nor demons, neither the present nor the future, nor any powers, neither height nor depth, nor anything else in all creation, will be able to separate us from the love of God that is in Christ Jesus our Lord. (Romans 8:37–39)
At its conclusion, Consolation for the Suffering provides a hymn that sends us into the reality of the persecuted and helps us to be people who will not lose sight of their request: "Please pray for us; please don't forget us."
God of justice, love and mercy,
With compassion, let us care;
As we come in humble weakness,
May your strength be ours to share.
Press our hearts to know the struggle
Of the ones we cannot see;
Brothers, sisters, all who suffer,
May your kindness set them free.12
Additional RESOURCES
Listen to selections from Consolation for the Suffering, and watch testimonies from Fuller community members on what it's like living as Christians under persecution at
fullerstudio.fuller.edu/consolation-for-the-
suffering/.
The Consolation for the Suffering audio recording and DVD of the concert premiere are available at jubalhouse.bandcamp.com/.
Ronald Boyd-MacMillan, Faith that Endures: The Essential Guide to the Persecuted Church
Paul Marshall, Lela Gilbert, and Nina Shea, Persecuted: The Global Assault on Christians
Nik Ripken, The Insanity of God: A True Story of Faith Resurrection
---
ENDNOTES
S. W. Sunquist, Understanding Christian Mission: Participation in Suffering and Glory (Grand Rapids, MI: Baker Academic, 2013).

H. D. Hunter,

 

C. M. Robeck Jr., eds., The Suffering Body: Responding to the Persecution of Christians (Milton Keynes, UK: Paternoster Press, 2006).

R. Boyd-MacMillan, Faith that Endures: The Essential Guide to the Persecuted Church (Lancaster, UK: Sovereign World Publishers, 2006).

Open Doors USA publishes the World Watch List, which offers updates about current statistics, conditions, and trends related to Christian persecution. The World Watch List provides a map showing the areas of the world where Christian persecution is rated from "High" to "Extreme." The list provides information about the source of persecution in each locale and also covers current major trends in the area of world persecution. It is an ever-changing, dynamic list, and as of this writing the list highlights three growing edges of persecution in the world: the spread of radical Islam, the rise of religious nationalism, and the increasing intensity of persecution in Central Asia. There is a special note that Azerbaijan has been added to the list of places where high persecution is taking place.

See www.opendoorsusa.org/christian-persecution/.

J. D. Long, "More Martyrs Now than Then? Examining the Real Situation of Martyrdom," for John Mark Ministries, www.jmm.org.au (January 5, 2003).

Boyd-MacMillan, Faith that Endures, 22.

"Consolation for the Suffering: Stories from the Persecuted Church" on FULLER studio, fullerstudio.fuller.edu/consolation-for-the-suffering/.

M. Card, A Sacred Sorrow: Reaching Out to God in the Lost Language of Lament (Colorado Springs, CO: NavPress, 2005).

E. Peterson, foreword to A Sacred Sorrow, II.

T. Keller, Walking with God through Pain and Suffering (New York: Penguin Books, 2013), 191.

E. M. Willmington, "God of Justice, Love, and Mercy," in Consolation for the Suffering (Shepherd's Staff Worship Music, 2016).

The original quote attributed to Martin Luther, but made popular by Dietrich Bonhoeffer's reference, is, "The curse of the godless man can sound more pleasant in God's ears than the hallelujah of the pious."