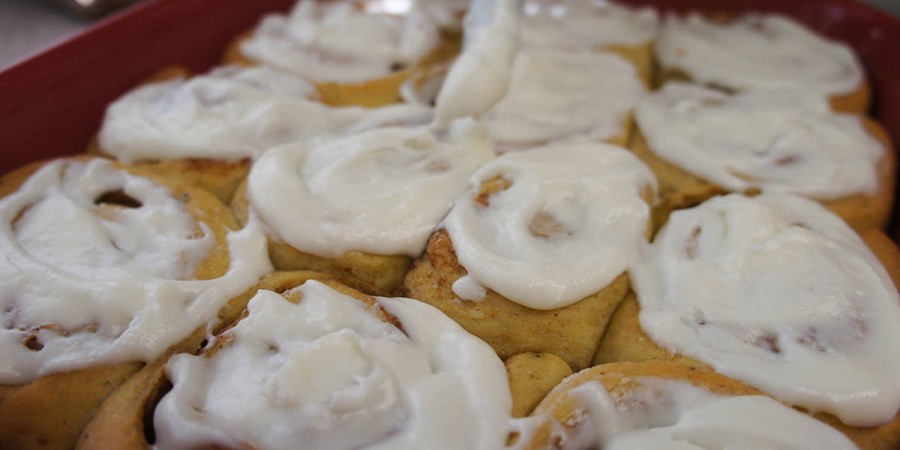 + Alumnus Heath Greene [PhD '03] delivers fresh cinnamon rolls on Christmas morning to his neighbors in Winston-Salem, NC. It's a recipe he learned from Director of Alumni Relations Bert Jacklitch. We thought you might like the recipe as well (and thank you to Bert for bringing enough fresh rolls on the morning of the photo shoot to feed our entire division!).
—Lauralee Farrer, Chief Creative
Ingredients
2 c milk (scalded)
1 c shortening (butter or margerine)*
2 c sugar
6 tsp salt
Approx 18 c flour*
2 c warm water
8 pkg dry yeast
8 eggs (beaten)
5 (generous) tsp of freshly ground cardamom
Cinnamon (as needed)
Brown sugar (as needed)
*To "lighten" these a bit, I will substitute half of the shortening with equal amount of smashed, soft avocado, and will use oat flour for some of the flour. Be careful not to substitute more than about 1/3 to 1/2 of the total amount of flour with the oat flour.
Butter Cream Icing (optional)
Ingredients
I confess, I don't really measure these, so this would be approximate:
2 lbs powdered sugar
1 full stick of butter
1 tsp vanilla
Milk (to bring to a nice smooth consistency)
Directions
Mix butter and sugar together, add vanilla and milk, beating until smooth and creamy.
Directions
STEP 1: MAKE THE DOUGH
Heat milk just to scalding (do not boil). While this is heating, combine the shortening, sugar and salt: cream together. Pour the scalded milk over the shortening/sugar mixture. Allow to cool while you prepare the yeast by measuring the warm water (not too hot, but not just tepid), and placing all the yeast into the water. Stir to mix well and allow to sit. Put eggs into a bowl and beat just until fully mixed. Check to make sure the shortening mixture is cooled so that the eggs will not "cook" when you add them, after adding eggs to the mixture, add the yeast mixture along with the cardamom. Add flour gradually until dough can be easily handled. Place dough onto a floured surface and knead. Place dough into a greased container that will allow it to double in size. Cover with plastic wrap and let rise until doubled (about an hour or so).
STEP 2: FORM THE ROLLS
Once the dough has raised, you can now take 1/8 of the dough mixture and turn it onto a floured surface. Roll the dough into a rectangle, slather with butter, cover with brown sugar and cinnamon. Roll the dough into a "log" and slice into pieces approximately 1″ thick, and place in prepared pans. (Repeat until all dough is used.)
STEP 3: ARRANGE AND BAKE
To prepare pans, generously grease with butter or margarine, sprinkle with brown sugar and drizzle with pancake syrup or maple syrup. Place cut rolls into the pan. Allow the rolls to rise again (about 1 hour), bake in a preheated 375 degree oven for 15–20 minutes (or until the tops are nicely browned).
STEP 4: SHARE AND ENJOY!
This makes approximately 5–6 dozen cinnamon rolls.
---
+ Bert's cinnamon rolls became a reminder of Fuller's community for a couple as they moved away from Pasadena. Read their story here.