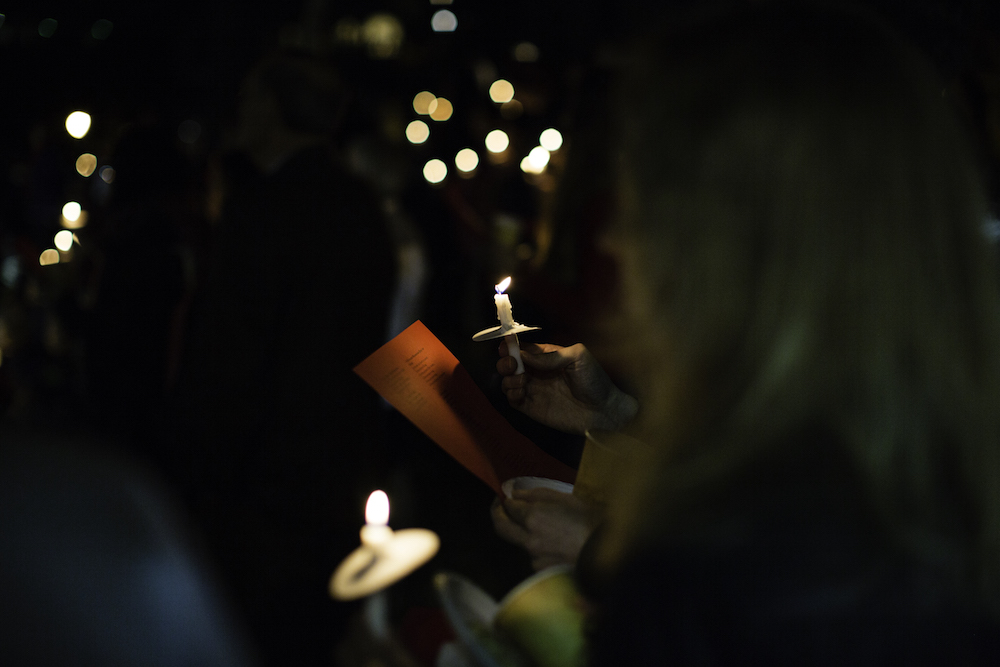 + As we brace ourselves for the relational complexities that might overshadow the meaning of Christmas, it's good to remember that the Christian calendar begins weeks earlier with Advent—a prayerful season of anticipation and preparation. We've curated some thoughtful reflections our community members have shared in past years, to encourage a devotional atmosphere as we begin this time together.

Click below on the names that accompany quotes to read each essay in its entirety. The artwork on this page is by He Qi, a painter whose work combines Chinese traditional painting techniques with the peaceful message of Christ. Selections of his work are currently on display in Payton 101, and we were honored to have him on campus as a guest speaker. More about He Qi can be found here.

---
"Like Sarah giving birth at a stage when even menopause was a distant memory, the Messiah would come from a human lineage that left no doubt that God was involved. It would be impossible, unthinkable, even unimaginable. Like from a virgin."
+ Tod Bolsinger, Vice President and Chief of Leadership Formation. Hear from more voices on the topic of vocation here.

"There are always those around us who have suffered differently or more or longer than we have ourselves. I am blessed to know immigrants and disenfranchised neighbors who have much to teach us about the loss and longing of Advent. Advent pleads with me to learn from the sacrifice and suffering and patient longing of others—and from what Jesus endured for us, suffering even death on a cross."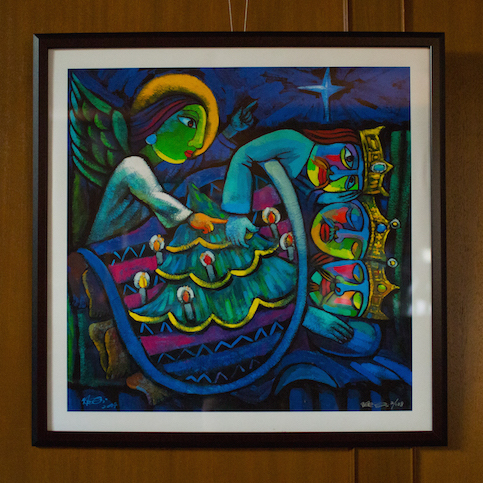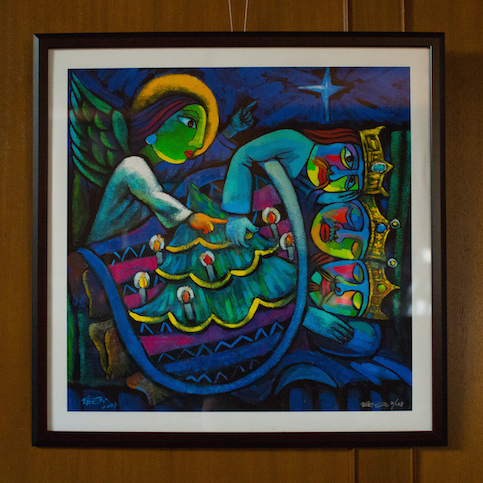 + Mike McNichols, Director of Fuller Orange County

"Is this the same God who could sometimes be scary in those Old Testament stories? Is this the God who saw human wickedness and wiped the earth clean in the flood? Who sent plagues on Egypt to deliver the Israelites? Who would not let anyone approach him except the chosen Moses? This little baby?"
+ Michael Murray, Director of Fuller Texas

"It's just before Advent, and I am reading C. S. Lewis's The Four Loves. I realize: no matter what category a love fits most neatly into, they are all expressions of yearning to be together and the universal grief caused by being left alone. Lewis suggests that the natural loves are all, in some way, faint reflections of our longing for the divine presence."
+ Lauralee Farrer, Chief Storyteller and VP of Communications, Editor in Chief of FULLER magazine and studio
"Advent is the beginning of the new year in the Christian calendar. It is celebrated not with confetti, parades, and parties, or with cool new office supplies, a backpack, and fresh commitments to reading schedules. It is a new year that begins in the dark, as days are shortening and growing colder. It begins with us sitting with our hopes and longings for the light to come, waiting for what we need."
+ Laura Harbert, Affiliate Professor of Clinical Psychology in the School of Psychology

"The message of Christmas is that God meets us in the midst of the ordinariness of our lives. 'To us a son is given.' He steps into the best, and the toughest situations of our lives. His promise brings a sense of wonder and joy in this merry season, and all year long."
+ Kurt Fredrickson, Associate Dean for Fuller's Doctor of Ministry and Continuing Education and Associate Professor of Pastoral Ministry
"If we celebrate Black Friday and Cyber Monday, but not Advent, what does that say about us? Have we become too comfortable in our citizenship here in this world? Does Madison Avenue have more influence in defining our lives than the Bible? Do we look forward to the holidays, but not to the return of Christ?"
+ Cameron Lee, Professor of Marriage and Family Studies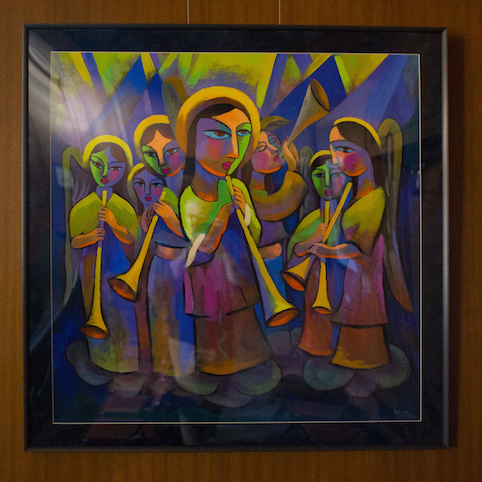 "Christmas always compels me to look toward the cross, Good Friday, and Easter, when those same principalities and powers, sin, and death were ultimately vanquished. Thus, I can celebrate Christmas as the day when our Savior's earthly work began, while truly rejoicing that later, as the Prince of Peace, he victoriously declared, 'It is finished!'"
+ Steve Yamaguchi, Former Dean of Students

"While the absence of my mother was painful and deeply felt, the hope we had in the birth of this beautiful little girl was a salvation of sorts. It made me appreciate the coming of God in the flesh all the more—and the hope so deeply felt by his parents and all who waited on the Savior of the world."
+ Jeff Bjorck, Professor of Psychology in the School of Psychology
"Christmas can be a messy business. Hearts ache, nerves fray, and tempers flare. Losses resurface and wounds re-open. We cry out (or at least think), "It's not supposed to be like this." And still, in the midst of the mess, Jesus arrives."
+ Alix Riley, Admissions Counselor for Fuller Orange County and Online
"We see in Mary that Christmas joy is not separate from the struggles of life, but breaks through the struggles, just as Jesus, the Light of the World, broke into our world when he was born to Mary that very first Christmas."
+ Jude Tiersma Watson, Associate Professor of Urban Mission in the School of Intercultural Studies

"Tamales, family, friends, and living out the Christmas story all belong together for me. It is at the table where we share with those we love, but also with those who need to experience God's love. Tamales remind me of why we celebrate. But they also connect me to what God is doing in the world."
+ Juan Martínez, Professor of Hispanic Studies and Pastoral Leadership

"The biblical narrative of the birth of Jesus was alw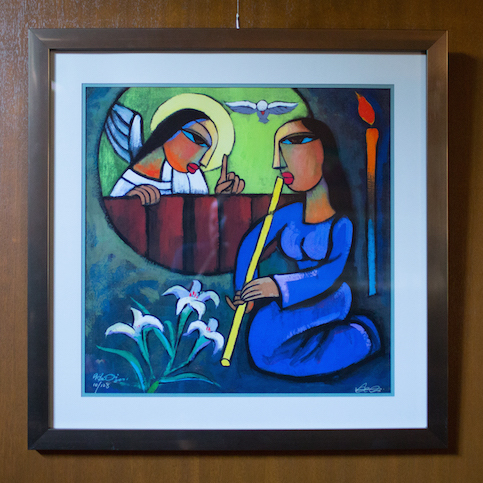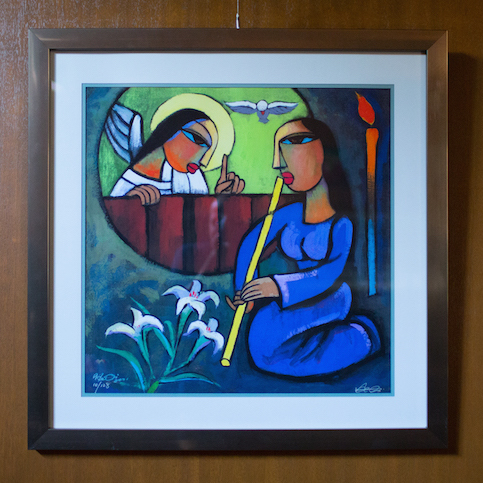 ays the core of this celebration in my family. All the rituals were only meant to help us resonate with the joy of welcoming the Savior of the world, but they soon made us look forward to this season."
+ Evelyne Reisacher, Associate Professor of Islamic Studies and Intercultural Relations
"Sure, we consider how we might do things in a new way, set new goals, get rid of some bad habits, and generally orient our lives in more successful directions. But for us who follow Jesus, anticipation is grounded in what he will do in and through us if we are open to the journey that comes with his presence."
+ Nate Risdon, Former Associate Director of the Brehm Center for Worship, Theology, and the Arts. Hear from more voices on the topic of culture care here.

---
+ Listen to a playlist of Christmas music curated by FULLER studio editors: